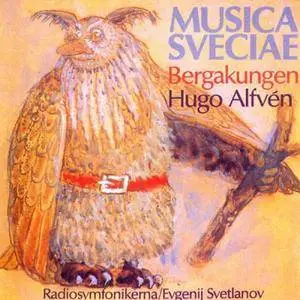 Evgenij Svetlanov, Swedish Radio Symphony Orchestra - Hugo Alfvén: Bergakungen (2000)
EAC Rip | FLAC (image+.cue, log) ~ 285.14 Mb | 01:18:37 | Cover
Classical | Label: Musica Sveciae (MSCD614)
Hugo Emil Alfvén (1 May 1872 – 8 May 1960) was a Swedish composer, conductor, violinist, and painter. Alfvén was born in Stockholm, Sweden, and studied at the Royal College of Music (Kungliga Musikhögskolan) from 1887 to 1891 with the violin as his main instrument while receiving lessons from Lars Zetterquist. He also took private composition lessons from Johan Lindegren, a leading counterpoint expert. He earned a living by playing the violin at the Royal Opera in Stockholm. He also played the violin in the Royal Swedish Orchestra.
Starting in 1897, Alfvén travelled much of the next ten years in Europe. He studied violin technique in Brussels with César Thomson and learned conducting in Dresden as sub-conductor under Hermann Ludwig Kutzschbach. In 1903-4 he was professor of composition at the Royal Conservatory, Stockholm. From 1910 Alfvén was Director musices (music director) at the University of Uppsala (a post he held until 1939). There he also directed the male voice choir Orphei Drängar (or 'O.D.') (until 1947). He conducted in festivals at Dortmund (1912), Stuttgart (1913), Gothenburg (1915), and Copenhagen (1918–1919). He toured Europe as a conductor throughout his life. He received a Ph.D. honoris causa from Uppsala in 1917 and became a member of the Royal Academy of Music in Stockholm in 1908. Alfvén recorded some of his orchestral music in stereo late in 1954 (the first classical stereo recordings made in Sweden); the recordings were issued on LP in the U.S. by Westminster Records. A three-CD collection of Alfvén's recordings as a conductor has been issued.
Alfvén became known as one of Sweden's principal composers of his time, together with his contemporary Wilhelm Stenhammar. Alfvén's music is in a late-Romantic idiom. His orchestration is skillful and colorful, reminiscent of that of Richard Strauss. Like Strauss, Alfvén wrote a considerable amount of program music. Some of Alfvén's music evokes the landscape of Sweden.
Among his works are a large number of pieces for male voice choir, five symphonies and three orchestral "Swedish Rhapsodies." The first of these rhapsodies, Midsommarvaka is his best known piece.
Alfvén's five symphonies, the first four of them now several-times recorded (with another cycle in progress), give a picture of the composer's musical progress. The first, in F minor, his Op. 7 from 1897, is an early work, tuneful in a standard four movements. The second, in D major (1898–99), his Op. 11 (and in a way his graduation piece, as interestingly recounted) concludes with a substantial, even powerful chorale-prelude and fugue in D minor. The third symphony in E major, Op. 23 (1905), also in four movements, more mature in technique though light in manner was inspired by a trip to Italy. The fourth symphony in C minor, Op. 39, of 1918–9 "From the Outermost Skerries" (there is also a tone-poem, A Legend of the Skerries) is a symphony in one forty-five-minute movement using wordless voices, inspired by Carl Nielsen's Sinfonia Espansiva. The 5th in A minor, begun 1942, is one of the composer's last works, and has only been recorded twice in full (recordings and performances of the 5th, while rare enough, are usually of its quarter-hour first movement).
Naxos Records and BIS Records among others have either collections or groups of individual recordings covering all of his symphonies and a range of his works. Brilliant Classics has licensed and re-issued the 5-CD set from BIS devoted to Alfvén that includes the symphonies and other orchestral works.
Track List:
Act I Scene 1:
1. Vallpojken och vallflickan (The herdsboy and the herdsmaid) 4:49
2. Intaget (The gathering) 1:32
3. Forsta dansen (THe first dance) 1:51
4. Andra dansen (The second dance) 2:11
5. Tredje dansen (The third dance) 6:39
Act I Scene 2:
6. Sjojungfrur och troll, forsta danse (Sea maidens and trolls, the first dance) 1:44
7. Sjojungfrur och troll, andra danse (Sea maidens and trolls, the second dance) 2:50
8. Dans (Dance) 1:16
9. Sjojungfrur och troll, forsta danse (Sea maidens and trolls, the first dance) (reprise) 2:44
10. Vallflickan ensam (The herdsmaid alone) 4:30
11. Dans (Dance) 1:22
12. Vallflickan moter Humpe (The herdsmaid meets Humpe) 1:29
13. Sommarregn (Summer rain) 2:41
Act II:
14. Vallflickoch och Humpe (Hersmaid and Humpe) 2:05
15. Porten oppnar sig (The gate opens) 2:40
16. Vallpojken och Humpe (The herdboy and Humpe) 3:47
17. Besvarjelse (Invocation) 2:42
Act III Scene 1:
18. I Bergakungens sal (In the hall of the Mountain King) 1:12
19. Vallflickan dansar for trollen (Hersmaid dances for the trolls) 3:13
20. Vallflickan dansar for Bergakungen (Hersmaid dances for the Mountain King) 2:17
21. Vallflickans dans (The hersmaid's dances) 1:13
22. Trollflickans dans (The dance of the troll madien) 5:01
23. Trollens forsta dans (The first dance of the trolls) 4:15
24. Trollens andra dans (The second dance of the trolls) 4:04
25. Frihet (Liberation) 6:16
Act III Scene 2:
26. Snostormen (The snowstorm) 2:04
27. Gryning (Dawn) 2:10
Exact Audio Copy V1.3 from 2. September 2016

Отчёт EAC об извлечении, выполненном 21. сентября 2017, 13:44

Hugo Alfvén - Radiosymfonikerna , Evgenij Svetlanov / Bergakungen

Дисковод: ASUS BW-16D1HT Adapter: 1 ID: 0

Режим чтения : Достоверность
Использование точного потока : Да
Отключение кэша аудио : Да
Использование указателей C2 : Нет

Коррекция смещения при чтении : 6
Способность читать области Lead-in и Lead-out : Нет
Заполнение пропущенных сэмплов тишиной : Да
Удаление блоков с тишиной в начале и конце : Нет
При вычислениях CRC использовались нулевые сэмплы : Да
Интерфейс : Встроенный Win32-интерфейс для Win NT/2000

Выходной формат : Пользовательский кодировщик
Выбранный битрейт : 768 kBit/s
Качество : Высокий
Добавление ID3-тега : Нет
Утилита сжатия : C:\Program Files (x86)\Exact Audio Copy\FLAC\FLAC.EXE
Дополнительные параметры : -6 -V -T "ARTIST=%artist%" -T "TITLE=%title%" -T "ALBUM=%albumtitle%" -T "DATE=%year%" -T "TRACKNUMBER=%tracknr%" -T "GENRE=%genre%" -T "COMMENT=%comment%" -T "BAND=%albuminterpret%" -T "ALBUMARTIST=%albuminterpret%" -T "COMPOSER=%composer%" %haslyrics%–tag-from-file=LYRICS="%lyricsfile%"%haslyrics% -T "DISCNUMBER=%cdnumber%" -T "TOTALDISCS=%totalcds%" -T "TOTALTRACKS=%numtracks%" %hascover%–picture="%coverfile%"%hascover% %source% -o %dest%


TOC извлечённого CD

Трек | Старт | Длительность | Начальный сектор | Конечный сектор
––––––––––––––––––––––––––––––––––-
1 | 0:00.00 | 4:50.52 | 0 | 21801
2 | 4:50.52 | 1:32.25 | 21802 | 28726
3 | 6:23.02 | 1:50.53 | 28727 | 37029
4 | 8:13.55 | 2:11.12 | 37030 | 46866
5 | 10:24.67 | 6:38.63 | 46867 | 76779
6 | 17:03.55 | 1:43.57 | 76780 | 84561
7 | 18:47.37 | 2:50.38 | 84562 | 97349
8 | 21:38.00 | 1:16.02 | 97350 | 103051
9 | 22:54.02 | 2:44.00 | 103052 | 115351
10 | 25:38.02 | 4:30.58 | 115352 | 135659
11 | 30:08.60 | 1:21.50 | 135660 | 141784
12 | 31:30.35 | 1:28.47 | 141785 | 148431
13 | 32:59.07 | 2:47.60 | 148432 | 161016
14 | 35:46.67 | 2:06.00 | 161017 | 170466
15 | 37:52.67 | 2:39.63 | 170467 | 182454
16 | 40:32.55 | 3:46.70 | 182455 | 199474
17 | 44:19.50 | 2:43.20 | 199475 | 211719
18 | 47:02.70 | 1:12.50 | 211720 | 217169
19 | 48:15.45 | 3:12.50 | 217170 | 231619
20 | 51:28.20 | 2:17.02 | 231620 | 241896
21 | 53:45.22 | 1:12.43 | 241897 | 247339
22 | 54:57.65 | 5:00.57 | 247340 | 269896
23 | 59:58.47 | 4:15.05 | 269897 | 289026
24 | 64:13.52 | 4:04.33 | 289027 | 307359
25 | 68:18.10 | 6:15.62 | 307360 | 335546
26 | 74:33.72 | 2:03.63 | 335547 | 344834
27 | 76:37.60 | 2:11.47 | 344835 | 354706


Характеристики диапазона извлечения и сообщения об ошибках

Выбранный диапазон

Имя файла C:\Users\Maksim Dmitriev\Desktop\Hugo Alfvén - Radiosymfonikerna , Evgenij Svetlanov - Bergakungen.wav

Пиковый уровень 99.2 %
Скорость извлечения 8.6 X
Качество диапазона 100.0 %
CRC теста 0589AF86
CRC копии 0589AF86
Копирование… OK

Ошибок не произошло


AccurateRip: сводка

Трек 1 точность не определена (достоверность 4) [FFBA7446], AccurateRip вернул [B529DC0B] (AR v2)
Трек 2 точность не определена (достоверность 4) [1E198B79], AccurateRip вернул [C3EB89A9] (AR v2)
Трек 3 точность не определена (достоверность 4) [B4D14FEF], AccurateRip вернул [4C407F79] (AR v2)
Трек 4 точность не определена (достоверность 4) [598DEC2A], AccurateRip вернул [3BF182C1] (AR v2)
Трек 5 точность не определена (достоверность 4) [3287E4FB], AccurateRip вернул [4998C993] (AR v2)
Трек 6 точность не определена (достоверность 4) [BEC47E3E], AccurateRip вернул [5757C8CA] (AR v2)
Трек 7 точность не определена (достоверность 4) [31DE89E8], AccurateRip вернул [9E3CB554] (AR v2)
Трек 8 точность не определена (достоверность 4) [A27FCAD4], AccurateRip вернул [A39DC5D3] (AR v2)
Трек 9 точность не определена (достоверность 4) [B1F94980], AccurateRip вернул [8FA89D4C] (AR v2)
Трек 10 точность не определена (достоверность 4) [7D5F8990], AccurateRip вернул [6C16F3F9] (AR v2)
Трек 11 точность не определена (достоверность 4) [DAAC0863], AccurateRip вернул [0C4F6CB3] (AR v2)
Трек 12 точность не определена (достоверность 4) [E1F47A46], AccurateRip вернул [98375C2F] (AR v2)
Трек 13 точность не определена (достоверность 4) [5E378D02], AccurateRip вернул [5DEE6887] (AR v2)
Трек 14 точность не определена (достоверность 4) [7F3D5533], AccurateRip вернул [01E68879] (AR v2)
Трек 15 точность не определена (достоверность 4) [F7642638], AccurateRip вернул [539887E0] (AR v2)
Трек 16 точность не определена (достоверность 4) [B91CEBEE], AccurateRip вернул [76E91310] (AR v2)
Трек 17 точность не определена (достоверность 3) [EE85F235], AccurateRip вернул [0D1C17D5] (AR v2)
Трек 18 точность не определена (достоверность 3) [20727D9F], AccurateRip вернул [52D9E796] (AR v2)
Трек 19 точность не определена (достоверность 3) [DF62F6FC], AccurateRip вернул [BDD9F416] (AR v2)
Трек 20 точность не определена (достоверность 3) [35E88A74], AccurateRip вернул [77E2B000] (AR v2)
Трек 21 точность не определена (достоверность 3) [599BEC4F], AccurateRip вернул [02316FB7] (AR v2)
Трек 22 точность не определена (достоверность 3) [3D9BF35A], AccurateRip вернул [1F153AD1] (AR v2)
Трек 23 точность не определена (достоверность 3) [3D52A25B], AccurateRip вернул [F7319936] (AR v2)
Трек 24 точность не определена (достоверность 3) [7AAFE39D], AccurateRip вернул [D99E1606] (AR v2)
Трек 25 точность не определена (достоверность 3) [8A6418AE], AccurateRip вернул [24A66960] (AR v2)
Трек 26 точность не определена (достоверность 3) [B37BA190], AccurateRip вернул [BA85BAC8] (AR v2)
Трек 27 точность не определена (достоверность 3) [764298F1], AccurateRip вернул [2E1DEFBB] (AR v2)

Ни один трек не прошёл проверки на точность
В вашей базе может быть иной вариант штамповки диска

Конец отчёта

==== Контрольная сумма отчёта 087F9D4BDDC801201F6CDF60EE0225B88B4C2FC646588E8A82FFF3E77AA1C6D8 ====
All thanks go to the Rossiyanin1990