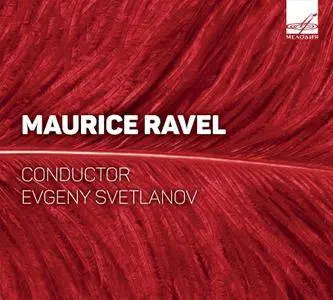 Evgeny Svetlanov, The USSR State Academic Symphony Orchestra - Maurice Ravel: Orchestral Works (2016)
WEB FLAC (tracks) ~ 267.14 Mb | 57.33 | Covers+booklet.pdf
Orchestral | Label: Melodiya (MELCD100233)
Firma Melodiya presents an album of Maurice Ravel's symphonic works dedicated to the great French composer's 135th birthday.
"Music, I insist, must in spite of everything be beautiful," as Ravel declared his artistic credo.
When the composer lived, his works were frequently a subject of relentless criticism. He was accused of imitating his contemporaries, compliance with outdated standards and banality. However, Ravel's music has been loved by millions of listeners for more than half a century now, which lets him take a deserved place in the pantheon of the world's classical music. Devoting attention to all genres and forms, Ravel had a special predilection to orchestra. Being one of the most important figures of musical impressionism, he was a great master of the instrumental palette. Not he was a stranger to romantically passionate impulses.
He combined firm reliance in the French national traditions with rapt admiration for Russian music, which was also reflected in his music.
The album features Ravel's works created during one decade – Spanish Rhapsody, Suite No. 2 from the ballet Daphnis and Chloe, as well as orchestral versions of Pavane for a Dead Princess for piano and the suite Mother Goose. They are performed by the USSR State Academic Symphony Orchestra conducted by Evgeny Svetlanov. A world-renowned interpreter of Russian music, Svetlanov showed genuine interest in French musical impressionism and often included Ravel's and Debussy's works in his programmes.
These recordings were made at the concert dedicated to Ravel's 100th anniversary that took place on 17 March 1975 at the Big Hall of the Moscow Conservatory.
Track List:
Maurice Ravel: Pavane for a Dead Princess, M. 19
Pavane for a Dead Princess, M. 19
Maurice Ravel: Daphnis et Chloé Suite No. 2, M. 57b
I. Lever du jour
II. Pantomime
III. Danse générale
Maurice Ravel: Mother Goose, M. 60
I. Pavane of Sleeping Beauty
II. Little Tom Thumb
III. Little Ugly Girl, Empress of the Pagodas
IV. Conversation of Beauty and the Beast
V. The Fairy Garden
Maurice Ravel: Rapsodie espagnole, M. 54
I. Prélude
II. Malagueña
III. Habanera
IV. Feria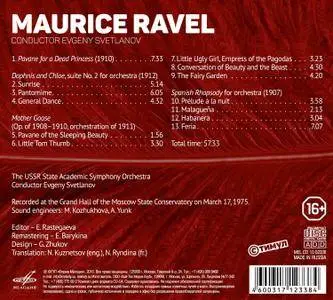 PERFORMER: auCDtect Task Manager, ver. 1.6.0 RC1 build 1.6.0.1
Copyright © 2008-2010 y-soft. All rights reserved
http://y-soft.org
ANALYZER: auCDtect: CD records authenticity detector, version 0.8.2
Copyright © 2004 Oleg Berngardt. All rights reserved.
Copyright © 2004 Alexander Djourik. All rights reserved.
FILE: 13. Rapsodie espagnole, M. 54; IV. Feria.flac
Size: 35892834 Hash: 5B581094BC121179FF164D278A2321A5 Accuracy: -m0
Conclusion: CDDA 100%
Signature: 0C91E28437B750DBC91D30F4DBDC9EAC7AB63303
FILE: 12. Rapsodie espagnole, M. 54; III. Habanera.flac
Size: 13542593 Hash: 6AEEDAE973F43C68051470947C5641AF Accuracy: -m0
Conclusion: CDDA 100%
Signature: 4ECF551B2E1B4C66F1DAE469725046D0CB0912FE
FILE: 11. Rapsodie espagnole, M. 54; II. Malagueña.flac
Size: 10612452 Hash: 897E9933E5851CDFDB8440BEE6D8E432 Accuracy: -m0
Conclusion: CDDA 100%
Signature: D1C72794B4C15D356D63FC5C3A03FCE8C8B715F4
FILE: 10. Rapsodie espagnole, M. 54; I. Prélude.flac
Size: 17382950 Hash: 367B77478442FDB7BAF411A823713938 Accuracy: -m0
Conclusion: CDDA 100%
Signature: D761251559DEC9B4A791E2514211875218464622
FILE: 09. Mother Goose, M. 60; V. The Fairy Garden.flac
Size: 22748851 Hash: E2347111B5C8E8659C0A6201B45FDD8D Accuracy: -m0
Conclusion: CDDA 100%
Signature: CCF3FCD8557815C2C6B009F5AE715187E0562F84
FILE: 08. Mother Goose, M. 60; IV. Conversation of Beauty and the Beast.flac
Size: 20205860 Hash: 63F45E7E0F9D2125FDD7586ECC1D9937 Accuracy: -m0
Conclusion: CDDA 100%
Signature: 6533114E060F66D424CEB122918AEA268E669357
FILE: 07. Mother Goose, M. 60; III. Little Ugly Girl, Empress of the Pagodas.flac
Size: 16157339 Hash: 08595D2C898548838AFF8A87F07CCB1B Accuracy: -m0
Conclusion: CDDA 100%
Signature: 7772CD1BF0BBC0A02FCDADC48AE4108727075BCB
FILE: 06. Mother Goose, M. 60; II. Little Tom Thumb.flac
Size: 16114161 Hash: 70D0832C2EB7CC440772D6F2ADD88DE4 Accuracy: -m0
Conclusion: CDDA 100%
Signature: 0FE93D6B448F0212AF1B60D15A1F664EE4BC7566
FILE: 05. Mother Goose, M. 60; I. Pavane of Sleeping Beauty.flac
Size: 8958611 Hash: E3F2A846CFCF594AD50BB970329CB735 Accuracy: -m0
Conclusion: CDDA 100%
Signature: 1115603707314D6B8C4A4CA6D5ACBBA86E454DE9
FILE: 04. Daphnis et Chloé Suite No. 2, M. 57b; III. Danse générale.flac
Size: 25420242 Hash: 062AFF4E188A0FF70B99ECD6AC57FD6E Accuracy: -m0
Conclusion: CDDA 100%
Signature: B3941C8296CF0E78D3AB0A018836BF1CF3CB9F29
FILE: 03. Daphnis et Chloé Suite No. 2, M. 57b; II. Pantomime.flac
Size: 29382505 Hash: 8AFE9EC8D1AF2475424116272A2618CC Accuracy: -m0
Conclusion: CDDA 100%
Signature: 25A3EC47876919F5A37E5DB997F8E9D63B3B2093
FILE: 02. Daphnis et Chloé Suite No. 2, M. 57b; I. Lever du jour.flac
Size: 27278495 Hash: 7D0B12695C0F179DA3DBDE108CE63BCB Accuracy: -m0
Conclusion: CDDA 100%
Signature: 8CB3987C4B62417228E2E34252DEF5E76040A6F4
FILE: 01. Pavane for a Dead Princess, M. 19.flac
Size: 34745265 Hash: 0DDB252CE3CB2DEF38654685C6D6CD69 Accuracy: -m0
Conclusion: CDDA 100%
Signature: 557A7C0337463054A26488EFEABAEAAC4B5BE90C