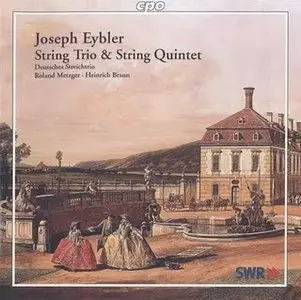 Joseph Leopold Eybler - String Trio & String Quintet
Classical | ECD-DA Extractor | FLAC, CUE, NO LOG | 1 CD | Covers | 286 Mb | rs.com | 2006
Deutsches Streichtrio with
Roland Metzger, 2nd Viola
Heinrich Braun, Double Bass
At the end of the eighteenth century and beginning of the nineteenth century, Eybler dedicated himself to the composition of chamber music with striking frequency. The String Trio op. 2, announced as the "Gran Trio" in 1798, today is regarded as his only famous work in this instrumentation (violin, viola, and violoncello). Stylistically it may still draw on the compositions of Eybler's teacher and friend Joseph Haydn, but in his motivic-thematic work with long solo passages for the individual instruments, Eybler already proves to be a progressive representative of the genre of chamber music.
String Trio op.2
String Quintet op.6 No 1
Label: CPO Records
Catalog No: CPO 777025