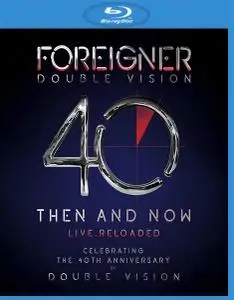 Foreigner - Double Vision: Then and Now (2019)
Blu-ray: BDMV | MPEG-4 AVC Video / 19924 kbps / 1080p / 23,976 fps / 16:9 / High Profile 4.0
Audio#1:LPCM Audio / English / 2.0 / 96 kHz / 4608 kbps / 24-bit | Audio#2: DTS-HD Master Audio / English / 5.1 / 96 kHz / 7330 kbps / 24-bit (DTS Core: 5.1 / 48 kHz / 1509 kbps / 24-bit)
Classic Rock, Hard Rock, Arena Rock | 01:31:43 | 23 Gb
Double Vision: Then And Now takes viewers behind the scenes as original band members join Mick Jones and FOREIGNER s current lineup for the very first time in the band s 40-year history. Both incarnations of the band share the same stage for an epic performance. Watch rock and roll history with one of music s most anticipated reunions. Recorded in 2018, Foreigner - Double Vision: Then And Now celebrates the 40th anniversary of the band s multi-platinum 1978 album, Double Vision with a masterful live performance of the band s biggest hits, filmed at Soaring Eagle Casino & Resort, Mount Pleasant, MI. Original members Lou Gramm, Al Greenwood, Dennis Elliott, Ian McDonald and Rick Wills take the stage with Mick Jones, Kelly Hansen, Tom Gimbel, Jeff Pilson, Michael Bluestein, Bruce Watson and Chris Frazier. They rock through some of the best-selling songs that bring back the memories which make it feel like the first time for both long-time fans and new generations.
Tracklist:
1. Cold As Ice
2. Head Games
3. Waiting For A Girl Like You
4. Headknocker
5. Say You Will
6. Urgent
7. Starrider
8. Juke Box Hero
9. Feels Like The First Time
10. Double Vision
11. Blue Morning, Blue Day
12. Long, Long Way From Home
13. Dirty White Boy
14. I Want To Know What Love Is
15. Hot Blooded
16. The Flame Still Burns
17. Fool For You Anyway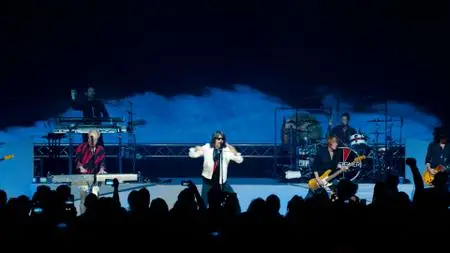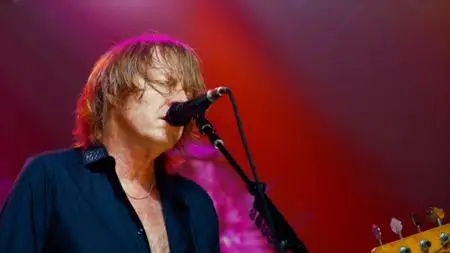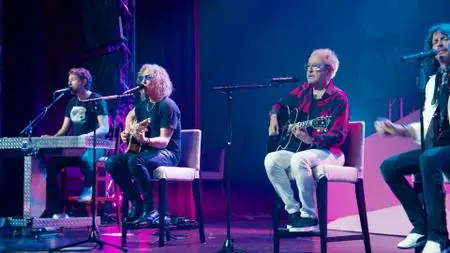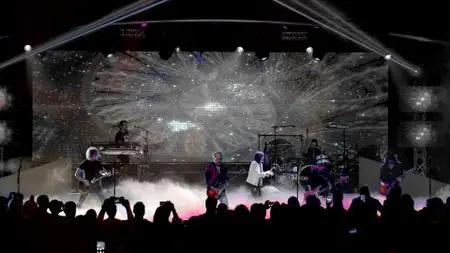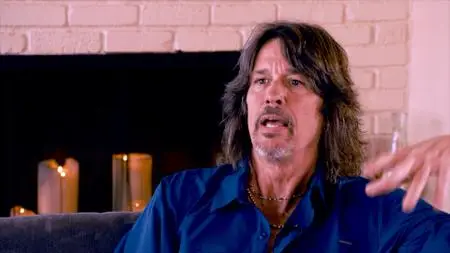 Disc Title: Foreigner - Double Vision 40 Live.Reloaded
Disc Size: 24 718 143 303 bytes
Protection: AACS
BD-Java: Yes
BDInfo: 0.5.8
Notes:
BDINFO HOME:
Cinema Squid
http://www.cinemasquid.com/blu-ray/tools/bdinfo
INCLUDES FORUMS REPORT FOR:
AVS Forum Blu-ray Audio and Video Specifications Thread
http://www.avsforum.com/avs-vb/showthread.php?t=1155731
********************
PLAYLIST: 01101.MPLS
********************
<–- BEGIN FORUMS PASTE –->
Total   Video
Title                                                           Codec   Length  Movie Size      Disc Size       Bitrate Bitrate Main Audio Track                          Secondary Audio Track
-----                                                           ------  ------- --------------  --------------  ------- ------- ------------------                        ---------------------
01101.MPLS                                                      AVC     1:31:09 23 028 277 248  24 718 143 303  33,68   19,92   LPCM 2.0 4608Kbps (96kHz/24-bit)          DTS-HD Master 5.1 7330Kbps (96kHz/24-bit)
Код:
DISC INFO:
Disc Title:     Foreigner - Double Vision 40 Live.Reloaded
Disc Size:      24 718 143 303 bytes
Protection:     AACS
BD-Java:        Yes
BDInfo:         0.5.8
PLAYLIST REPORT:
Name:                   01101.MPLS
Length:                 1:31:09.547 (h:m:s.ms)
Size:                   23 028 277 248 bytes
Total Bitrate:          33,68 Mbps
VIDEO:
Codec                   Bitrate             Description
-----                   -------             -----------
MPEG-4 AVC Video        19924 kbps          1080p / 23,976 fps / 16:9 / High Profile 4.0
AUDIO:
Codec                           Language        Bitrate         Description
-----                           --------        -------         -----------
LPCM Audio                      English         4608 kbps       2.0 / 96 kHz / 4608 kbps / 24-bit
DTS-HD Master Audio             English         7330 kbps       5.1 / 96 kHz / 7330 kbps / 24-bit (DTS Core: 5.1 / 48 kHz / 1509 kbps / 24-bit)
FILES:
Name            Time In         Length          Size            Total Bitrate
----            -------         ------          ----            -------------
00002.M2TS      0:00:00.000     1:31:08.504     23 028 264 960  33 689
00005.M2TS      1:31:08.504     0:00:01.042     12 288          94
CHAPTERS:
Number          Time In         Length          Avg Video Rate  Max 1-Sec Rate  Max 1-Sec Time  Max 5-Sec Rate  Max 5-Sec Time  Max 10Sec Rate  Max 10Sec Time  Avg Frame Size  Max Frame Size  Max Frame Time
------          -------         ------          --------------  --------------  --------------  --------------  --------------  --------------  --------------  --------------  --------------  --------------
1               0:00:00.000     0:06:33.184     17 910 kbps     37 183 kbps     00:02:14.884    25 390 kbps     00:05:24.115    24 332 kbps     00:02:06.501    93 364 bytes    424 276 bytes   00:01:15.950
2               0:06:33.184     0:05:44.177     21 052 kbps     39 101 kbps     00:10:33.674    26 016 kbps     00:07:48.468    24 335 kbps     00:07:43.588    109 757 bytes   500 156 bytes   00:10:34.258
3               0:12:17.361     0:05:50.099     19 757 kbps     33 735 kbps     00:17:35.637    25 759 kbps     00:17:21.081    24 398 kbps     00:15:04.904    103 002 bytes   434 449 bytes   00:14:07.638
4               0:18:07.461     0:04:29.185     19 911 kbps     36 475 kbps     00:20:56.672    26 833 kbps     00:18:32.694    24 786 kbps     00:19:33.505    103 807 bytes   426 877 bytes   00:21:04.554
5               0:22:36.646     0:04:30.812     17 752 kbps     32 342 kbps     00:26:26.960    24 848 kbps     00:26:24.040    23 137 kbps     00:24:52.115    92 552 bytes    478 610 bytes   00:24:13.827
6               0:27:07.459     0:06:55.414     21 148 kbps     37 539 kbps     00:28:44.514    26 081 kbps     00:29:42.405    24 219 kbps     00:30:13.228    110 256 bytes   398 033 bytes   00:31:35.852
7               0:34:02.874     0:07:21.023     18 905 kbps     40 439 kbps     00:34:10.506    26 172 kbps     00:39:36.582    24 089 kbps     00:39:49.261    98 560 bytes    464 627 bytes   00:38:41.068
8               0:41:23.898     0:12:48.768     19 917 kbps     35 490 kbps     00:51:25.624    25 869 kbps     00:51:32.547    24 259 kbps     00:49:22.584    103 841 bytes   473 059 bytes   00:46:40.506
9               0:54:12.666     0:05:01.968     20 950 kbps     35 808 kbps     00:57:37.412    25 955 kbps     00:58:18.828    24 110 kbps     00:57:31.322    109 223 bytes   434 567 bytes   00:57:24.399
10              0:59:14.634     0:04:11.960     21 272 kbps     35 502 kbps     00:59:54.799    25 649 kbps     00:59:43.871    24 223 kbps     01:00:44.682    110 904 bytes   387 873 bytes   01:01:05.286
11              1:03:26.594     0:04:53.334     18 599 kbps     36 045 kbps     01:06:13.594    25 529 kbps     01:06:20.059    24 072 kbps     01:03:51.077    96 966 bytes    484 664 bytes   01:04:00.586
12              1:08:19.929     0:03:12.525     20 689 kbps     33 939 kbps     01:10:15.461    25 923 kbps     01:11:10.641    23 876 kbps     01:10:33.687    107 861 bytes   516 542 bytes   01:09:40.634
13              1:11:32.454     0:04:26.849     21 047 kbps     35 666 kbps     01:13:56.432    25 766 kbps     01:14:36.180    24 006 kbps     01:15:07.711    109 731 bytes   439 240 bytes   01:15:57.302
14              1:15:59.304     0:08:44.565     19 868 kbps     30 858 kbps     01:23:12.988    25 693 kbps     01:21:23.336    24 463 kbps     01:21:18.164    103 585 bytes   463 421 bytes   01:24:39.324
15              1:24:43.870     0:06:24.634     20 818 kbps     32 013 kbps     01:26:27.307    25 650 kbps     01:25:10.772    24 324 kbps     01:29:05.089    108 549 bytes   406 045 bytes   01:29:53.429
16              1:31:08.504     0:00:01.042     30 kbps         31 kbps         01:31:08.504    0 kbps          00:00:00.000    0 kbps          00:00:00.000    161 bytes       636 bytes       01:31:09.505
STREAM DIAGNOSTICS:
File            PID             Type            Codec           Language                Seconds                 Bitrate                 Bytes           Packets
----            ---             ----            -----           --------                --------------          --------------          -------------   -----
00002.M2TS      4113 (0x1011)   0x1B            AVC                                     5468,421                19 928                  13 622 146 009  74 110 232
00002.M2TS      4352 (0x1100)   0x80            LPCM            eng (English)           5468,421                4 614                   3 154 108 752   17 498 553
00002.M2TS      4353 (0x1101)   0x86            DTS-HD MA       eng (English)           5468,421                7 331                   5 011 210 292   28 087 069
00005.M2TS      4113 (0x1011)   0x1B            AVC                                     0,959                   44                      5 238           35

<---- END FORUMS PASTE ---->
QUICK SUMMARY:
Disc Title: Foreigner - Double Vision 40 Live.Reloaded
Disc Size: 24 718 143 303 bytes
Protection: AACS
BD-Java: Yes
Playlist: 01101.MPLS
Size: 23 028 277 248 bytes
Length: 1:31:09.547
Total Bitrate: 33,68 Mbps
Video: MPEG-4 AVC Video / 19924 kbps / 1080p / 23,976 fps / 16:9 / High Profile 4.0
Audio: English / LPCM Audio / 2.0 / 96 kHz / 4608 kbps / 24-bit
Audio: English / DTS-HD Master Audio / 5.1 / 96 kHz / 7330 kbps / 24-bit (DTS Core: 5.1 / 48 kHz / 1509 kbps / 24-bit)
********************
PLAYLIST: 00002.MPLS
********************
<–- BEGIN FORUMS PASTE –->
Total   Video
Title                                                           Codec   Length  Movie Size      Disc Size       Bitrate Bitrate Main Audio Track                          Secondary Audio Track
-----                                                           ------  ------- --------------  --------------  ------- ------- ------------------                        ---------------------
00002.MPLS                                                      AVC     1:31:08 23 028 264 960  24 718 143 303  33,69   19,93   LPCM 2.0 4608Kbps (96kHz/24-bit)          DTS-HD Master 5.1 7331Kbps (96kHz/24-bit)
Код:
DISC INFO:
Disc Title:     Foreigner - Double Vision 40 Live.Reloaded
Disc Size:      24 718 143 303 bytes
Protection:     AACS
BD-Java:        Yes
BDInfo:         0.5.8
PLAYLIST REPORT:
Name:                   00002.MPLS
Length:                 1:31:08.504 (h:m:s.ms)
Size:                   23 028 264 960 bytes
Total Bitrate:          33,69 Mbps
VIDEO:
Codec                   Bitrate             Description
-----                   -------             -----------
MPEG-4 AVC Video        19928 kbps          1080p / 23,976 fps / 16:9 / High Profile 4.0
AUDIO:
Codec                           Language        Bitrate         Description
-----                           --------        -------         -----------
LPCM Audio                      English         4608 kbps       2.0 / 96 kHz / 4608 kbps / 24-bit
DTS-HD Master Audio             English         7331 kbps       5.1 / 96 kHz / 7331 kbps / 24-bit (DTS Core: 5.1 / 48 kHz / 1509 kbps / 24-bit)
FILES:
Name            Time In         Length          Size            Total Bitrate
----            -------         ------          ----            -------------
00002.M2TS      0:00:00.000     1:31:08.504     23 028 264 960  33 689
CHAPTERS:
Number          Time In         Length          Avg Video Rate  Max 1-Sec Rate  Max 1-Sec Time  Max 5-Sec Rate  Max 5-Sec Time  Max 10Sec Rate  Max 10Sec Time  Avg Frame Size  Max Frame Size  Max Frame Time
------          -------         ------          --------------  --------------  --------------  --------------  --------------  --------------  --------------  --------------  --------------  --------------
1               0:00:00.000     1:31:08.504     19 928 kbps     40 439 kbps     00:34:10.506    26 833 kbps     00:18:32.694    24 786 kbps     00:19:33.505    103 897 bytes   516 542 bytes   01:09:40.634
STREAM DIAGNOSTICS:
File            PID             Type            Codec           Language                Seconds                 Bitrate                 Bytes           Packets
----            ---             ----            -----           --------                --------------          --------------          -------------   -----
00002.M2TS      4113 (0x1011)   0x1B            AVC                                     5468,421                19 928                  13 622 146 009  74 110 232
00002.M2TS      4352 (0x1100)   0x80            LPCM            eng (English)           5468,421                4 614                   3 154 108 752   17 498 553
00002.M2TS      4353 (0x1101)   0x86            DTS-HD MA       eng (English)           5468,421                7 331                   5 011 210 292   28 087 069

<---- END FORUMS PASTE ---->
QUICK SUMMARY:
Disc Title: Foreigner - Double Vision 40 Live.Reloaded
Disc Size: 24 718 143 303 bytes
Protection: AACS
BD-Java: Yes
Playlist: 00002.MPLS
Size: 23 028 264 960 bytes
Length: 1:31:08.504
Total Bitrate: 33,69 Mbps
Video: MPEG-4 AVC Video / 19928 kbps / 1080p / 23,976 fps / 16:9 / High Profile 4.0
Audio: English / LPCM Audio / 2.0 / 96 kHz / 4608 kbps / 24-bit
Audio: English / DTS-HD Master Audio / 5.1 / 96 kHz / 7331 kbps / 24-bit (DTS Core: 5.1 / 48 kHz / 1509 kbps / 24-bit)
********************
PLAYLIST: 01201.MPLS
********************
<–- BEGIN FORUMS PASTE –->
Total   Video
Title                                                           Codec   Length  Movie Size      Disc Size       Bitrate Bitrate Main Audio Track                          Secondary Audio Track
-----                                                           ------  ------- --------------  --------------  ------- ------- ------------------                        ---------------------
01201.MPLS                                                      AVC     0:04:55 804 839 424     24 718 143 303  21,79   9,96    LPCM 2.0 4608Kbps (96kHz/24-bit)          DTS-HD Master 5.1 5914Kbps (96kHz/24-bit)
Код:
DISC INFO:
Disc Title:     Foreigner - Double Vision 40 Live.Reloaded
Disc Size:      24 718 143 303 bytes
Protection:     AACS
BD-Java:        Yes
BDInfo:         0.5.8
PLAYLIST REPORT:
Name:                   01201.MPLS
Length:                 0:04:55.461 (h:m:s.ms)
Size:                   804 839 424 bytes
Total Bitrate:          21,79 Mbps
VIDEO:
Codec                   Bitrate             Description
-----                   -------             -----------
MPEG-4 AVC Video        9962 kbps           1080p / 23,976 fps / 16:9 / High Profile 4.1
AUDIO:
Codec                           Language        Bitrate         Description
-----                           --------        -------         -----------
LPCM Audio                      English         4608 kbps       2.0 / 96 kHz / 4608 kbps / 24-bit
DTS-HD Master Audio             English         5914 kbps       5.1 / 96 kHz / 5914 kbps / 24-bit (DTS Core: 5.1 / 48 kHz / 1509 kbps / 24-bit)
FILES:
Name            Time In         Length          Size            Total Bitrate
----            -------         ------          ----            -------------
00003.M2TS      0:00:00.000     0:04:54.419     804 827 136     21 869
00005.M2TS      0:04:54.419     0:00:01.042     12 288          94
CHAPTERS:
Number          Time In         Length          Avg Video Rate  Max 1-Sec Rate  Max 1-Sec Time  Max 5-Sec Rate  Max 5-Sec Time  Max 10Sec Rate  Max 10Sec Time  Avg Frame Size  Max Frame Size  Max Frame Time
------          -------         ------          --------------  --------------  --------------  --------------  --------------  --------------  --------------  --------------  --------------  --------------
1               0:00:00.000     0:04:54.419     9 997 kbps      23 372 kbps     00:00:48.965    19 359 kbps     00:02:18.304    16 725 kbps     00:02:18.346    52 121 bytes    342 092 bytes   00:03:57.987
2               0:04:54.419     0:00:01.042     30 kbps         31 kbps         00:04:54.419    0 kbps          00:00:00.000    0 kbps          00:00:00.000    161 bytes       636 bytes       00:04:55.420
STREAM DIAGNOSTICS:
File            PID             Type            Codec           Language                Seconds                 Bitrate                 Bytes           Packets
----            ---             ----            -----           --------                --------------          --------------          -------------   -----
00003.M2TS      4113 (0x1011)   0x1B            AVC                                     294,336                 10 000                  367 919 909     2 003 664
00003.M2TS      4352 (0x1100)   0x80            LPCM            eng (English)           294,336                 4 616                   169 821 456     942 144
00003.M2TS      4353 (0x1101)   0x86            DTS-HD MA       eng (English)           294,336                 5 936                   218 410 003     1 232 886
00005.M2TS      4113 (0x1011)   0x1B            AVC                                     0,959                   44                      5 238           35

<---- END FORUMS PASTE ---->
QUICK SUMMARY:
Disc Title: Foreigner - Double Vision 40 Live.Reloaded
Disc Size: 24 718 143 303 bytes
Protection: AACS
BD-Java: Yes
Playlist: 01201.MPLS
Size: 804 839 424 bytes
Length: 0:04:55.461
Total Bitrate: 21,79 Mbps
Video: MPEG-4 AVC Video / 9962 kbps / 1080p / 23,976 fps / 16:9 / High Profile 4.1
Audio: English / LPCM Audio / 2.0 / 96 kHz / 4608 kbps / 24-bit
Audio: English / DTS-HD Master Audio / 5.1 / 96 kHz / 5914 kbps / 24-bit (DTS Core: 5.1 / 48 kHz / 1509 kbps / 24-bit)
********************
PLAYLIST: 00003.MPLS
********************
<–- BEGIN FORUMS PASTE –->
Total   Video
Title                                                           Codec   Length  Movie Size      Disc Size       Bitrate Bitrate Main Audio Track                          Secondary Audio Track
-----                                                           ------  ------- --------------  --------------  ------- ------- ------------------                        ---------------------
00003.MPLS                                                      AVC     0:04:54 804 827 136     24 718 143 303  21,87   10,00   LPCM 2.0 4608Kbps (96kHz/24-bit)          DTS-HD Master 5.1 5935Kbps (96kHz/24-bit)
Код:
DISC INFO:
Disc Title:     Foreigner - Double Vision 40 Live.Reloaded
Disc Size:      24 718 143 303 bytes
Protection:     AACS
BD-Java:        Yes
BDInfo:         0.5.8
PLAYLIST REPORT:
Name:                   00003.MPLS
Length:                 0:04:54.419 (h:m:s.ms)
Size:                   804 827 136 bytes
Total Bitrate:          21,87 Mbps
VIDEO:
Codec                   Bitrate             Description
-----                   -------             -----------
MPEG-4 AVC Video        9997 kbps           1080p / 23,976 fps / 16:9 / High Profile 4.1
AUDIO:
Codec                           Language        Bitrate         Description
-----                           --------        -------         -----------
LPCM Audio                      English         4608 kbps       2.0 / 96 kHz / 4608 kbps / 24-bit
DTS-HD Master Audio             English         5935 kbps       5.1 / 96 kHz / 5935 kbps / 24-bit (DTS Core: 5.1 / 48 kHz / 1509 kbps / 24-bit)
FILES:
Name            Time In         Length          Size            Total Bitrate
----            -------         ------          ----            -------------
00003.M2TS      0:00:00.000     0:04:54.419     804 827 136     21 869
CHAPTERS:
Number          Time In         Length          Avg Video Rate  Max 1-Sec Rate  Max 1-Sec Time  Max 5-Sec Rate  Max 5-Sec Time  Max 10Sec Rate  Max 10Sec Time  Avg Frame Size  Max Frame Size  Max Frame Time
------          -------         ------          --------------  --------------  --------------  --------------  --------------  --------------  --------------  --------------  --------------  --------------
1               0:00:00.000     0:04:54.419     9 997 kbps      23 372 kbps     00:00:48.965    19 359 kbps     00:02:18.304    16 725 kbps     00:02:18.346    52 128 bytes    342 092 bytes   00:03:57.987
STREAM DIAGNOSTICS:
File            PID             Type            Codec           Language                Seconds                 Bitrate                 Bytes           Packets
----            ---             ----            -----           --------                --------------          --------------          -------------   -----
00003.M2TS      4113 (0x1011)   0x1B            AVC                                     294,336                 10 000                  367 919 909     2 003 664
00003.M2TS      4352 (0x1100)   0x80            LPCM            eng (English)           294,336                 4 616                   169 821 456     942 144
00003.M2TS      4353 (0x1101)   0x86            DTS-HD MA       eng (English)           294,336                 5 936                   218 410 003     1 232 886

<---- END FORUMS PASTE ---->
QUICK SUMMARY:
Disc Title: Foreigner - Double Vision 40 Live.Reloaded
Disc Size: 24 718 143 303 bytes
Protection: AACS
BD-Java: Yes
Playlist: 00003.MPLS
Size: 804 827 136 bytes
Length: 0:04:54.419
Total Bitrate: 21,87 Mbps
Video: MPEG-4 AVC Video / 9997 kbps / 1080p / 23,976 fps / 16:9 / High Profile 4.1
Audio: English / LPCM Audio / 2.0 / 96 kHz / 4608 kbps / 24-bit
Audio: English / DTS-HD Master Audio / 5.1 / 96 kHz / 5935 kbps / 24-bit (DTS Core: 5.1 / 48 kHz / 1509 kbps / 24-bit)
********************
PLAYLIST: 01202.MPLS
********************
<–- BEGIN FORUMS PASTE –->
Total   Video
Title                                                           Codec   Length  Movie Size      Disc Size       Bitrate Bitrate Main Audio Track                          Secondary Audio Track
-----                                                           ------  ------- --------------  --------------  ------- ------- ------------------                        ---------------------
01202.MPLS                                                      AVC     0:04:23 730 183 680     24 718 143 303  22,16   9,96    LPCM 2.0 4608Kbps (96kHz/24-bit)          DTS-HD Master 5.1 6271Kbps (96kHz/24-bit)
Код:
DISC INFO:
Disc Title:     Foreigner - Double Vision 40 Live.Reloaded
Disc Size:      24 718 143 303 bytes
Protection:     AACS
BD-Java:        Yes
BDInfo:         0.5.8
PLAYLIST REPORT:
Name:                   01202.MPLS
Length:                 0:04:23.596 (h:m:s.ms)
Size:                   730 183 680 bytes
Total Bitrate:          22,16 Mbps
VIDEO:
Codec                   Bitrate             Description
-----                   -------             -----------
MPEG-4 AVC Video        9960 kbps           1080p / 23,976 fps / 16:9 / High Profile 4.1
AUDIO:
Codec                           Language        Bitrate         Description
-----                           --------        -------         -----------
LPCM Audio                      English         4608 kbps       2.0 / 96 kHz / 4608 kbps / 24-bit
DTS-HD Master Audio             English         6271 kbps       5.1 / 96 kHz / 6271 kbps / 24-bit (DTS Core: 5.1 / 48 kHz / 1509 kbps / 24-bit)
FILES:
Name            Time In         Length          Size            Total Bitrate
----            -------         ------          ----            -------------
00004.M2TS      0:00:00.000     0:04:22.553     730 171 392     22 248
00005.M2TS      0:04:22.553     0:00:01.042     12 288          94
CHAPTERS:
Number          Time In         Length          Avg Video Rate  Max 1-Sec Rate  Max 1-Sec Time  Max 5-Sec Rate  Max 5-Sec Time  Max 10Sec Rate  Max 10Sec Time  Avg Frame Size  Max Frame Size  Max Frame Time
------          -------         ------          --------------  --------------  --------------  --------------  --------------  --------------  --------------  --------------  --------------  --------------
1               0:00:00.000     0:04:22.553     10 000 kbps     24 895 kbps     00:04:15.004    15 869 kbps     00:02:02.956    13 325 kbps     00:02:02.288    52 135 bytes    333 925 bytes   00:00:03.878
2               0:04:22.553     0:00:01.042     30 kbps         31 kbps         00:04:22.553    0 kbps          00:00:00.000    0 kbps          00:00:00.000    161 bytes       636 bytes       00:04:23.554
STREAM DIAGNOSTICS:
File            PID             Type            Codec           Language                Seconds                 Bitrate                 Bytes           Packets
----            ---             ----            -----           --------                --------------          --------------          -------------   -----
00004.M2TS      4113 (0x1011)   0x1B            AVC                                     262,387                 10 006                  328 188 110     1 787 318
00004.M2TS      4352 (0x1100)   0x80            LPCM            eng (English)           262,387                 4 617                   151 441 724     840 176
00004.M2TS      4353 (0x1101)   0x86            DTS-HD MA       eng (English)           262,387                 6 300                   206 615 124     1 163 795
00005.M2TS      4113 (0x1011)   0x1B            AVC                                     0,959                   44                      5 238           35

<---- END FORUMS PASTE ---->
QUICK SUMMARY:
Disc Title: Foreigner - Double Vision 40 Live.Reloaded
Disc Size: 24 718 143 303 bytes
Protection: AACS
BD-Java: Yes
Playlist: 01202.MPLS
Size: 730 183 680 bytes
Length: 0:04:23.596
Total Bitrate: 22,16 Mbps
Video: MPEG-4 AVC Video / 9960 kbps / 1080p / 23,976 fps / 16:9 / High Profile 4.1
Audio: English / LPCM Audio / 2.0 / 96 kHz / 4608 kbps / 24-bit
Audio: English / DTS-HD Master Audio / 5.1 / 96 kHz / 6271 kbps / 24-bit (DTS Core: 5.1 / 48 kHz / 1509 kbps / 24-bit)
********************
PLAYLIST: 00004.MPLS
********************
<–- BEGIN FORUMS PASTE –->
Total   Video
Title                                                           Codec   Length  Movie Size      Disc Size       Bitrate Bitrate Main Audio Track                          Secondary Audio Track
-----                                                           ------  ------- --------------  --------------  ------- ------- ------------------                        ---------------------
00004.MPLS                                                      AVC     0:04:22 730 171 392     24 718 143 303  22,25   10,00   LPCM 2.0 4608Kbps (96kHz/24-bit)          DTS-HD Master 5.1 6296Kbps (96kHz/24-bit)
Код:
DISC INFO:
Disc Title:     Foreigner - Double Vision 40 Live.Reloaded
Disc Size:      24 718 143 303 bytes
Protection:     AACS
BD-Java:        Yes
BDInfo:         0.5.8
PLAYLIST REPORT:
Name:                   00004.MPLS
Length:                 0:04:22.553 (h:m:s.ms)
Size:                   730 171 392 bytes
Total Bitrate:          22,25 Mbps
VIDEO:
Codec                   Bitrate             Description
-----                   -------             -----------
MPEG-4 AVC Video        10000 kbps          1080p / 23,976 fps / 16:9 / High Profile 4.1
AUDIO:
Codec                           Language        Bitrate         Description
-----                           --------        -------         -----------
LPCM Audio                      English         4608 kbps       2.0 / 96 kHz / 4608 kbps / 24-bit
DTS-HD Master Audio             English         6296 kbps       5.1 / 96 kHz / 6296 kbps / 24-bit (DTS Core: 5.1 / 48 kHz / 1509 kbps / 24-bit)
FILES:
Name            Time In         Length          Size            Total Bitrate
----            -------         ------          ----            -------------
00004.M2TS      0:00:00.000     0:04:22.553     730 171 392     22 248
CHAPTERS:
Number          Time In         Length          Avg Video Rate  Max 1-Sec Rate  Max 1-Sec Time  Max 5-Sec Rate  Max 5-Sec Time  Max 10Sec Rate  Max 10Sec Time  Avg Frame Size  Max Frame Size  Max Frame Time
------          -------         ------          --------------  --------------  --------------  --------------  --------------  --------------  --------------  --------------  --------------  --------------
1               0:00:00.000     0:04:22.553     10 000 kbps     24 895 kbps     00:04:15.004    15 869 kbps     00:02:02.956    13 325 kbps     00:02:02.288    52 143 bytes    333 925 bytes   00:00:03.878
STREAM DIAGNOSTICS:
File            PID             Type            Codec           Language                Seconds                 Bitrate                 Bytes           Packets
----            ---             ----            -----           --------                --------------          --------------          -------------   -----
00004.M2TS      4113 (0x1011)   0x1B            AVC                                     262,387                 10 006                  328 188 110     1 787 318
00004.M2TS      4352 (0x1100)   0x80            LPCM        			  		   	  			     	 			   		  	   		      		 			  	 			   		  	   		 	 	  		 	 	  	 			   		 	    			  				     eng (English)           262,387                 4 617                   151 441 724     840 176
00004.M2TS      4353 (0x1101)   0x86            DTS-HD MA       eng (English)           262,387                 6 300                   206 615 124     1 163 795

<---- END FORUMS PASTE ---->
QUICK SUMMARY:
Disc Title: Foreigner - Double Vision 40 Live.Reloaded
Disc Size: 24 718 143 303 bytes
Protection: AACS
BD-Java: Yes
Playlist: 00004.MPLS
Size: 730 171 392 bytes
Length: 0:04:22.553
Total Bitrate: 22,25 Mbps
Video: MPEG-4 AVC Video / 10000 kbps / 1080p / 23,976 fps / 16:9 / High Profile 4.1
Audio: English / LPCM Audio / 2.0 / 96 kHz / 4608 kbps / 24-bit
Audio: English / DTS-HD Master Audio / 5.1 / 96 kHz / 6296 kbps / 24-bit (DTS Core: 5.1 / 48 kHz / 1509 kbps / 24-bit)
********************
PLAYLIST: 00001.MPLS
********************
<–- BEGIN FORUMS PASTE –->
Total   Video
Title                                                           Codec   Length  Movie Size      Disc Size       Bitrate Bitrate Main Audio Track                          Secondary Audio Track
-----                                                           ------  ------- --------------  --------------  ------- ------- ------------------                        ---------------------
00001.MPLS                                                      AVC     0:00:52 135 936 000     24 718 143 303  20,60   14,94   LPCM 2.0 4608Kbps (96kHz/24-bit)
Код:
DISC INFO:
Disc Title:     Foreigner - Double Vision 40 Live.Reloaded
Disc Size:      24 718 143 303 bytes
Protection:     AACS
BD-Java:        Yes
BDInfo:         0.5.8
PLAYLIST REPORT:
Name:                   00001.MPLS
Length:                 0:00:52.802 (h:m:s.ms)
Size:                   135 936 000 bytes
Total Bitrate:          20,60 Mbps
VIDEO:
Codec                   Bitrate             Description
-----                   -------             -----------
MPEG-4 AVC Video        14940 kbps          1080p / 23,976 fps / 16:9 / High Profile 4.1
AUDIO:
Codec                           Language        Bitrate         Description
-----                           --------        -------         -----------
LPCM Audio                      Undetermined    4608 kbps       2.0 / 96 kHz / 4608 kbps / 24-bit
FILES:
Name            Time In         Length          Size            Total Bitrate
----            -------         ------          ----            -------------
00001.M2TS      0:00:00.000     0:00:52.802     135 936 000     20 595
CHAPTERS:
Number          Time In         Length          Avg Video Rate  Max 1-Sec Rate  Max 1-Sec Time  Max 5-Sec Rate  Max 5-Sec Time  Max 10Sec Rate  Max 10Sec Time  Avg Frame Size  Max Frame Size  Max Frame Time
------          -------         ------          --------------  --------------  --------------  --------------  --------------  --------------  --------------  --------------  --------------  --------------
1               0:00:00.000     0:00:52.802     14 940 kbps     27 490 kbps     00:00:34.325    20 165 kbps     00:00:33.742    17 408 kbps     00:00:03.753    77 890 bytes    319 745 bytes   00:00:52.093
STREAM DIAGNOSTICS:
File            PID             Type            Codec           Language                Seconds                 Bitrate                 Bytes           Packets
----            ---             ----            -----           --------                --------------          --------------          -------------   -----
00001.M2TS      4113 (0x1011)   0x1B            AVC                                     52,636                  14 987                  98 608 134      536 658
00001.M2TS      4352 (0x1100)   0x80            LPCM            und (Undetermined)      52,636                  4 629                   30 457 924      168 976

<---- END FORUMS PASTE ---->
QUICK SUMMARY:
Disc Title: Foreigner - Double Vision 40 Live.Reloaded
Disc Size: 24 718 143 303 bytes
Protection: AACS
BD-Java: Yes
Playlist: 00001.MPLS
Size: 135 936 000 bytes
Length: 0:00:52.802
Total Bitrate: 20,60 Mbps
Video: MPEG-4 AVC Video / 14940 kbps / 1080p / 23,976 fps / 16:9 / High Profile 4.1
Audio: Undetermined / LPCM Audio / 2.0 / 96 kHz / 4608 kbps / 24-bit
********************
PLAYLIST: 00000.MPLS
********************
<–- BEGIN FORUMS PASTE –->
Total   Video
Title                                                           Codec   Length  Movie Size      Disc Size       Bitrate Bitrate Main Audio Track                          Secondary Audio Track
-----                                                           ------  ------- --------------  --------------  ------- ------- ------------------                        ---------------------
00000.MPLS                                                      AVC     0:00:21 17 442 816      24 718 143 303  6,60    3,88    LPCM 2.0 2304Kbps (48kHz/24-bit)
Код:
DISC INFO:
Disc Title:     Foreigner - Double Vision 40 Live.Reloaded
Disc Size:      24 718 143 303 bytes
Protection:     AACS
BD-Java:        Yes
BDInfo:         0.5.8
PLAYLIST REPORT:
Name:                   00000.MPLS
Length:                 0:00:21.146 (h:m:s.ms)
Size:                   17 442 816 bytes
Total Bitrate:          6,60 Mbps
VIDEO:
Codec                   Bitrate             Description
-----                   -------             -----------
MPEG-4 AVC Video        3882 kbps           1080p / 23,976 fps / 16:9 / High Profile 4.1
AUDIO:
Codec                           Language        Bitrate         Description
-----                           --------        -------         -----------
LPCM Audio                      Undetermined    2304 kbps       2.0 / 48 kHz / 2304 kbps / 24-bit
FILES:
Name            Time In         Length          Size            Total Bitrate
----            -------         ------          ----            -------------
00000.M2TS      0:00:00.000     0:00:21.146     17 442 816      6 599
CHAPTERS:
Number          Time In         Length          Avg Video Rate  Max 1-Sec Rate  Max 1-Sec Time  Max 5-Sec Rate  Max 5-Sec Time  Max 10Sec Rate  Max 10Sec Time  Avg Frame Size  Max Frame Size  Max Frame Time
------          -------         ------          --------------  --------------  --------------  --------------  --------------  --------------  --------------  --------------  --------------  --------------
1               0:00:00.000     0:00:21.146     3 882 kbps      15 079 kbps     00:00:07.090    6 610 kbps      00:00:05.422    6 015 kbps      00:00:04.170    20 278 bytes    237 865 bytes   00:00:11.553
STREAM DIAGNOSTICS:
File            PID             Type            Codec           Language                Seconds                 Bitrate                 Bytes           Packets
----            ---             ----            -----           --------                --------------          --------------          -------------   -----
00000.M2TS      4113 (0x1011)   0x1B            AVC                                     20,979                  3 913                   10 260 551      56 042
00000.M2TS      4352 (0x1100)   0x80            LPCM            und (Undetermined)      20,979                  2 329                   6 108 120       33 840

<---- END FORUMS PASTE ---->
QUICK SUMMARY:
Disc Title: Foreigner - Double Vision 40 Live.Reloaded
Disc Size: 24 718 143 303 bytes
Protection: AACS
BD-Java: Yes
Playlist: 00000.MPLS
Size: 17 442 816 bytes
Length: 0:00:21.146
Total Bitrate: 6,60 Mbps
Video: MPEG-4 AVC Video / 3882 kbps / 1080p / 23,976 fps / 16:9 / High Profile 4.1
Audio: Undetermined / LPCM Audio / 2.0 / 48 kHz / 2304 kbps / 24-bit
********************
PLAYLIST: 00999.MPLS
********************
<–- BEGIN FORUMS PASTE –->
Total   Video
Title                                                           Codec   Length  Movie Size      Disc Size       Bitrate Bitrate Main Audio Track                          Secondary Audio Track
-----                                                           ------  ------- --------------  --------------  ------- ------- ------------------                        ---------------------
00999.MPLS                                                      AVC     0:00:21 17 442 816      24 718 143 303  6,60    3,88    LPCM 2.0 2304Kbps (48kHz/24-bit)
Код:
DISC INFO:
Disc Title:     Foreigner - Double Vision 40 Live.Reloaded
Disc Size:      24 718 143 303 bytes
Protection:     AACS
BD-Java:        Yes
BDInfo:         0.5.8
PLAYLIST REPORT:
Name:                   00999.MPLS
Length:                 0:00:21.146 (h:m:s.ms)
Size:                   17 442 816 bytes
Total Bitrate:          6,60 Mbps
VIDEO:
Codec                   Bitrate             Description
-----                   -------             -----------
MPEG-4 AVC Video        3882 kbps           1080p / 23,976 fps / 16:9 / High Profile 4.1
AUDIO:
Codec                           Language        Bitrate         Description
-----                           --------        -------         -----------
LPCM Audio                      Undetermined    2304 kbps       2.0 / 48 kHz / 2304 kbps / 24-bit
FILES:
Name            Time In         Length          Size            Total Bitrate
----            -------         ------          ----            -------------
00000.M2TS      0:00:00.000     0:00:21.146     17 442 816      6 599
CHAPTERS:
Number          Time In         Length          Avg Video Rate  Max 1-Sec Rate  Max 1-Sec Time  Max 5-Sec Rate  Max 5-Sec Time  Max 10Sec Rate  Max 10Sec Time  Avg Frame Size  Max Frame Size  Max Frame Time
------          -------         ------          --------------  --------------  --------------  --------------  --------------  --------------  --------------  --------------  --------------  --------------
1               0:00:00.000     0:00:21.146     3 882 kbps      15 079 kbps     00:00:07.090    6 610 kbps      00:00:05.422    6 015 kbps      00:00:04.170    20 278 bytes    237 865 bytes   00:00:11.553
STREAM DIAGNOSTICS:
File            PID             Type            Codec           Language                Seconds                 Bitrate                 Bytes           Packets
----            ---             ----            -----           --------                --------------          --------------          -------------   -----
00000.M2TS      4113 (0x1011)   0x1B            AVC                                     20,979                  3 913                   10 260 551      56 042
00000.M2TS      4352 (0x1100)   0x80            LPCM            und (Undetermined)      20,979                  2 329                   6 108 120       33 840

<---- END FORUMS PASTE ---->
QUICK SUMMARY:
Disc Title: Foreigner - Double Vision 40 Live.Reloaded
Disc Size: 24 718 143 303 bytes
Protection: AACS
BD-Java: Yes
Playlist: 00999.MPLS
Size: 17 442 816 bytes
Length: 0:00:21.146
Total Bitrate: 6,60 Mbps
Video: MPEG-4 AVC Video / 3882 kbps / 1080p / 23,976 fps / 16:9 / High Profile 4.1
Audio: Undetermined / LPCM Audio / 2.0 / 48 kHz / 2304 kbps / 24-bit
********************
PLAYLIST: 01001.MPLS
********************
<–- BEGIN FORUMS PASTE –->
Total   Video
Title                                                           Codec   Length  Movie Size      Disc Size       Bitrate Bitrate Main Audio Track                          Secondary Audio Track
-----                                                           ------  ------- --------------  --------------  ------- ------- ------------------                        ---------------------
01001.MPLS                                                      AVC     0:00:21 17 442 816      24 718 143 303  6,60    3,88    LPCM 2.0 2304Kbps (48kHz/24-bit)
Код:
DISC INFO:
Disc Title:     Foreigner - Double Vision 40 Live.Reloaded
Disc Size:      24 718 143 303 bytes
Protection:     AACS
BD-Java:        Yes
BDInfo:         0.5.8
PLAYLIST REPORT:
Name:                   01001.MPLS
Length:                 0:00:21.146 (h:m:s.ms)
Size:                   17 442 816 bytes
Total Bitrate:          6,60 Mbps
VIDEO:
Codec                   Bitrate             Description
-----                   -------             -----------
MPEG-4 AVC Video        3882 kbps           1080p / 23,976 fps / 16:9 / High Profile 4.1
AUDIO:
Codec                           Language        Bitrate         Description
-----                           --------        -------         -----------
LPCM Audio                      Undetermined    2304 kbps       2.0 / 48 kHz / 2304 kbps / 24-bit
FILES:
Name            Time In         Length          Size            Total Bitrate
----            -------         ------          ----            -------------
00000.M2TS      0:00:00.000     0:00:21.146     17 442 816      6 599
CHAPTERS:
Number          Time In         Length          Avg Video Rate  Max 1-Sec Rate  Max 1-Sec Time  Max 5-Sec Rate  Max 5-Sec Time  Max 10Sec Rate  Max 10Sec Time  Avg Frame Size  Max Frame Size  Max Frame Time
------          -------         ------          --------------  --------------  --------------  --------------  --------------  --------------  --------------  --------------  --------------  --------------
1               0:00:00.000     0:00:21.146     3 882 kbps      15 079 kbps     00:00:07.090    6 610 kbps      00:00:05.422    6 015 kbps      00:00:04.170    20 278 bytes    237 865 bytes   00:00:11.553
STREAM DIAGNOSTICS:
File            PID             Type            Codec           Language                Seconds                 Bitrate                 Bytes           Packets
----            ---             ----            -----           --------                --------------          --------------          -------------   -----
00000.M2TS      4113 (0x1011)   0x1B            AVC                                     20,979                  3 913                   10 260 551      56 042
00000.M2TS      4352 (0x1100)   0x80            LPCM            und (Undetermined)      20,979                  2 329                   6 108 120       33 840

<---- END FORUMS PASTE ---->
QUICK SUMMARY:
Disc Title: Foreigner - Double Vision 40 Live.Reloaded
Disc Size: 24 718 143 303 bytes
Protection: AACS
BD-Java: Yes
Playlist: 01001.MPLS
Size: 17 442 816 bytes
Length: 0:00:21.146
Total Bitrate: 6,60 Mbps
Video: MPEG-4 AVC Video / 3882 kbps / 1080p / 23,976 fps / 16:9 / High Profile 4.1
Audio: Undetermined / LPCM Audio / 2.0 / 48 kHz / 2304 kbps / 24-bit