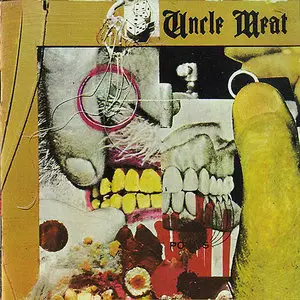 The Mothers of Invention - Uncle Meat (1969) [Original Bizarre Records Vinyl Rip]
EACRip | MP3 @320 -> 174 MB | FLAC+No CUE+No LOG -> 454 MB
© 1969 Bizarre Records | Rock / Progressive Rock / Experimental Rock
This version is regarded as the one with the superior mix and is represented here as an alternative to the Ryko remaster
Just three years into their recording career, the Mothers of Invention released their second double album, Uncle Meat, which began life as the largely instrumental soundtrack to an unfinished film. It's essentially a transitional work, but it's a fascinating one, showcasing Frank Zappa's ever-increasing compositional dexterity and the Mothers' emerging instrumental prowess. It was potentially easy to overlook Zappa's melodic gifts on albums past, but on Uncle Meat, he thrusts them firmly into the spotlight; what few lyrics there are, Zappa says in the liner notes, are in-jokes relevant only to the band. Thus, Uncle Meat became the point at which Zappa began to establish himself as a composer and he would return to many of these pieces repeatedly over the course of his career. Taken as a whole, Uncle Meat comes off as a hodgepodge, with centerpieces scattered between variations on previous pieces, short concert excerpts, less-realized experiments, doo wop tunes, and comedy bits; the programming often feels as random as the abrupt transitions and tape experiments held over from Zappa's last few projects. But despite the absence of a conceptual framework, the unfocused sprawl of Uncle Meat is actually a big part of its appeal. It's exciting to hear one of the most creatively fertile minds in rock pushing restlessly into new territory, even if he isn't always quite sure where he's going. However, several tracks hint at the jazz-rock fusion soon to come, especially the extended album closer "King Kong"; it's his first unequivocal success in that area, with its odd time signature helping turn it into a rhythmically kinetic blowing vehicle. Though some might miss the gleeful satire of Zappa's previous work with the Mothers, Uncle Meat's continued abundance of musical ideas places it among his most intriguing works.
Personnel:
Frank Zappa – guitar, percussion, vocals
Jimmy Carl Black – percussion, drums, poverty
Ray Collins – vocals
Roy Estrada – bass guitar, vocals
Bunk Gardner – clarinet, flute, bass clarinet, piccolo, alto saxophone, soprano saxophone, tenor saxophone
Ruth Komanoff – marimba, vibraphone
Billy Mundi – drums
Don Preston – electric piano
Euclid James Sherwood – tenor saxophone, tambourine, voices, choreography
Art Tripp – percussion, chimes, drums, marimba, xylophone, bells, tympani, vibraphone, wood block
Ian Underwood – clarinet, flute, piano, celeste, harpsichord, alto saxophone, baritone saxophone, wind, electronic organ
Nelcy Walker – soprano vocals
Pamela Zarubica as Suzy Creamcheese
Tracklist:
1. Uncle Meat: Main Title Theme – 1:56
2. The Voice of Cheese – 0:26
3. Nine Types of Industrial Pollution – 6:00
4. Zolar Czakl – 0:54
5. Dog Breath, in the Year of the Plague – 3:59
6. The Legend of the Golden Arches – 3:28
7. Louie Louie (At the Royal Albert Hall in London) – 2:19
8. The Dog Breath Variations – 1:48
9. Sleeping in a Jar – 0:50
10. Our Bizarre Relationship – 1:05
11. The Uncle Meat Variations – 4:46
12. Electric Aunt Jemima – 1:46
13. Prelude to King Kong – 3:38
14. God Bless America (Live at the Whisky A Go Go) – 1:10
15. A Pound for a Brown on the Bus – 1:29
16. Ian Underwood Whips It Out (Live on stage in Copenhagen) – 5:05
17. Mr. Green Genes – 3:14
18. We Can Shoot You – 2:03
19. If We'd All Been Living in California… – 1:14
20. The Air – 2:57
21. Project X – 4:48
22. Cruising for Burgers – 2:18
23. King Kong Itself (as played by the Mothers in a studio) – 0:49
24. King Kong II (its magnificence as interpreted by Dom DeWild) – 1:21
25. King Kong III (as Motorhead explains it) – 1:44
26. King Kong IV (the Gardner Varieties) – 6:17
27. King Kong V (as played by 3 deranged Good Humor Trucks) – 0:34
28. King Kong VI (live on a flat bed diesel in the middle of a race track at a Miami Pop Festival . . . the Underwood ramifications) – 7:24
Total time: 01:15:19
Recorded on October 1967–September 1968.
Reuploaded with 5% recovery rate