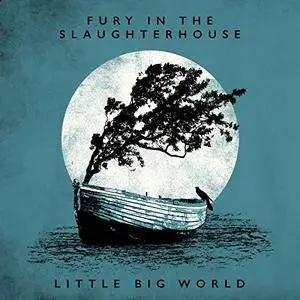 Fury in the Slaughterhouse - Little Big World - Live & Acoustic (2017)
MP3 CBR 320 kbps | 01:57:19 | 269 Mb
Alternative Rock | Label: Starwatch Entertainment
It was not until the beginning of the year that Fury In The Slaughterhouse released a best-of-album with some new songs to coincide with their 30th anniversary. Now, Kai Wingenfelder, Thorsten Wingenfelder, Christof Stein-Schneider, Rainer Schumann, Gero Drnek and Christian Decker will present another highlight for their fans: the new concert album »Little Big World: Live & Acoustic«. The Acoustic album was recorded live at the end of April in the Hamburger Grünspan. 23 songs are waiting, including many Fury classics. In addition, some exciting guests are waiting for »Little Big World: Live & Acoustic«, for example producer Mousse T. and Kölschrocker Wolfgang Niedecken.
Tracklist:
1. My Little World (Live & Acoustic)
2. When God Goes Home (Live & Acoustic)
3. Words (Live & Acoustic)
4. Dancing in the Sunshine of the Dark (Live & Acoustic)
5. Last Order (Live & Acoustic)
6. Bar des Boulistes (Live & Acoustic)
7. Every Generation Got Its Own Disease (Live & Acoustic)
8. Then She Said (Live & Acoustic)
9. Things Like This (Live & Acoustic)
10. Protection (Live & Acoustic)
11. When I'm Dead and Gone (Live & Acoustic)
12. Dance on the Frontline (Live & Acoustic)
13. Radio Orchid (Live & Acoustic)
14. Cry It Out (Live & Acoustic)
15. In Your Room (Live & Acoustic)
16. 30 (It's Not Easy) (Live & Acoustic)
17. Seconds to Fall (Live & Acoustic)
18. Boys Don't Cry (Live & Acoustic)
19. Won't Forget These Days (Live & Acoustic)
20. Down There (Live & Acoustic)
21. Milk and Honey (Live & Acoustic)
22. Time to Wonder (Live & Acoustic)
23. Trapped Today, Trapped Tomorrow (Live & Acoustic)