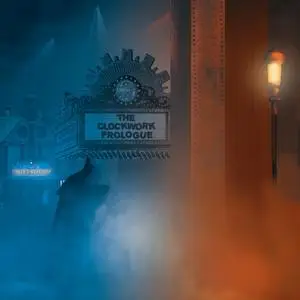 Gandalf's Fist - The Clockwork Prologue (2CD) (2019)
MP3 CBR 320kbps ~ 85.82 Mb + 137.70 Mb | 1:37:19 | Cover
Neo-Prog | Country: United Kingdom | Label: Nightkeeper Productions
Return to Cogtopolis! "The Clockwork Prologue" is a 2-CD 'Expansion Pack' for 2016's "The Clockwork Fable" it features an extension of the original story and is packed with brand new Gandalf's Fist music and story! As you can expect, actors Mark Benton, Tim Munro, Paul Kavanagh and Bill Fellows are back to bring the world of Cogtopolis to life!
CD1 - Part I: The Thaw
1. The Belly Of The Earth (0:58)
2. An Expedition Amidst The Ice Burrows (1:22)
3. Wardens (4:32)
4. Badgerwhacked (2:03)
5. Solar Huntress (6:43)
6. Dirty Doyle's Surface Souvenirs (1:35)
7. Supplies For The Festivities (5:33)
8. Secrets, Traitors And A Smashing Set Of Porcelain Ducks On Layby (1:48)
9. Blackening (8:46)
10. Hall Of The Badger King (3:55)
CD 2 - Part II: The Pieces Of Our Time
11. Sun Sickness (1:58)
12. Menders Of Devices (6:14)
13. The Clokkemaker (12:52)
14. A Shortcut Across A Deranged Steam Conveyor (2:13)
15. The Waxwork Downs (4:27)
16. The Sovereign Airship Station (5:16)
17. Leader Of Men (8:08)
18. Wheels In Motion (3:12)
19. The Lamplighter (Overture) (15:36)
- Keri Farish / vocals (The Clokkemaker and her all-seeing spyglasses), voice actor (The Clokkemaker / Washer Ethel)
- Dean Marsh / guitars, synth programming, mandolin, octave mandola, bass, vocals (The Good People of Cogtopolis), writer (story & script), producer
- Ben Bell / Hammond, synths, fretless bass, Nashville guitar, chorus vocals (The Choir of Doom), voice actor (The Deranged Steam-Conveyor)
- Chris Ewen / bass
- Stefan Hepe / drums, percussion
- Luke Severn / tubular bells, goose flute, vocals (Nightkeepers)
With:
- William Stewart / violins
- Melissa Hollick / vocals (Eve)
- Mark Benton / voice actor (King Dahks / City Announcer / City Official and Distant Expulsions of the Lamplighter)
- Tim Munro / voice actor (The Tinker)
- Alicia Marsh / voice actor (Eve / various market traders)
- Bill Fellows / voice actor (Dirty Doyle / Irontooth / Nightkeeper Spy)
- Paul Kavanagh / voice actor (The Primarch)
- Christopher Ewen / voice actor (The Boy)
- Rafferty Marsh / voice actor (An urchin at the Weasel Pie Stall)