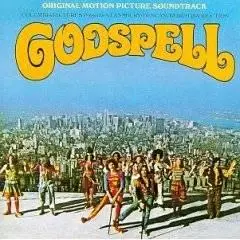 Godspell - Original Motion Picture Soundtrack | 1973 | Genre: Soundtrack
mp3 | CBR 192 Kbps 44100 Stereo | 45:30 | 64 Mb
Godspell - Original Motion Picture Soundtrack (1973)
Godspell, that well-worn 70s quasi-religious clown musical, was transformed into a wildly creative movie musical in 1973. This soundtrack streamlines the raw, original cast album into a sleek pop recording that is infinitely listenable. The arrangements are gorgeous, and feature, in most cases,
better vocals than the original. The sound is pumped up, and the orchestrations now include lush strings and thick, fat horns and soaring vocal harmonies. Beautiful City, written for the film, is beautiful; the finale, with its seamless transition into Day By Day, is truly moving. For my money, this is the best representation so far of Stephen Schwartz' brilliantly hooky and melodic score. FYI, Jesus is played by the luminous, young Victor Garber, whom most people now know as the architect, in the film Titanic.
This is NOT what is now known as "Christian Rock" (i.e. "you are the Lord, the famous one" crap out nowadays). This is real down home, unreplaceable, MUSIC. Get it and ENJOY!
As there are many versions of Godspell it is hard to choose the best version. If you buy Godspell make sure it has these songs: Prepare ye, Day by Day, Save the people, All Good Gifts, Learn your lesson well, Turn back oh man, Bless the Lord, Light of the world, By My side, Beautiful City, and
On the willows. The movie has all these. The movie has two excellent songs Beautiful City, and Light of the World which are not on some other versions.
Tracks:
1. Prepare Ye (The Way Of The Lord) - David Haskell & Company
2. Save The People - Victor Garber & Company
3. Day By Day - Robin Lamont & Company
4. Turn Back, O Man - Joanne Jonas Victor Garber & Company
5. Bless The Lord - Lynne Thigpen & Company
6. All For The Best - Victor Garber & Company
7. All Good Gifts - Merrel Jackson & Company
8. Light Of The World - Jerry Sroka, Gilmer McCormick, Jeffery Mylett, Robin Lamont & Company
9. Alas For You - Victor Garber
10. By My Side - Katie Hanley & Company
11. Beautiful City - Entire Company
12. On The Willows - Stephen Reinhardt, Richard LaBonte & Victor Garber
13. Finale - Victor Garber & Company
Download:
No Pass