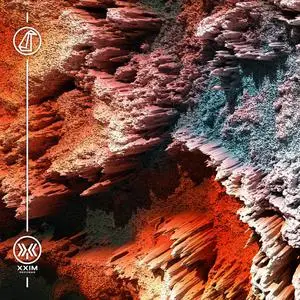 GoGo Penguin - Between Two Waves (EP) (2022)
WEB FLAC (tracks) - 136 Mb | MP3 CBR 320 kbps - 57 Mb | 00:24:42
Contemporary Jazz, Nu Jazz | Label: XXIM Records
"Between Two Waves" marks the latest chapter in the story of GoGo Penguin. Formed in 2012, GoGo Penguin's sophomore album v2.0 was nominated in 2014 for the Mercury Music Prize and in 2016, in addition to playing Coachella, the trio signed to Blue Note Records, releasing a trio of acclaimed albums: Man Made Object, A Humdrum Star and GoGo Penguin, as well as two EPs and a remix album GGP/RMX. They were Blue Note's best-selling contemporary instrumental artists and sold in excess of 300,000 albums.

Between Two Waves captures a magical moment, as the band regroup after the strange, challenging and at times, tragic couple of years which preceded it.

Chris Illingworth explains:

"It was an incredibly meaningful moment for us to be together as a band along with our producers Joe and Brendan, sharing meals like family, enjoying drinks and jokes after long days of work and, most importantly, making music together after so long apart".

With a new line-up, drummer Jon Scott joined pianist Chris Illingworth and bassist Nick Blacka a few months before the recording sessions at Peter Gabriel's Real World Studios, and a new label, XXIM Records, for the band it represented both business as usual with a welcome return to the recording studio, but also something of a fresh start. A chance to explore new ideas and experiment, as they expanded the range of sounds and voices within the tracks, and the Eurorack modular and Moog synths found their places between their signature piano, double-bass and drums on tracks like "Badeep," "Wave Decay" and "Lost in Thought."

Another feature which brought something new to the recording was the Palm Mute Pedal developed by Danish pianist Otto Sammy. Otto sent the band a prototype which would feature on both The "Antidote Is in the Poison" and "Wave Decay." It's a remarkable invention, a custom pedal allows Illingworth to mute and effect the sound of the strings live as he plays, and while not a million miles away from the string muting techniques used on earlier tracks such as Bardot, it offers a new palate for the band, it's still the acoustic piano but sounds almost electronic in effect and often closer in sound to the synths. A perfect solution for a band whose signature sound has been dubbed acoustic-electronica and who look to bring those worlds together in their music.

There is always some degree of abstraction in GoGo Penguin tracks and their titles, leaving the listener to make their own interpretations and find their own emotional response. However, there is also always an underlying idea personal to them that inspires the compositions and is core to the writing process and the music on Between Two Waves takes its inspiration from the duality found in the big events in our lives.

"Over the last couple of years, the pandemic has affected everyone; it has brought us together and yet also divided and separated us. In the bands personal lives there has been cause for celebration with the birth of a son but also tragedy with the loss of loved ones. These moments can simultaneously make us feel both loved and isolated, fearful but confident, proud and humbled. For us, the feeling of Ascent is the journey through these experiences in life, always finding another unknown at the end but not something to be scared of, just something new to discover".

This then is Between Two Waves, a joyful, powerful collection of new music, that both captures a moment of rebirth and movement for one of contemporary music's most exciting bands and that also explores that sense of excitement and anticipation as you move through life.

GoGo Penguin has toured extensively internationally, performing at International Festivals such as Coachella, Outside Lands, Fuji Rock, Blue Dot, Montreal Jazz Festival, La Vienne, Pukkelpop, North Sea Jazz and many more and have sold-out venues across the world from The Royal Albert Hall to La Cigalle via Paradiso and Bowery Ball Room. In 2015 the trio debuted its own original score for the cult-film 'Koyaanisqatsi', performing the show to ecstatic audiences around the world.
Tracklist:
1.
Badeep
(06:03)
2.
Ascent
(04:41)
3.
Wave Decay
(04:51)
4.
Lost in Thought
(03:12)
5.
The Antidote Is in the Poison
(05:52)
–––––––––––-

DON'T MODIFY THIS FILE

–––––––––––-

PERFORMER: auCDtect Task Manager, ver. 1.6.0 RC1 build 1.6.0.1
Copyright © 2008-2010 y-soft. All rights reserved

ANALYZER: auCDtect: CD records authenticity detector, version 0.8.2
Copyright © 2004 Oleg Berngardt. All rights reserved.
Copyright © 2004 Alexander Djourik. All rights reserved.


FILE: 05 - The Antidote Is in the Poison.flac
Size: 33836194 Hash: E9A216371876264BC75B512B6AA66D77 Accuracy: -m8
Conclusion: CDDA 99%
Signature: DFF3F23744D96368AA8D18F13E87FC96D08EC3D5
FILE: 04 - Lost in Thought.flac
Size: 16507617 Hash: 88DEABA19695652BEEEB1B714DC8F7E1 Accuracy: -m8
Conclusion: CDDA 100%
Signature: 6E7E58DFC2CEBA31BF3149420957DEC018B65CCC
FILE: 03 - Wave Decay.flac
Size: 26348794 Hash: F630A76441433FA656409A1CA87827B3 Accuracy: -m8
Conclusion: CDDA 100%
Signature: B4D6876CBE1FEE4D886B4250BB07C7F698F14A73
FILE: 02 - Ascent.flac
Size: 27586057 Hash: DF8ECDEE7DA3ECDB133F2AB6222CF3BC Accuracy: -m8
Conclusion: CDDA 100%
Signature: A2FE512B3BBB4215E4AF65646A560758BBBDC010
FILE: 01 - Badeep.flac
Size: 37007005 Hash: 94227D90504B45A4F88A02E0358E5054 Accuracy: -m8
Conclusion: CDDA 100%
Signature: BA9F8BD0A70B71DE956C6C54E45B1BC6188519F5