Most modern Hollywood films have musical "temp tracks" laid in as they're edited, usually classical standards or music from other soundtracks that helps shape the dramatic and emotional intentions of works in progress. Sometimes these temp tracks become the score (as in "2001"), but more often they serve as a template for the film's eventual scorer. That said, we'll boldly climb out on a limb and opine that director Ridley Scott was listening to a whole lot of Holst's The Planets as he was cobbling together his modern gladiator epic. Credit Hans Zimmer for taking "Mars, the Bringer of War" and hammering its familiar harmonic and rhythmic Sturm und Drang into something serviceably fresh; cohort Lisa Gerrard generally handles the more ethereal, atmospheric passages. As epic in scope as its thematic inspiration (and with enough occasional nods to "authenticity" to make it work), this is nonetheless a work of often surprising nuances, and one that recasts the traditional heroic orchestral score in deliciously dark and ominous tones. Warning: repeated listening may inspire the invasion of neighboring countries.
The movie Gladiator is a truly excellent film, with an involving storyline, beautiful locations, intense drama, full-blooded action and a rousing score from Hans Zimmer and Lisa Gerrard.
As soon as the movie starts, one is surprised by the subdued tone that the musical score seems to be taking. Knowing that Hans Zimmer was the composer, I was expecting his usual rousing, booming and very pleasant music, as seen (or rather, heard) in other movies like 'Crimson Tide', 'The Peacemaker', and 'Backdraft'. However, what we get, as a friend of mine remarked, is something like a cross between Vangelis and 'The Rock' (which also includes participation by Zimmer). Which is fine.
While not as melodic as, for example, a James Horner score like Braveheart, Hans Zimmer's score, with Lisa Gerrard's participation, perfectly complements the action on screen. When battle music is required, the score returns to a classic, if somewhat more mature, Zimmer feel; totally classical in style and paying homage to Gustav Holst's Masterpiece - The Planets, particularly 'Mars - Bringer of War'. Very appropriate, given that Mars was the Roman god of War!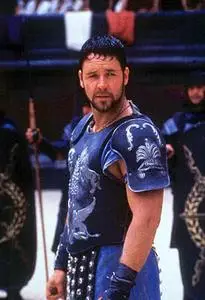 This, added to Zimmer's trademark rousing passages, and Lisa Gerrard's moving, lyrical contributions, makes Gladiator a memorable score. Gerrard's participation, in particular was a very pleasant addition, because it adds an ethereal element which is necessary for such concepts as Elysium (the Afterlife) and Freedom. Throughout the movie, the Hero, Maximus, constantly weaves between the 'here and now' scheming and battles, and a longing to join his family, in the afterlife. The score reflects these concepts with an excellent treatment of both dimensions.
Which leaves us listeners with a score that is not exactly easy to listen to. It is not too melodic and pleasing to the ears, but is contains a lot of wonderful, mature music. It is something like an acquired taste: after listening to the CD for a couple of times (or watching the movie itself more than once) one becomes pleasantly hooked.
A truly memorable score, for a memorable movie.
Download:
http://rapidshare.de/files/12585428/Gladiator_-_Hans_Zimmer__2000_.rar.html
password:
my.opera.com/shedeuw
enjoy :-)