The Best of Slayers from TV & Radio CD2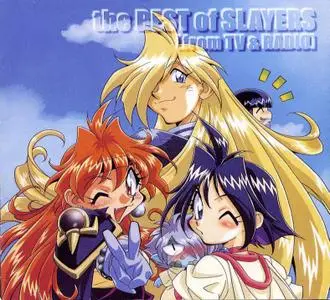 From the anime Slayers there is the second disc of this album. CD 2 is the image songs. Tracks 1, 2, and 3 are the more obscure radio image songs- one for Martina (When I'm In Love) which it's best not to ask me about, one for Ameria (Process) which is decent if forgettable, and when we come to Lina's (Madonna of the Battlefield), the first really good one on the CD. Then we go on a long kick of remixes (mostly very good, except for poor little Exit Running) of image songs from the three seasons (but mostly from the TRY Vox). Most of the tracks are mentioned in the review of the CD they came from, but, of course, I can't not mention Gourry's Set Me Free, which if released in English in the U.S. would make Gourry a star. Together with Sylphiel's Alone, it was released on the third NEXT Sound Bible. The last track is another new song, whose chief claim to fame would be being sung by all four main Slayers voice actors. However, it would also be nice if it showed evidence of taking longer than an hour to write, also if it were a little bit longer, and better mixed…but it manages to sound good anyway, because of sheer star power.
Tracklist:
1. Datte Koishitara ~ "When I'm in Love"
2. Process
3. Senjou no Madonna
4. Nemuranai Yoru Wa
5. Exit/Running
6. Uso no Nai Game "Set Me Free"
7. More than Words
8. Stand Up!
9. Otome no Inori
10. Alone
11. Ame no Far Away
12. Secret "Dareka no Message"
13. WARU Bad Blood
14. Kono Sekai no Dokokade
15. SLAYERS 4 the Future
Genre: Anime OST
Size: 63.9 MB
Bitrate: 128Kbps
Format: mp3
Dowload link:
http://rapidshare.com/files/3129777/bosftvr2.rar
Password (As always): www. AvaxHome.ru