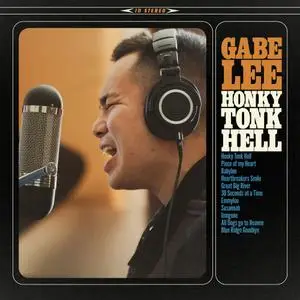 Gabe Lee - Honky Tonk Hell (2020)
Alt-Country, Folk | 00:43:08 | WEB FLAC (tracks) | 282,16 MB
Label: Torrez Music Group
Nashville-based songwriter Gabe Lee is expertly able to detail the intricacies of everyday life and the small distinctions that leave some on the fringe and others in the mainstream.
His second album, Honky Tonk Hell, finds Gabe diving deeper into themes that aren't far from his own life — what it meant to grow up in Nashville and what it means to be a songwriter there, how it feels to be settling into adulthood, its monotony and occasional heartbreak, and pieces of a younger time that didn't quite work out as expected. The way he tells these stories — these common pieces of experiences — is through narratives of men on the run, lovers who leave and vivid imagery, inspired by everything from Biblical stories to forgotten small towns. Honky Tonk Hell almost seems tailor-made for any dancehall jukebox — but with sentiments that will stick with you for much longer than its initial play.
The 11-song collection offers hints of his distinct perspective, influenced by a musical childhood in which he was surrounded by music: a particular amalgam of church and gospel, classical music, and NPR radio. One of just a few songwriters of Asian descent in Nashville's Americana scene, Gabe's mother, a professional and classically-trained pianist, was an integral force in his musical education. Gabe's material mixes a deep understanding of classical training with what he learned from the greats of the classic rock canon including Creedence Clearwater Revival, Fleetwood Mac and Bob Dylan.
01 - Honky Tonk Hell
02 - Piece of Your Heart
03 - Babylon
04 - Heartbreaker's Smile
05 - Great Big River
06 - 30 Seconds at a Time
07 - Emmylou
08 - Susannah
09 - Imogene
10 - All Dogs Go to Heaven
11 - Blue Ridge Goodbye
ANALYZER: auCDtect: CD records authenticity detector, version 0.8.2
Copyright © 2004 Oleg Berngardt. All rights reserved.
Copyright © 2004 Alexander Djourik. All rights reserved.


FILE: 1.11. Blue Ridge Goodbye.flac
Size: 28394959 Hash: BEEC74963049CB9E9AF6A43CDF752A20 Accuracy: -m8
Conclusion: CDDA 100%
Signature: 957C5751E885FB78D5B2FFF464C6841E2D80B79D
FILE: 1.10. All Dogs Go to Heaven.flac
Size: 24075074 Hash: 56A85A90A8EB88F6FA25400C6F359656 Accuracy: -m8
Conclusion: CDDA 100%
Signature: 5734D7F0A999ED24C2E6CAB0A55A8A163EB7221D
FILE: 1.09. Imogene.flac
Size: 19590854 Hash: 548CA954DF1F25F34750A8BB56B83E2E Accuracy: -m8
Conclusion: CDDA 100%
Signature: A008EA0EE1FEF1F2042CD7961725FC509E75DEF4
FILE: 1.08. Susannah.flac
Size: 32846672 Hash: 0620442C942F9458D7AECDF685B40EFD Accuracy: -m8
Conclusion: CDDA 100%
Signature: DF497794742CFDDA198D35A7B8E953444729ACA9
FILE: 1.07. Emmylou.flac
Size: 22419874 Hash: 14EE794475BE8E22726BA63D95325F5F Accuracy: -m8
Conclusion: CDDA 100%
Signature: 4528E306D1BF927A08AB15D8322CBA25713D3276
FILE: 1.06. 30 Seconds at a Time.flac
Size: 23187076 Hash: 2F411704294D33B2A0E3D43EE9E5DD91 Accuracy: -m8
Conclusion: CDDA 100%
Signature: 9CD17E38EF6CB3514BAE53A57AB7C21BD5F54B4A
FILE: 1.05. Great Big River.flac
Size: 35462311 Hash: 8670FF28F1E7CAA703FB38C0350861D8 Accuracy: -m8
Conclusion: CDDA 100%
Signature: 5DE0A82DAC71694FBE647A849BF2A884D38F0424
FILE: 1.04. Heartbreaker's Smile.flac
Size: 27425772 Hash: 1FB053FAC3BB86A3C181E1BC7C983259 Accuracy: -m8
Conclusion: CDDA 100%
Signature: B07B47D5D21DA01180B10E98A311659D09DBD467
FILE: 1.03. Babylon.flac
Size: 27789873 Hash: 920070248992B1656D74E5A86407CCAD Accuracy: -m8
Conclusion: CDDA 100%
Signature: E74BEC9F11269E365AEDB9C308F4AE8C41CE631C
FILE: 1.02. Piece of Your Heart.flac
Size: 25557682 Hash: DEF9753E0193B76F1289A0F32B15724F Accuracy: -m8
Conclusion: CDDA 100%
Signature: 3A85998CE51653C5888412CB22E67E5EC47CB916
FILE: 1.01. Honky Tonk Hell.flac
Size: 29120858 Hash: B9A5446968AD39AF16DE848C212CD9A1 Accuracy: -m8
Conclusion: CDDA 100%
Signature: 36EC69423D28EA63BF536E069F551101B18419BA