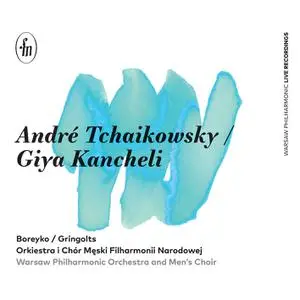 Ilya Gringolts, Warsaw Philharmonic Orchestra & Andrey Boreyko - Tchaikowsky: Violin Concerto Classico - Kancheli: Libera me (Quasi-Requiem) (Live) (2022)
WEB FLAC (tracks) - 239 Mb | MP3 CBR 320 kbps - 141 Mb | Digital booklet | 00:59:38
Classical | Label: CD Accord
Despite the rather numerous and diverse orchestral line-up, the idea of concertare has a more chamber-like character here. The soloist is usually not directly confronted with the massive sound of a full orchestral tutti, but rather is involved in dialogues and interactions with small groups of instruments. With exceptional naturalness, André Tchaikowsky managed to achieve in this concerto a balance between solo violin and a full-scale symphony orchestra, employing textures of a linear, quasi-polyphonic character – enriched, however, by intense and refined harmony and contrapuntal devices drawing on the Baroque tradition.

In his final composition, the "Quasi-Requiem" Libera me, written in the Autumn of 2018, Giya Kancheli bypassed the Latin Responsory from the Catholic Office of the Dead which had inspired composers from Verdi and Fauré to Britten and Penderecki. He chose, instead, to freely set words by two of his country's greatest poets: Vazha-Pshavela (1861–1915) and Galaktion Tabidze (1892–1959). For most of his life, Kancheli had maintained a respectful artistic distance from these Georgian masters, dazzled by their brilliance, by the "intrinsic musicality" of their poems, loving them too much, in fact, to draw too close.

Near the end of his life, however, Kancheli set reticence aside and allowed the sentiments and revelations of Tabidze and Vazha-Pshavela to influence his imagination and guide him to new music. The text of his Libera me is drawn almost entirely from their work, with the exception of the thirteenth verse, written by the composer to form a bridge between the two poets.
Tracklist:
01. Tchaikowsky: Violin Concerto "Classico": I. Allegretto (Live)
02. Tchaikowsky: Violin Concerto "Classico": II. Adagio (Live)
03. Tchaikowsky: Violin Concerto "Classico": III. Allegro deciso (Live)
04. Kancheli: Libera me (Quasi-Requiem) [Live]
–––––––––––-

DON'T MODIFY THIS FILE

–––––––––––-

PERFORMER: auCDtect Task Manager, ver. 1.6.0 RC1 build 1.6.0.1
Copyright © 2008-2010 y-soft. All rights reserved

ANALYZER: auCDtect: CD records authenticity detector, version 0.8.2
Copyright © 2004 Oleg Berngardt. All rights reserved.
Copyright © 2004 Alexander Djourik. All rights reserved.


FILE: 04 - Ilya Gringolts, Warsaw Philharmonic Orchestra & Andrey Boreyko - Kancheli- Libera me (Quasi-Requiem) [Live].flac
Size: 97020613 Hash: 85BDB0AC8BEAB4B6DB52744F7546CFF6 Accuracy: -m40
Conclusion: CDDA 43%
Signature: EA03A758D00F3819C7CF88642AEED61AA0BE6342
FILE: 03 - Ilya Gringolts, Warsaw Philharmonic Orchestra & Andrey Boreyko - Tchaikowsky- Violin Concerto ''Classico''- III. Allegro deciso (Live).flac
Size: 55404945 Hash: 54BF145D215A2E8339D0814C9E9A20A2 Accuracy: -m40
Conclusion: CDDA 62%
Signature: 6C9D139E5F77E26DBBEF9AA94364F6BEDCB26427
FILE: 02 - Ilya Gringolts, Warsaw Philharmonic Orchestra & Andrey Boreyko - Tchaikowsky- Violin Concerto ''Classico''- II. Adagio (Live).flac
Size: 34139385 Hash: 2B6DE93094014F064120485752790D43 Accuracy: -m40
Conclusion: ???
Signature: 60FF84532278B558277CB0A66443AD62983F649D
FILE: 01 - Ilya Gringolts, Warsaw Philharmonic Orchestra & Andrey Boreyko - Tchaikowsky- Violin Concerto ''Classico''- I. Allegretto (Live).flac
Size: 60062403 Hash: D73E10A936924DEA23669577D88BC41C Accuracy: -m40
Conclusion: ???
Signature: DB4075B4D9392549F14DEAD3E4F9F392DC0163DB