James Hunter - … Believe What I Say (1996/2006) (Reissue)
XLD Rip | FLAC (tracks+.cue, log) ~ 259.84 Mb | 43:14 | Covers
Retro Soul-Blues, Rock'n'roll | Country: England | Label: Hepcat (HEP 1178-2)
The singer/songwriter James Hunter introduced his retro blue-eyed soul approach with this 1996 debut. The smooth Sam Cooke/Clyde McPhatter-influenced vocals weren't quite as confident at his career's start, but for the most part, those smitten by People Gonna Talk will find this a terrific addition to their small Hunter collections. To his credit, Van Morrison was an early supporter, and he appears here on two Bobby "Blue" Bland covers.
Morrison had already covered "Ain't Nothing You Can Do" on his live It's Too Late to Stop Now release, so it's likely he brought that to Hunter's attention. "Turn on Your Lovelight" sounds like it could have come off Morrison's His Band and the Street Choir, as he trades verses and harmonizes with Hunter in a spirited performance. Hunter's vocals emphasize Ray Charles more on this album, and not just on the cover of "Hallelujah I Love Her So." The original "Let Me Know" is fashioned from Charles' soul-blues-gospel, right down to the Raelettes-styled backing vocals. Damian Hand and Nick Lunt's sax section is integral to the snappy groove, and bringing the great soul woman Doris Troy along for a duet on "Hear Me Calling" is another classy move. But it's Hunter's terrific voice, sparse yet jazzy guitar, and excellent original songs that make this album so fresh, crisp, and hip. ~
AllMusic Review by Hal Horowitz
Track List:
01. Two Can Play (3:32)
02. Way Down Inside (2:26)
03. The Very Thought of You (2:39)
04. It Ain't Funny (2:50)
05. Turn on Your Love Light (with Van Morrison) (3:19)
06. Let Me Know (3:05)
07. I'll Walk Away (3:54)
08. I Wanna Get Old With You (2:48)
09. Hallelujah I Love Her So (2:46)
10. Believe What I Say (3:06)
11. Out of Sight (3:07)
12. Don't Step on It (3:20)
13. Hear Me Calling (with Doris Tray) (3:17)
14. Ain't Nothing You Can Do (with Van Morrison) (3:07)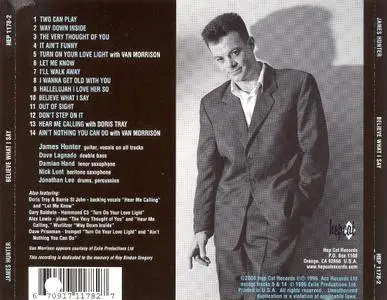 X Lossless Decoder version 20140504 (147.0)

XLD extraction logfile from 2017-02-09 20:42:20 -0600

James Hunter / Believe What I Say

Used drive : HL-DT-ST DVDRAM AP70NS50 (revision 1.00)
Media type : Pressed CD

Ripper mode : XLD Secure Ripper
Disable audio cache : OK for the drive with a cache less than 1375KiB
Make use of C2 pointers : NO
Read offset correction : 667
Max retry count : 20
Gap status : Analyzed, Appended

TOC of the extracted CD
Track | Start | Length | Start sector | End sector
––––––––––––––––––––––––––––-
1 | 00:00:00 | 03:31:70 | 0 | 15894
2 | 03:31:70 | 02:25:65 | 15895 | 26834
3 | 05:57:60 | 02:39:02 | 26835 | 38761
4 | 08:36:62 | 02:50:25 | 38762 | 51536
5 | 11:27:12 | 03:19:20 | 51537 | 66481
6 | 14:46:32 | 03:04:40 | 66482 | 80321
7 | 17:50:72 | 03:54:28 | 80322 | 97899
8 | 21:45:25 | 02:47:47 | 97900 | 110471
9 | 24:32:72 | 02:45:50 | 110472 | 122896
10 | 27:18:47 | 03:05:40 | 122897 | 136811
11 | 30:24:12 | 03:06:55 | 136812 | 150816
12 | 33:30:67 | 03:19:58 | 150817 | 165799
13 | 36:50:50 | 03:16:47 | 165800 | 180546
14 | 40:07:22 | 03:07:05 | 180547 | 194576

List of alternate offset correction values
# | Absolute | Relative | Confidence
–––––––––––––––––––––
1 | 6 | -661 | 26
2 | 190 | -477 | 10
3 | 104 | -563 | 9
4 | 74 | -593 | 2

AccurateRip Summary (DiscID: 0015f7a7-00eb1f92-b20a220e)
Track 01 : OK (v1+v2, confidence 25/46, with different offset)
Track 02 : OK (v1+v2, confidence 25/46, with different offset)
Track 03 : OK (v1+v2, confidence 26/47, with different offset)
Track 04 : OK (v1+v2, confidence 26/47, with different offset)
Track 05 : OK (v1+v2, confidence 25/46, with different offset)
Track 06 : OK (v1+v2, confidence 24/45, with different offset)
Track 07 : OK (v1+v2, confidence 26/47, with different offset)
Track 08 : OK (v1+v2, confidence 24/45, with different offset)
Track 09 : OK (v1+v2, confidence 25/46, with different offset)
Track 10 : OK (v1+v2, confidence 26/47, with different offset)
Track 11 : OK (v1+v2, confidence 25/46, with different offset)
Track 12 : OK (v1+v2, confidence 24/45, with different offset)
Track 13 : OK (v1+v2, confidence 24/45, with different offset)
Track 14 : OK (v1+v2, confidence 26/47, with different offset)
->All tracks accurately ripped.

All Tracks
Album gain : -4.39 dB
Peak : 0.998932
Statistics
Read error : 0
Jitter error (maybe fixed) : 0
Retry sector count : 25
Damaged sector count : 0

Track 01
Filename : /Volumes/My Book/Apollo - Uploads/James Hunter - Believe What I Say (1996) FLAC/01 - James Hunter - Two Can Play.flac
Pre-gap length : 00:02:00

Track gain : -4.88 dB
Peak : 0.998932
CRC32 hash (test run) : E92199AA
CRC32 hash : E92199AA
CRC32 hash (skip zero) : A064716D
AccurateRip v1 signature : 8748D864 (867D203D w/correction)
AccurateRip v2 signature : FAF9D0C9 (AFE21CFC w/correction)
->Accurately ripped with different offset (v1+v2, confidence 10+15/46, offset -661)
Statistics
Read error : 0
Jitter error (maybe fixed) : 0
Retry sector count : 0
Damaged sector count : 0

Track 02
Filename : /Volumes/My Book/Apollo - Uploads/James Hunter - Believe What I Say (1996) FLAC/02 - James Hunter - Way Down Inside.flac
Pre-gap length : 00:02:20

Track gain : -4.81 dB
Peak : 0.998596
CRC32 hash (test run) : 123A1E65
CRC32 hash : 123A1E65
CRC32 hash (skip zero) : F1EB0C67
AccurateRip v1 signature : 7BBE32A4 (9A96C18A w/correction)
AccurateRip v2 signature : 2A23AB73 (C5F39DE2 w/correction)
->Accurately ripped with different offset (v1+v2, confidence 10+15/46, offset -661)
Statistics
Read error : 0
Jitter error (maybe fixed) : 0
Retry sector count : 0
Damaged sector count : 0

Track 03
Filename : /Volumes/My Book/Apollo - Uploads/James Hunter - Believe What I Say (1996) FLAC/03 - James Hunter - The Very Thought of You.flac
Pre-gap length : 00:02:50

Track gain : -0.70 dB
Peak : 0.675934
CRC32 hash (test run) : E35E7978
CRC32 hash : E35E7978
CRC32 hash (skip zero) : 76F55F00
AccurateRip v1 signature : 07726A4C (74061983 w/correction)
AccurateRip v2 signature : 2944AD4E (1D995E4F w/correction)
->Accurately ripped with different offset (v1+v2, confidence 11+15/47, offset -661)
Statistics
Read error : 0
Jitter error (maybe fixed) : 0
Retry sector count : 0
Damaged sector count : 0

Track 04
Filename : /Volumes/My Book/Apollo - Uploads/James Hunter - Believe What I Say (1996) FLAC/04 - James Hunter - It Ain't Funny.flac
Pre-gap length : 00:02:72

Track gain : -4.66 dB
Peak : 0.998596
CRC32 hash (test run) : 811F4C0F
CRC32 hash : 811F4C0F
CRC32 hash (skip zero) : AA29B65A
AccurateRip v1 signature : FD2151F4 (5FAD67C7 w/correction)
AccurateRip v2 signature : EB717779 (DCD3F979 w/correction)
->Accurately ripped with different offset (v1+v2, confidence 11+15/47, offset -661)
Statistics
Read error : 0
Jitter error (maybe fixed) : 0
Retry sector count : 0
Damaged sector count : 0

Track 05
Filename : /Volumes/My Book/Apollo - Uploads/James Hunter - Believe What I Say (1996) FLAC/05 - James Hunter - Turn on Your Love Light (with Van Morrison).flac
Pre-gap length : 00:02:70

Track gain : -5.49 dB
Peak : 0.997772
CRC32 hash (test run) : F625CD47
CRC32 hash : F625CD47
CRC32 hash (skip zero) : 697F7067
AccurateRip v1 signature : 733FC8F5 (10915678 w/correction)
AccurateRip v2 signature : 4DA848EB (93A8637A w/correction)
->Accurately ripped with different offset (v1+v2, confidence 10+15/46, offset -661)
Statistics
Read error : 0
Jitter error (maybe fixed) : 0
Retry sector count : 0
Damaged sector count : 0

Track 06
Filename : /Volumes/My Book/Apollo - Uploads/James Hunter - Believe What I Say (1996) FLAC/06 - James Hunter - Let Me Know.flac
Pre-gap length : 00:03:10

Track gain : -4.15 dB
Peak : 0.998505
CRC32 hash (test run) : C73BBAAB
CRC32 hash : C73BBAAB
CRC32 hash (skip zero) : 21347B9C
AccurateRip v1 signature : FD245DFD (85CDECFB w/correction)
AccurateRip v2 signature : 5158AF89 (76FE6BC6 w/correction)
->Accurately ripped with different offset (v1+v2, confidence 9+15/45, offset -661)
Statistics
Read error : 0
Jitter error (maybe fixed) : 0
Retry sector count : 0
Damaged sector count : 0

Track 07
Filename : /Volumes/My Book/Apollo - Uploads/James Hunter - Believe What I Say (1996) FLAC/07 - James Hunter - I'll Walk Away.flac
Pre-gap length : 00:02:12

Track gain : -3.92 dB
Peak : 0.934631
CRC32 hash (test run) : 7B8916FB
CRC32 hash : 7B8916FB
CRC32 hash (skip zero) : 034BBA8A
AccurateRip v1 signature : 88A61514 (A34C68F0 w/correction)
AccurateRip v2 signature : 35CD019F (1C645253 w/correction)
->Accurately ripped with different offset (v1+v2, confidence 11+15/47, offset -661)
Statistics
Read error : 0
Jitter error (maybe fixed) : 0
Retry sector count : 0
Damaged sector count : 0

Track 08
Filename : /Volumes/My Book/Apollo - Uploads/James Hunter - Believe What I Say (1996) FLAC/08 - James Hunter - I Wanna Get Old With You.flac
Pre-gap length : 00:01:65

Track gain : -4.38 dB
Peak : 0.998718
CRC32 hash (test run) : A23B18A3
CRC32 hash : A23B18A3
CRC32 hash (skip zero) : 308B5F62
AccurateRip v1 signature : B0C7F948 (2676B044 w/correction)
AccurateRip v2 signature : 49A98B22 (4FFD6F60 w/correction)
->Accurately ripped with different offset (v1+v2, confidence 9+15/45, offset -661)
Statistics
Read error : 0
Jitter error (maybe fixed) : 0
Retry sector count : 25
Damaged sector count : 0

Track 09
Filename : /Volumes/My Book/Apollo - Uploads/James Hunter - Believe What I Say (1996) FLAC/09 - James Hunter - Hallelujah I Love Her So.flac
Pre-gap length : 00:01:07

Track gain : -3.94 dB
Peak : 0.998657
CRC32 hash (test run) : 917FED3C
CRC32 hash : 917FED3C
CRC32 hash (skip zero) : 1E63391C
AccurateRip v1 signature : F681B3AD (C915AD71 w/correction)
AccurateRip v2 signature : ED5F2AC4 (4D824FC2 w/correction)
->Accurately ripped with different offset (v1+v2, confidence 10+15/46, offset -661)
Statistics
Read error : 0
Jitter error (maybe fixed) : 0
Retry sector count : 0
Damaged sector count : 0

Track 10
Filename : /Volumes/My Book/Apollo - Uploads/James Hunter - Believe What I Say (1996) FLAC/10 - James Hunter - Believe What I Say.flac
Pre-gap length : 00:02:57

Track gain : -2.51 dB
Peak : 0.841217
CRC32 hash (test run) : A60F1BF0
CRC32 hash : A60F1BF0
CRC32 hash (skip zero) : 08278437
AccurateRip v1 signature : 920E4699 (171F688C w/correction)
AccurateRip v2 signature : 263238C3 (49A8FC50 w/correction)
->Accurately ripped with different offset (v1+v2, confidence 11+15/47, offset -661)
Statistics
Read error : 0
Jitter error (maybe fixed) : 0
Retry sector count : 0
Damaged sector count : 0

Track 11
Filename : /Volumes/My Book/Apollo - Uploads/James Hunter - Believe What I Say (1996) FLAC/11 - James Hunter - Out of Sight.flac
Pre-gap length : 00:02:25

Track gain : -2.90 dB
Peak : 0.997925
CRC32 hash (test run) : 5A375EE8
CRC32 hash : 5A375EE8
CRC32 hash (skip zero) : 6D0A5EFB
AccurateRip v1 signature : F9D0DE7B (20881AD3 w/correction)
AccurateRip v2 signature : 31A75BA9 (F5830C79 w/correction)
->Accurately ripped with different offset (v1+v2, confidence 10+15/46, offset -661)
Statistics
Read error : 0
Jitter error (maybe fixed) : 0
Retry sector count : 0
Damaged sector count : 0

Track 12
Filename : /Volumes/My Book/Apollo - Uploads/James Hunter - Believe What I Say (1996) FLAC/12 - James Hunter - Don't Step on It.flac
Pre-gap length : 00:02:37

Track gain : -3.37 dB
Peak : 0.998688
CRC32 hash (test run) : 832086F4
CRC32 hash : 832086F4
CRC32 hash (skip zero) : C193B9DB
AccurateRip v1 signature : EA05978B (6F0501BF w/correction)
AccurateRip v2 signature : 9F2F4FF9 (CCDD4680 w/correction)
->Accurately ripped with different offset (v1+v2, confidence 9+15/45, offset -661)
Statistics
Read error : 0
Jitter error (maybe fixed) : 0
Retry sector count : 0
Damaged sector count : 0

Track 13
Filename : /Volumes/My Book/Apollo - Uploads/James Hunter - Believe What I Say (1996) FLAC/13 - James Hunter - Hear Me Calling (with Doris Tray).flac
Pre-gap length : 00:02:05

Track gain : -5.25 dB
Peak : 0.998322
CRC32 hash (test run) : 5ECD56EB
CRC32 hash : 5ECD56EB
CRC32 hash (skip zero) : BDFB90DE
AccurateRip v1 signature : 1490C005 (45069A1E w/correction)
AccurateRip v2 signature : 70ACF6B5 (4A642718 w/correction)
->Accurately ripped with different offset (v1+v2, confidence 9+15/45, offset -661)
Statistics
Read error : 0
Jitter error (maybe fixed) : 0
Retry sector count : 0
Damaged sector count : 0

Track 14
Filename : /Volumes/My Book/Apollo - Uploads/James Hunter - Believe What I Say (1996) FLAC/14 - James Hunter - Ain't Nothing You Can Do (with Van Morrison).flac
Pre-gap length : 00:01:72

Track gain : -4.59 dB
Peak : 0.997711
CRC32 hash (test run) : 0081FC7B
CRC32 hash : 0081FC7B
CRC32 hash (skip zero) : D08A0EAA
AccurateRip v1 signature : BEC859FD (1E5058DF w/correction)
AccurateRip v2 signature : B690B040 (B3F78032 w/correction)
->Accurately ripped with different offset (v1+v2, confidence 11+15/47, offset -661)
Statistics
Read error : 0
Jitter error (maybe fixed) : 0
Retry sector count : 0
Damaged sector count : 0

No errors occurred

End of status report

––-BEGIN XLD SIGNATURE––-
2tFA9ki2vwb7PW0lutHL6VU6bCsWWR8pyGA49KCsJeAAi3vuJQeyGYYqb1NYLXlG65R8prqe9unj1hz5QE9rOqBKlT9XCAyp_FTrmiS
––-END XLD SIGNATURE––-
All thanks go to the LiplessOnion