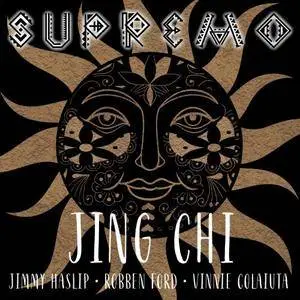 Jing Chi - Supremo (2017)
Jazz, Fusion | 00:53:30 | MP3 CBR 320 kbps | 125
Label: in-akustik
This fusion supergroup features Miles Davis alumnus Robben Ford on guitar, the Yellowjackets' Jimmy Haslip on bass, and veteran session drummer Vinnie Colaiuta. Their first album appeared in 2002 and was followed by a live set the next year titled Jing Chi Live at Yoshi's, which included guest appearances by keyboard player Otmaro Ruiz and Marc Russo on alto. The studio effort 3-D followed a year later. The group made occasional live appearances in the next 13 years due to the members' pursuing intensely active solo careers. In the fall of 2017, Jing Chi surprised fans with a new studio album entitled Supremo. Produced by Haslip with co-production assistance from Ford and engineered by Rich Breen, the group also enlisted saxophonist Jeff Coffin and trumpeter Mike Haynes. Its ten tracks included eight instrumentals and a vocal appearance each by Ford and Haslip. The latter described the recording as "…a high energy modern R&B fusion explosion of sound."
Tracklist:
01.
Jing Chi - The Majestic
02.
Jing Chi - Better Times
03.
Jing Chi - Showtime
04.
Jing Chi - Secrets
05.
Jing Chi - On Green Pepper Street
06.
Jing Chi - Casablanca
07.
Jing Chi - Vegas
08.
Jing Chi - SPM
09.
Jing Chi - At The Apollo
10.
Jing Chi - Jing Xi