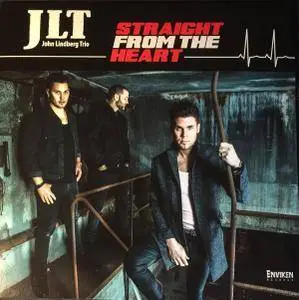 John Lindberg Trio - Straight from the Heart (2017)
Rock | 37:10 mins | MP3, 320 kbps | 85 MB
Label: Enviken Records
A steady, sympathetic accompanist and solid soloist, bassist John Lindberg's best-known for his work in the String Trio of New York. Lindberg studied music in Ann Arbor, MI, before moving to New York in 1977. He played and recorded in the Human Arts Ensemble with Joseph Bowie and Bobo Shaw in the late '70s, and worked with Anthony Braxton from 1978 to 1985. They performed in both Europe and America. Lindberg was a founding member of the String Trio of New York in 1979, and currently remains with the ensemble. He also worked in a trio with Jimmy Lyons and Sunny Murray in 1980. Lindberg lived and worked in Paris from 1980 to 1983, leading small combos, playing solo, and working in a group led by Murray that also featured John Tchicai. Lindberg has recorded as a leader for Cecma, Black Saint, West Wind, ITM, and Sound Aspects.
TRACKLIST:
01. John Lindberg Trio - This is What You Get
02. John Lindberg Trio - Forever
03. John Lindberg Trio - Sweet Love
04. John Lindberg Trio - Double Talking
05. John Lindberg Trio - Sing with Us Tonight
06. John Lindberg Trio - You Belong to Me
07. John Lindberg Trio - Left My Rebel Soul for A Broken Heart
08. John Lindberg Trio - I'll Be There
09. John Lindberg Trio - Straight from the Heart
10. John Lindberg Trio - Danger Us
11. John Lindberg Trio - This Magic Moment
12. John Lindberg Trio - Johnny Got A Tommy Gun
13. John Lindberg Trio - All Shook Up