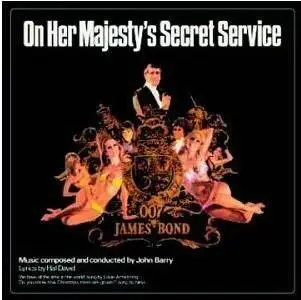 John Barry - On Her Majesty's Secret Service OST
MP3 160 Kbps | 1969/2003 | Label: Capitol | 79:46 min | 90 MB
Genre: Soundtrack
This sixth installment of the James Bond cycle was dogged by something more serious than mere creative hiccup: the departure of the iconic Sean Connery from the title role. If the film's strong screenplay and grittier, more realistic action sequences were a plus, the producers insistence on recasting Bond with another unknown (as Connery had been before Dr. No) was less sage; Australian model George Lazenby became an uncomfortable cinematic footnote and trivia subject after he, too, refused to reprise the role. But the presence of John Barry insured that the series' musical continuity, even if the composer took the opportunity to expand his palette to include the same sorts of contemporary Euro-jazz/pop influences (including early synths) then percolating through the comedy and adventure scores of Morricone. Legend Louis Armstrong forged the Barry-Hal David penned, "We Have All the Time in the World," into one of the most sublime (and unusual) of the "Bond songs;" it was the first not to be used as a title theme and marked the last recording of Armstrong's remarkable career. Thus inspired, Barry rose to the occasion with what remains one of his most subtle and introspective Bond scores. This digitally remastered edition effectively doubles the running time of the original with 10 tracks of previously unreleased cues, music that further underscores the mature, almost melancholy essence of what remains the composer's most unique contribution to the Bond canon.
Tracklist:
1. We Have All The Time In The World (Performed by Louis Armstrong)
2. This Never Happened To The Other Feller
3. Try
4. Ski Chase
5. Do You Know How Christmas Trees Are Grown? (Performed by Nina)
6. Main Theme - On Her Majesty's Secret Service
7. Journey To Blofeld's Hideaway
8. We Have All The Time In The World
9. Over And Out
10. Battle At Piz Gloria
11. We Have All The Time In The World - James Bond Theme
12. Journey To Draco's Hideaway
13. Bond And Draco
14. Gumbold's Safe
15. Bond Settles In
16. Bond Meets The Girls
17. Dusk At Piz Gloria
18. Sir Hillary's Night Out (Who Will Buy My Yesterdays?)
19. Blofeld's Plot
20. Escape From Piz Gloria
21. Bobsled Chase
Don't miss it guys, my humble opinion is that it's the best of the Bond soundtracks!
On Her Majesty's Secret Service OST
Oxyshare link (thanks to Mensalao)
password
:Tracy