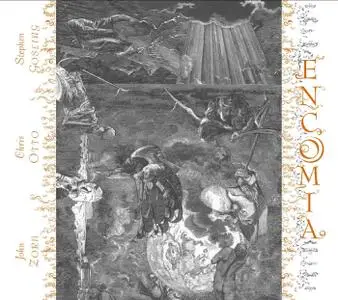 John Zorn - Encomia (2019) {Tzadik TZ 8366}
FLAC (tracks) - 16bit/44.1kHz - Official Digital Download -> 185 Mb | MP3 @320 -> 103 Mb | Cover | 5% repair rar
© 2019 Tzadik | TZ 8366 | Tzadik Archival Series
Classical / Modern Classical / Avant-Garde / Solo Piano
Featuring the fabulous virtuoso pianist Stephen Gosling, "Encomia" is a collection of tributes to many of Zorn's musical heroes.The first "Book of Preludes" consists of three impressionistic pieces in the tradition of Debussy and Ravel that pay tribute to the legendary ballet dancer Nijinsky, the author Novalis creator of the prose poem, and the Hellenistic 3rd century poet Nossis. "Encomia" is a suite of tributes to five of Zorn'smusical heroes that run the gamut of styles from minimalism to maximalism. Violinist Chris Otto joins Stephen Gosling for the final piece, a new composition for violin and piano inspired by the writings of Sigmund Freud. A remarkable program of some of the most beautiful music Zorn has ever written.
tzadik.com INFOPersonnel:
Stephen Gosling
: Piano
Chris Otto
: Violin (tr 9 only)
Works on This Recording

Preludes: Book One
1. Novalis
2. A Prayer For Nossis
3. Nijinsky
Encomia: Five Short Pieces For Solo Piano
4. Speculum
5. Penumbra
6. Stretta
7. Occultation
8. Arborescence
9. Die Traumdeutung
–––––––––––-
DON'T MODIFY THIS FILE
–––––––––––-
PERFORMER: auCDtect Task Manager, ver. 1.6.0 RC1 build 1.6.0.1
Copyright © 2008-2010 y-soft. All rights reserved
http://y-soft.org
ANALYZER: auCDtect: CD records authenticity detector, version 0.8.2
Copyright © 2004 Oleg Berngardt. All rights reserved.
Copyright © 2004 Alexander Djourik. All rights reserved.
FILE: 09 Die Traumdeutung.flac
Size: 42828196 Hash: 3CFC91AF9040C3D35051EEDF5C376C3A Accuracy: -m0
Conclusion: CDDA 100%
Signature: 749AC22A38771F873476462FC495E5FE04C852F0
FILE: 08 Arborescence.flac
Size: 10679669 Hash: 653566D8B780C7120C142E0751AB6E4A Accuracy: -m0
Conclusion: CDDA 100%
Signature: AB1080B9E19CDAC08DAFD33BF8393FABD281A1E0
FILE: 07 Occultation.flac
Size: 10370390 Hash: 981C64BD3E6F1A2145D5E4DCA562341D Accuracy: -m0
Conclusion: CDDA 100%
Signature: 813DEC8A5942E2A314EAF4766EA564AD17C8C106
FILE: 06 Stretta.flac
Size: 10748579 Hash: 93EEE8C5394F866119556820AF1EBA77 Accuracy: -m0
Conclusion: CDDA 99%
Signature: 74931FE34D4D6BA8093DB4799895523811F762A9
FILE: 05 Penumbra.flac
Size: 14352017 Hash: DD785DDB265D31AFE1D161F0E7E916DD Accuracy: -m0
Conclusion: CDDA 100%
Signature: E762E4BE4E9F51DC8A51FACE886A05CD1FC32E1B
FILE: 04 Speculum.flac
Size: 10501184 Hash: 0A1080570FC5218B2CF3D975116B4550 Accuracy: -m0
Conclusion: CDDA 99%
Signature: 7B8C7E15C6525D6A3DEB9BCC3F06A1058229D4EB
FILE: 03 Nijinsky.flac
Size: 32900276 Hash: ED5C7C928D7246503571119014FB30CB Accuracy: -m0
Conclusion: CDDA 100%
Signature: 1BF475245254738C8CF65044C1CF984C59754D1E
FILE: 02 A Prayer For Nossis.flac
Size: 22969332 Hash: 55BE1798E689F76D50404271071D798C Accuracy: -m0
Conclusion: CDDA 100%
Signature: 0E6CCD09B34C5B4012524D0F756D191B4AE92DF8
FILE: 01 Novalis.flac
Size: 29949729 Hash: B1814BF593D1CE7F0DE12ED2D27B47BB Accuracy: -m0
Conclusion: CDDA 99%
Signature: 35F63187AC8C210DAA0156AA3CC0281A203C7579
see more Tzadik
===