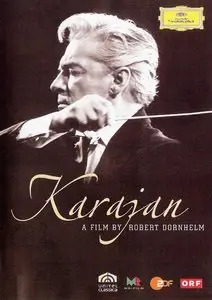 KARAJAN: Beauty as I see it" (DVD9)
Classical | DVD | with covers | 7,8 Gb (DVD) | DVD FULL No compression
2008 | Publisher: Deutsche Grammophon
This documentary is a masterpiece - a classic - the gold standard by which all film biographies of musicians will be measured in future. It's editorially balanced, showing Karajan's faults as well as his strengths.

It's also wonderfully crafted, effortlessly blending modern interviews and archive material - black and white and colour. The editing is so subtle you hardly notice it at first viewing. You just concentrate on the content which is riveting. But repeated viewing shows master-craftsmen at work. All the clips are cut back to sound bites so the film moves at a cracking pace, but never too fast. Underneath the clips are long lines of music - scrupulously chosen. These punctuate the comments and are brought up at strategic moments for a few seconds to illustrate the words, often with dramatic effect.

This film explains conducting better than any I've seen. It should intrigue musicians. It's also an object lesson in how to make a documentary with class and style - a must-see for anyone interested in the art of film-making.

Having read these rave comments you may ask if I'm a friend of the director, or linked to Deutsche Grammophon? No! But I am a professional broadcaster and appreciate a good documentary when I see it. This is a real life-enhancer. I watched it four times in three days and am still getting a lot out of it. The film is densely packed with information and wonderful images. Above all it's intelligent. You'll want to become a conductor - or film-maker - after watching this documentary.
KARAJAN
or Beauty as I see it
oder Die Schönheit wie ich sie sehe
A film by Robert Dornhelm
DVD-VIDEO NTSC 073 4392 |G|H|
STEREO: PCM / SURROUND: DTS 5.1 · Picture Format: 16:9
Subtitles: English/German/French/Spanish/Chinese
A production of UNITEL, MR Film in co-production with ORF, ZDF
SF, SMG and Classica with kind support of Fernsehfonds Austria
Int. Release 04 Apr. 2008
1 DVD-Video"By the end one is left in no doubt that he was an out-and-out sensualist, intoxicated by the sound and raw emotional power of music.
Highly recommended."
Record Review / Julian Haylock, International Record Review (London) / 01. November 2008