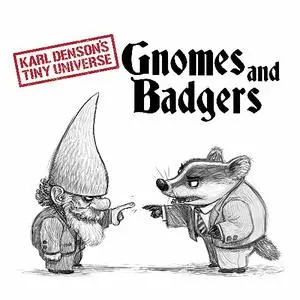 Karl Denson's Tiny Universe - Gnomes & Badgers (2019)
MP3 CBR 320kbps ~ 139.16 Mb | 01:00:26 | Cover
Funk/Jazz/Fusion | Country: USA (San Diego, CA) | Label: Seven Spheres Records
First new studio album in over five years. The new recording distills the sweeping stylistic range of KDTU s concert performances into its own authentic sound. Masterfully incorporating elements of vintage rock, old school soul and classic funk, the inimitable saxophonist/flutist/vocalist Karl Denson and his long-standing six piece unit that includes guitarist DJ Williams, drummer Zak Najor, bassist Chris Stillwell, keyboardist David Veith, trumpeter Chris Littlefield and slide/lap steel guitarist Seth Freeman, have delivered what is undoubtedly their strongest work yet.
Track List:
01. What If You Knew 04:40
02. Gossip 03:58
03. Change My Way 05:48
04. I'm Your Biggest Fan 03:36
05. Can We Trade 06:11
06. Millvale, PA 05:28
07. Something Sweet 05:22
08. Falling Down 05:02
09. Time To Pray 05:13
10. Smart Boy 05:15
11. Just Remembered 09:49