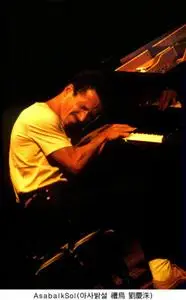 Keith Jarrett – Live
Only 3 Songs - LQ | 9 Mb | Mp3@160-96
A very modest upload for this great pianist, but I only have old vinyls and cassette tapes
Keith Jarrett was born May 8, 1945, in Allentown, PA, USA. Ethnically his family is a mixture of European peoples. Some people are surprised to learn this. He has dark kinky hair and a darkish complexion. During the seventies he wore an afro hair style, making his ancestry visually ambiguous.
He was raised by strict Christian Scientist parents, and is the oldest of five boys. His younger brothers are all also talented players of music. I don't know if any are trying to play professionally, but Keith recorded at least once with his brother Scott.
Keith Jarrett can rightly be described as a having been a genuine prodigy of the first magnitude. His parents recognized at a very early age that he has both perfect pitch and an unusual talent for music, and so started him taking piano lessons at the age of three, usually considered much too young. He began composing music immediately. The Carr biography shows a legible and correctly written manuscript he wrote at that age. He played his first full-length concert, including intermission, at the age of six, ending with two of his own compositions.
Also at age six, when it came time for him to start school, Keith's IQ was measured in the genius range, so they started him immediately in the third grade. Despite being two years younger than his classmates, he adjusted and got along well with the older children, was an excellent student, and even proved to be unusually athletic, even though as an adult he is only five feet eight inches tall, and has quite small hands for a pianist of such prodigious technical accomplishment.
Another photograph in the Carr biography shows Jarrett playing a concert at a Lion's Club Convention at Madison Square Garden at age nine. By about age twelve he was playing professionally on occasion.
He was trained entirely in classical music, and did not become interested in jazz until his early teens, but he immediately excelled in it. He was a special student guest at various Stan Kenton clinics, and by some extraordinarily young age, spent some time on tour with Fred Waring's band. I believe he played marimba and xylophone.
In addition to being a virtuoso pianist of the highest caliber, along the way Keith managed to learn to play almost every instrument he ever came near. Most of them he even plays well. He is an excellent soprano sax player, and still plays it occasionally on albums. During his high school days he worked primarily as a drummer, and also some as a guitarist.