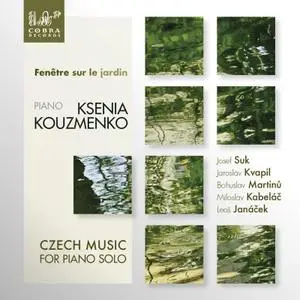 Ksenia Kouzmenko - Fenêtre sur le jardín, Czech Music for Piano Solo (2019)
WEB FLAC (tracks) - 170 Mb | MP3 CBR 320 kbps - 141 Mb | Digital booklet | 01:01:41
Classical | Label: Cobra Records
The album "Fenetre sur le jardin" (Windows on to the Garden) is a special project from pianist Ksenia Kouzmenko, comprising Czech music for piano solo. Together with famous names such as Josef Suk, Bohuslav Martinu and Leos Janacek, there are two world premiere pieces on this album by Jaroslav Kvapil and Miloslav Kabelac.

Jaroslav Kvapil has been almost completely forgotten, but he was one of Janacek's most talented pupils. As a pianist, composer, pedagogue and conductor, he was a very important figure in Czech musical life in the first part of the 20th century. His beautiful cycle "Through the Valley of Grief and Sorrow" consists of 9 pieces. They can best be described as short mood pictures. Psychological miniatures which always shine through another musical form - a song, dances, folk music, nature images - but above all it is a glance into the inner world of a human being.

Miloslav Kabelac was the chief editor of Czech Radio for decennia. He was a pioneer in the field of electronic music and did much research on non-European music. In addition, he conducted regularly, and taught composition at the Prague Conservatory.

The publishing house Barenreiter Praag proclaimed 2018 as the year of Kabelac. The "Short Pieces" of Miloslav Kabelac were written at different moments in his life. The first piece dates from 1946 while the most recent was written in 1961. The pieces form sort of micro-worlds. Time and again he succeeds in creating a hypnotic atmosphere with very few resources.

To complete the album, the well-known "Love Song" by Josef Suk, the lyrical cycle "Fenetre sur le jardin" by Bohuslav Martinu and one of Leos Janacek's most loved works, "In the Mists" are included. Enchanting music, which goes directly to the heart.

Ksenia Kouzmenko is internationally renowned for her sensitive and technically accomplished piano playing and is in great demand as a partner in chamber music. She recently discovered the joy of playing on an Erard grand piano, with its inspiring sound possibilities.
Tracklist:
1. Love Song Op.7 No.1
2. Through The Valley Of Grief And Sorrow: I. Lento melancolico
3. Through The Valley Of Grief And Sorrow: II. Andante
4. Through The Valley Of Grief And Sorrow: III. Poco appasionato
5. Through The Valley Of Grief And Sorrow: IV. Largo lamentoso
6. Through The Valley Of Grief And Sorrow: V. Con moto
7. Through The Valley Of Grief And Sorrow: VI. Allegro
8. Through The Valley Of Grief And Sorrow: VII. Andante addolorato
9. Through The Valley Of Grief And Sorrow: VIII. L'istesso tempo
10. Through The Valley Of Grief And Sorrow: IX. Allegro risoluto - Meno mosso
11. Windows On To The Garden: I. Poco andante
12. Windows On To The Garden: II. Allegro moderato
13. Windows On To The Garden: III. Moderato
14. Windows On To The Garden: IV. Allegretto
15. Short Piano Pieces: I. Allegro inquieto
16. Short Piano Pieces: II. Andante tranquillo
17. Short Piano Pieces: III. Meditation. Lento con espressione, ma Semplice
18. Short Piano Pieces: IV. Memories. Adagio
19. Short Piano Pieces: V. Enigma lento patetico
20. Short Piano Pieces: VI. Moderato
21. Short Piano Pieces: VII. Memories. Allegro
22. In The Mists: I. Andante - Poco mosso
23. In The Mists: II. Molto Adagio - Presto
24. In The Mists: III. Andantino - Poco mosso
25. In The Mists: IV. Presto - Meno mosso - Andante
–––––––––––-

DON'T MODIFY THIS FILE

–––––––––––-

PERFORMER: auCDtect Task Manager, ver. 1.6.0 RC1 build 1.6.0.1
Copyright © 2008-2010 y-soft. All rights reserved

ANALYZER: auCDtect: CD records authenticity detector, version 0.8.2
Copyright © 2004 Oleg Berngardt. All rights reserved.
Copyright © 2004 Alexander Djourik. All rights reserved.


FILE: 9 Through The Valley Of Grief And Sorrow- VIII. L'istesso tempo.flac
Size: 4891235 Hash: B58A40044C63B1A4B3699DCA646FCEA9 Accuracy: -m0
Conclusion: CDDA 43%
Signature: CDFAF2BCB0B9076960843C698504239305A9999A
FILE: 8 Through The Valley Of Grief And Sorrow- VII. Andante addolorato.flac
Size: 4763683 Hash: 8AA7A2B9E25C18689AC869A6E6D6D308 Accuracy: -m0
Conclusion: MPEG 89%
Signature: AE359F4038E2825868594E1A38523F08AC8DD380
FILE: 7 Through The Valley Of Grief And Sorrow- VI. Allegro.flac
Size: 4285535 Hash: 40F6AB6A0D57F5AD7E753DA643C0EC28 Accuracy: -m0
Conclusion: CDDA 49%
Signature: BC0A8DB38BD2987EC4573B18637DFC29E3B50F2F
FILE: 6 Through The Valley Of Grief And Sorrow- V. Con moto.flac
Size: 4959563 Hash: 1B2310FC94812847DD64AAB04FD4D736 Accuracy: -m0
Conclusion: MPEG 92%
Signature: 388142D9C1C3C260F1D0D16D9A1C5FBEBCCACE10
FILE: 5 Through The Valley Of Grief And Sorrow- IV. Largo lamentoso.flac
Size: 5061299 Hash: F242DC7B61924259EBD356264D2882C1 Accuracy: -m0
Conclusion: MPEG 100%
Signature: 95D71C0CC9EFD866A86B06FAB5B1F0417C9F80C9
FILE: 4 Through The Valley Of Grief And Sorrow- III. Poco appasionato.flac
Size: 1854563 Hash: 836E7434084F6A1D3569B757C535842F Accuracy: -m0
Conclusion: CDDA 99%
Signature: 4D3F71C1C6C874ED0920A7EF10970981D3B42360
FILE: 3 Through The Valley Of Grief And Sorrow- II. Andante.flac
Size: 3945465 Hash: 17D9595BFD4D095C097D9B6962626E3D Accuracy: -m0
Conclusion: CDDA 43%
Signature: DE5F9EBE8D475C68E3924424EFEAD534036A39F7
FILE: 25 In The Mists- IV. Presto - Meno mosso - Andante.flac
Size: 14017592 Hash: DA22733063CF208A9BC66F96B27A73FE Accuracy: -m0
Conclusion: MPEG 89%
Signature: 65D749E3AE6915D80DD39DE93CDC05E07092A16C
FILE: 24 In The Mists- III. Andantino - Poco mosso.flac
Size: 6851063 Hash: 52004D5D349A15D0B115D8702B335161 Accuracy: -m0
Conclusion: CDDA 42%
Signature: E4D4C02AEEDD106301CC6B7CE40C442F0D3AD3AA
FILE: 23 In The Mists- II. Molto Adagio - Presto.flac
Size: 13232533 Hash: 20115907BABE3DA8B9173104F056C6DE Accuracy: -m0
Conclusion: CDDA 43%
Signature: 688AB93CF85ED1B7F6488B965F3A53E38E224A28
FILE: 22 In The Mists- I. Andante - Poco mosso.flac
Size: 9857821 Hash: A8BEECD046C578E6FAF8D971DDC86F37 Accuracy: -m0
Conclusion: CDDA 42%
Signature: D590C64F0B9CF1290D028655495A48B8347DC3BB
FILE: 21 Short Piano Pieces- VII. Memories. Allegro.flac
Size: 7096661 Hash: 7A1D485BA2B7C38CCF08F0FF43723F69 Accuracy: -m0
Conclusion: CDDA 62%
Signature: ED98B8337E60A3DF816AC30AA2CAFCF87E6F9C9D
FILE: 20 Short Piano Pieces- VI. Moderato.flac
Size: 6804145 Hash: 3DBA112D95AD9D2A4B43FBAC89B98B52 Accuracy: -m0
Conclusion: CDDA 42%
Signature: E6963AB0F66D5618BE15BA2655CCCF0CC7724F90
FILE: 2 Through The Valley Of Grief And Sorrow- I. Lento melancolico.flac
Size: 6651503 Hash: 11925800163C7C4B6334A4D92A61495A Accuracy: -m0
Conclusion: CDDA 49%
Signature: 8404EDCCFC5EDD329E5FDC53883CDD084DE13542
FILE: 19 Short Piano Pieces- V. Enigma lento patetico.flac
Size: 6287153 Hash: B38D07B3EE34F78413605C5D501055DB Accuracy: -m0
Conclusion: CDDA 92%
Signature: C448356B806502D361F5E4E8C1583A8FC275E9CE
FILE: 18 Short Piano Pieces- IV. Memories. Adagio.flac
Size: 4908373 Hash: 8D27F32EFB7540CC44C430A666656DDB Accuracy: -m0
Conclusion: MPEG 89%
Signature: BBC771C09612B7734EBA4E88BFC4BDADB17E1ACD
FILE: 17 Short Piano Pieces- III. Meditation. Lento con espressione, ma Semplice.flac
Size: 8448564 Hash: 60DBADFAD145300113D2C74A74D449AC Accuracy: -m0
Conclusion: MPEG 80%
Signature: 6B4838FDEB66D74FC01584ABDA2C6E1973489B5D
FILE: 16 Short Piano Pieces- II. Andante tranquillo.flac
Size: 7104554 Hash: 1E996314B5AFBE53D138AA9B4F9B933D Accuracy: -m0
Conclusion: CDDA 58%
Signature: F32E9F5F78A88A7D969B4C9D9A4EA384888E522E
FILE: 15 Short Piano Pieces- I. Allegro inquieto.flac
Size: 6776116 Hash: 662B05E11FB8CCC28E76EEE0DD2F3DB3 Accuracy: -m0
Conclusion: CDDA 42%
Signature: B28C067FDA95538C1E27C36876CE5FDCBA64A601
FILE: 14 Windows On To The Garden- IV. Allegretto.flac
Size: 5663768 Hash: C6C94670A4C6CC8F2A2625578A4FD5AC Accuracy: -m0
Conclusion: CDDA 94%
Signature: 86A84FCA16F50D320BCBBE65056C6F1CC0B71745
FILE: 13 Windows On To The Garden- III. Moderato.flac
Size: 6864983 Hash: 956BADD4E7C868F474ECA22E133D178E Accuracy: -m0
Conclusion: CDDA 62%
Signature: A0D1F49F9DC132BC2F40C63D9957501C467041A3
FILE: 12 Windows On To The Garden- II. Allegro moderato.flac
Size: 6648097 Hash: C3436833DEE7E98F060B0E000E52A2AC Accuracy: -m0
Conclusion: MPEG 89%
Signature: 7B8893A8DC8BD2EC591A887ABDE7BD2EAC6F3ED0
FILE: 11 Windows On To The Garden- I. Poco andante.flac
Size: 5656975 Hash: D39AEE13DDD38E32CD84F2F828656E13 Accuracy: -m0
Conclusion: CDDA 43%
Signature: B284BB447670FBA8E3653DAB3C54EF7A95C2F166
FILE: 10 Through The Valley Of Grief And Sorrow- IX. Allegro risoluto - Meno mosso.flac
Size: 7054695 Hash: CC3BF2AE7575A6D9181C473C14727E1B Accuracy: -m0
Conclusion: CDDA 49%
Signature: 3290FF7E4606A143F701EB7723C74A97C52E0846
FILE: 1 Love Song Op.7 No.1.flac
Size: 18533590 Hash: 2F8D51D060FB1D1686E839818316C509 Accuracy: -m0
Conclusion: CDDA 42%
Signature: 44B193CBFE1CCE7F504EBDE6CD311F9BE81A1211