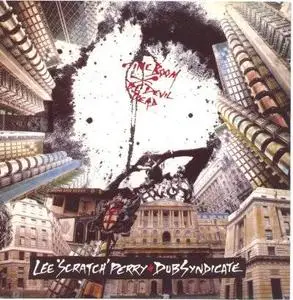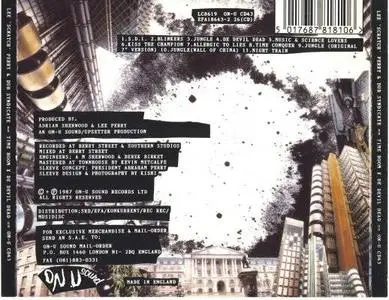 Lee Scratch Perry & Dub Syndicate - Time Boom X De Devil Dead | 1987 | Genre: Reggae
53:59 | mp3 | 320 | Stereo | 128 MB | covers

11 tracks - total time: 53:59
01 - S.D.I. - 6:27
02 - Blinkers - 4:58
03 - Jungle - 7:34
04 - De Devil Dead - 4:30
05 - Music & Science Lovers - 5:06
06 - Kiss the Champion - 7:14
07 - Allergic to Lies - 3:54
08 - Time Conquer - 4:32
09 - Jungle (Original 7inch Version) - 3:47
10 - Jungle (Wall of China) - 2:52
11 - Night Train - 3:05
drums - style scott
bass - errol holt / dr. pablo track 5 / evar track 3
rhythm guitar - bingy bunny / martin frederix track 3/8
lead guitar - dwight / martin frederix track 3 / dr. pablo track 5
saxophone - deadly headley
piano - steely / kishi track 8
keyboards - dr. pablo / kishi track 3/7/8/9/10
percussion - lee perry / bonjo iyabinghi noah
vocal harmony - akabu track 3/4/9/10
produced by adrian sherwood & lee perry
an on-u sound/upsetter production
recorded at berry street and southern studios
mixed at berry street
engineers; a m sherwood & derek birket
mastered at townhouse by kevin metcalfe
sleeve concept; president abraham perry
sleeve design & photograpy by kishi
1987 on-u sound records ltd cd43
Just a glance at the cover and sleeve notes suggests there is something a little different about this album.
It was recorded in 1987 with the help of Adrian Sherwood, Dub Syndicate and of course Perry himself.
This is a typical On-U Sound recording as it is distinctive, quirky, has many layers and is unlikely to be instantly liked.
The sound is typical Dub Syndicate with many samples, loops, drums and a strong bass.
There are some nice Asian influences and African Head Charge chanting here.
A harsh critic may call the music slightly plastic.
But that's to ignore the unique sound that has influenced various artists such as Ghetto Priest, Asian Dub Foundation and Fundamental.
Perry sings, toasts and trips his way through tracks. These are not the rantings of a madman.
Like Mark E Smith, Perry is intelligent, a good actor, eccentric and has a unique way of communicating his observations.
On a recent series of documentaries about Lee Perry, Mark Lamarr declared this to be the best post-Black Ark Perry album.
This may be true but probably reflects the poor quality of other releases.
Its quite fun, funny and interesting at times but is not a patch on Super Ape or the three Perry compilations from Pressure Sounds.
Highly recommended for Lee Perry and On-U Sound obsessives.
Otherwise, approach with caution and an open mind.

(source: http://www.reggae-reviews.com/leeperry.html - review by ragudave)

more information on ON-U Sound and Dub Syndicate discography:
http://www.skysaw.org/onu/discography/dubsyndicatediscog.html
download from rapidshare
new, updated links!
part 1
(63 MB)
part 2
(62 MB)
pw: avaxhome.ws
enjoy!
if you like the album, buy it!