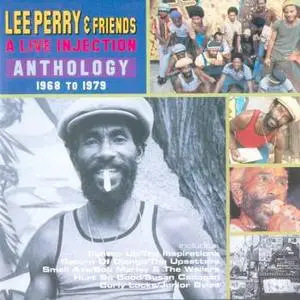 Lee Perry & Friends - A Live Injection - Anthology 1968-1979 | 2001 | Reggae | compilation
mp3 | 192 kbps - 44100 - Stereo | 2:30:00 | 206,6 MB
back- and frontcover included
While he just seems to make his own music these days, this exceptional collection acts as a reminder that Lee "Scratch" Perry's reputation was partly established as a producer of reggae songs, one who helped push the music through its early years. He was largely responsible for making the Wailers into a band that could go on and conquer the world (just listen to "Duppy Conqueror" or "Small Axe" to understand how he helped them develop), but his work with so many other artists was impeccable – and often very individual, such as the classic "Curly Locks" with Junior Byles. It's also worth remembering that Perry had a golden touch – most of these singles were Jamaican hits, even the acerbic and hilarious "People Funny Boy," which featured himself (as well as the sound of a crying baby). Indeed, 1968-1979 was his truly fertile period, when he established his Black Ark studio (which he burned down in 1980), helped birth the sonic genre of dub, and shape the sound of roots reggae, while keeping it very much within the overall realm of pop music – witness the Melodians' "Round and Round." Even his own, strange material, like "Bush Weed," had an appeal. While it's a shame that some of his best work, like Junior Murvin's "Police and Thieves" or his glowing productions for the Congos (which many deem his finest work behind the board) isn't included, there's enough here to make it a perfect primer, not just on Perry, but on Jamaican music in the 1970s.
source: allmusic.com - Review by Chris Nickson
Tracks:
Disc1:
1. People Funny Boy - Lee Scratch Perry
2. Tighten Up - The Untouchables
3. Return Of Django - The Upsetters
4. Dollar In The Teeth - The Upsetters
5. Come Into My Parlour - The Bleechers
6. A Live Injection - The Upsetters
7. Shocks Of Mighty - Dave Barker
8. Duppy Conqueror - Bob Marley And The Wailers
9. Place Called Africa - Junoir Byles
10. Africa Stand - Dennis Alcapone
11. Dont Cross The Nation - Little Roy
12. Small Axe - Bob Marley And The Wailers
13. Walking In The Streets - The Hurricanes
14. Jump And Rale - The Bleechers
15. Better Days - Carlton And The Shoes
16. My Girl - Busty Brown
17. Beat Down Babylon - Junior Byles
18. French Connection - Lee Scratch Perry And The Upsetters
19. Round And Round - The Melodians
20. Just One Look - Hortense Ellis
21. Space Flight - I. Roy
22. Sick And Tired - Neville Grant
23. Bucky Skank - Lee Scratch Perry And The Upsetters
24. Words Of My Mouth - The Gatherers
Disc2:
1. Black Candle - Leo Graham
2. Keep On Skanking - Bob Marley
3. Give Thanks - Delroy Denton
4. Herb Vendor - Leroy 'Horsemouth' Wallace
5. Public Jestering - Judge Winchester
6. Hurt So Good - Susan Cadogan
7. Talk About It - The Mighty Diamonds
8. Curly Locks - Junior Byles
9. Enter The Dragon - The Upsetters
10. Womans Gotta Have It - Jimmy Riley
11. Bush Weed Corntrash - Bunny And Ricky
12. Bush Weed - Lee Scratch Perry And The Upsetters
13. To Love Somebody - Bunny 'Rugs' Clarke
14. Down Here In Babylon - Brent Dowe
15. White Belly Rat - Lee Scratch Perry
16. Sons Of Slaves - Junior Delgado
17. Rainy Night In Portland - Watty Burnett
18. My Little Sandra - Leo Graham
19. Cross Over - Junior Murvin
20. Garden Of Life - Leroy Sibbles
rapidshare.de
new, updated link!
Download
(198 MB)
…put a smile on your face and enjoy!