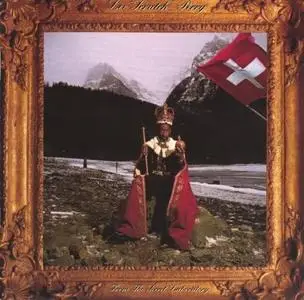 Lee Scratch Perry - From My Secret Laboratory
featuring Dub Syndicate & Roots Radics
1990 | Genre: Reggae | 50:04 | mp3 @ vbr b256 q0| Stereo | 99 MB | covers

Tracks:
Track Listing
01. Secret Laboratory (Scientific Dancehall) - 6:23
02. Inspector Gadget - 3:42
03. (I Got the) Groove - 5:25
04. Vibrate On - 4:50
05. African Hitchiker - 4:30
06. You Thought I Was Dead - 3:15
07. Too Much Money - 5:06
08. Push, Push - 4:01
09. African Headcharge in the Hackney Empire - 3:27
10. Party Time - 3:45
11. Seven Devils Dead - 4:52
vocals & percussion - lee perry
drums & percussion - style scott
rhythm guitar - bingy bunny
lead guitar - skip mcdonald / dwight
organ - carlton "bubblers" ogilvy
effects - crocodile
piano - steely / bubblers ogilvy
- /tracks 3/4/8/11
bass - errol flabba holt
- david harrow /tracks 3/4/8/10/11
vocal harmonies - akabu /tracks 1/2/7/11
- skip mcdonald /tracks 3/8
- george faith /track 3
- heptones /track 10
recorded at matrix studios (london)
the mixing lab (jamaica)
the manor (oxford)
mixed at matrix
produced by adrian sherwood & lee perry
an on-u sound/upsetter production
1990 Mango Records RRCD 55 (Island Records)
As zany as ever, Lee Perry here serves notice that he's also as capable as ever
– even in the '90s – of putting out quality material.
A second collaboration with ON-U Sound producer Adrian Sherwood,
this largely unheralded set easily outshines 1987's overrated Time Boom X the Devil Dead, in my opinion (yes).
Unlike that album – and unlike some of Perry's '80s and '90s material –
the songs on From My Secret Laboratory sound mostly fresh and likeable.
Scratch is at his best when his madness is tempered by truly good music, and this album delivers exactly that.
"Push, Push," for instance, is about as funky as anything he's ever put out,
while "Seven Devils Dead" has a great emotional, apocalyptic feel to it.
A remake of his collaboration with Augustus Pablo, "Vibrate On," is also included, accompanied by Perry's loony vocals.
"You Thought I Was Dead" meanwhile wins for best title (although some might prefer "African Headcharge in the Hackney Empire"),
and it is as good as its name (while "African Headcharge" is not).
As with some of Perry's latter-day stuff, Perry here explores some different styles -
- sometimes it works, as with the dancehall-rhythmed "Secret Laboratory,"
and sometimes it doesn't, as with the techno-ish "I Got the Groove."
Most of the music, however, is good ol' roots and dub, albeit with a slightly more moderns edge….
…and, as he says: if you thought I was dead, I'll come back to fly upon your head.

(source: http://www.reggae-reviews.com/leeperry.html)
reuploaded to rapidshare
pw: avaxhome.ws
http://tinyurl.com/lrqr8
(96 MB)
enjoy!
if you like the album, buy it!