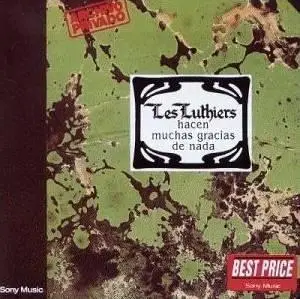 Les Luthiers - Hacen Muchas Gracias De Nada | 1980 | Genre: Humor (Spanish)
mp3 | CBR 192 Kbps 44100 Stereo | 43:43 | 61 Mb
Les Luthiers - Hacen Muchas Gracias De Nada (1980)
Les Luthiers is a comedy-musical group from Argentina, very popular also in several other Spanish speaking countries such as Spain, Colombia, Mexico, Peru, Chile, Uruguay and Venezuela. They were formed in 1967 by Gerardo Masana, during the height of a period of very intense choral activity in Argentina's state universities. Their outstanding characteristic are the home-made musical instruments (hence the name luthiers, French for "musical instrument maker"), some of them extremely sophisticated, which they skillfully employ in their recitals to produce music and texts full of high class and refined humor.
Otro album en vivo, grabado los días 24 y 25 de octubre de 1980 en el Teatro Coliseo. Creo que este es uno de los trabajos mas elaborados de Les Luthiers en vivo, junto con el show Mastropiero Que Nunca. Este disco recoge un estracto del show con una muy acertada selección de su reparto. Aunque no es lo mismo oir que ver un espectaculo, pero si uno ya los ha visto actuar ya uno puede imaginarse lo que pasa en el escenario, vale la pena tenerlo, porque es de oirlo una y otra vez!!
Espero lo disfruten.
Tracks:
1. Rey Enamorado
2. Tanda
3. Consejos Para Padres
4. Gallina Dijo Eureka
5. Cartas de Color
Download:
No Pass
Other Albums by Les Luthiers:
Cantata Laxaton
Volumen 3
Volumen 4
Mastropiero