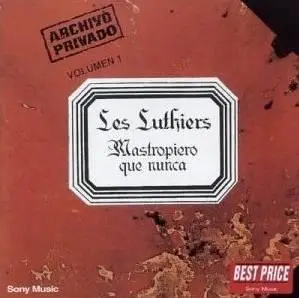 Les Luthiers - Mastropiero que nunca Vol.1 | 1979 | Genre: Humor

(Spanish)
mp3 | CBR 192 Kbps 44100 Stereo | 37:37 | 52 Mb
Les Luthiers - Mastropiero que nunca Vol.1 (1979)
Les Luthiers is a comedy-musical group from Argentina, very popular also in several other Spanish speaking countries such as Spain, Colombia, Mexico, Peru, Chile, Uruguay and Venezuela. They were formed in 1967 by Gerardo Masana, during the height of a period of very intense choral activity in Argentina's state universities. Their outstanding characteristic are the home-made musical instruments (hence the name luthiers, French for "musical instrument maker"), some of them extremely sophisticated, which they skillfully employ in their recitals to produce music and texts full of high class and refined humor.
Este es un album en vivo, en donde a veces uno desearía poder ser testigo de lo que está sucediendo en el escenario durante los momentos de silencio al escuchar las carcajadas de los asistentes.
Este es el Volumen 1 de este album, grabado en 1979 y siendo el quinto de este grupo.
Espero lo disfruten.
Tracks:
1. Jingle Bass Pipe (Obertura)
2. Bella Y Graciosa Moza Marchose A Lavar La Ropa
3. El Asesino Misterioso
4. Visita A La Universidad De Wildstone
5. El Beso De Ariadna
6. Poemas De Gemini
Download:
No Pass
Other Albums by Les Luthiers:
Cantata Laxaton
Volumen 3
Volumen 4