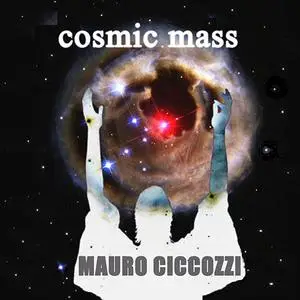 Mauro Ciccozzi - Cosmic Mass (2019)
WEB FLAC (tracks) ~ 256.65 Mb | 43:06 | Cover
Nu Jazz, Fusion | Country: Italy | Label: Kyosaku Records
"Doing and being" than "appearing". Starting in the 80's as recording room arranger and a sought-after session musician.. One of the first to use the guitar synthesizer , playing guitars almost always very personalized or unique. Although he never wanted to give much prominence, he boasts friendships and collaborations among some of the major artists.Here's most recent productions as a soloist.
Track List:
1. Tranceunderground (Metro'). 5:08
2. Question (Part1+Part2). 6:32
3. East & West. 4:52
4. Blue Chair. 3:52
5. Jungle (intro). 2:28
6. Y Vamos. 4:28
7. Desire. 8:42
8. Cosmic Mass. 7:02
- Mauro Ciccozzi / acoustic, electric and MIDI guitars, computers programming, sound engineering and cosmic doors.
All songs written arranged and performed by Mauro Ciccozzi
Recorded Produced and Mixed at Timeless Studios 2 by Mauro Ciccozzi
Mastering and Supervising by Frank Minoia at Kyosaku Records Studios
–––––––––––-
DON'T MODIFY THIS FILE
–––––––––––-
PERFORMER: auCDtect Task Manager, ver. 1.6.0 RC1 build 1.6.0.1
Copyright © 2008-2010 y-soft. All rights reserved
http://y-soft.org
ANALYZER: auCDtect: CD records authenticity detector, version 0.8.2
Copyright © 2004 Oleg Berngardt. All rights reserved.
Copyright © 2004 Alexander Djourik. All rights reserved.
FILE: 01. Jungle (Intro).flac
Size: 12762929 Hash: A3ADF5938DB319FE756CCA1CA1FD3722 Accuracy: -m0
Conclusion: CDDA 100%
Signature: 54E71C36D35BD3F77F01FAC635FD384DB1058C7F
FILE: 02. Tranceunderground.flac
Size: 38212114 Hash: D329B52BB1FB530015119F882EB766FB Accuracy: -m0
Conclusion: CDDA 100%
Signature: C34D0F4C418CEAFF99F3557BC64E6DDBC85DDDA2
FILE: 03. Question.flac
Size: 37017056 Hash: 00E40BB88489A3B1471837BC85A57A5D Accuracy: -m0
Conclusion: CDDA 99%
Signature: 991AED530B5DBDF020A4153B00F901C37049E9B4
FILE: 04. East & West.flac
Size: 36683561 Hash: DDAB4A0896C603B8B9B4BBE66B76428F Accuracy: -m0
Conclusion: CDDA 100%
Signature: A9D0CE039B2BA9FE7EBAF153C1A984D317F42950
FILE: 05. Blue Chair.flac
Size: 18602079 Hash: 63B135A09E7BE4402ADFFC9BF3B007EF Accuracy: -m0
Conclusion: CDDA 99%
Signature: 1209717C1A34CD9D7FD5BEA57FA22173D43101B3
FILE: 06. Cosmic Mass.flac
Size: 53222701 Hash: 0663A5D7D8F8F4A57E6EFF13F2BDDDCF Accuracy: -m0
Conclusion: CDDA 100%
Signature: D7DC7E3820AB32FEA32349511583D0161F5C70BD
FILE: 07. Desire.flac
Size: 37432039 Hash: 79559E64C990FA98C55B9C8FD47F5259 Accuracy: -m0
Conclusion: CDDA 100%
Signature: 274972EED3033B5218EFA6702ED7000BC5CE618B
FILE: 08. Y Vamos.flac
Size: 34577660 Hash: 6B02FCC1C2675EF08752CEA7B6A6EF2C Accuracy: -m0
Conclusion: CDDA 100%
Signature: FBB364DCCD0273ABFEA27A09A8C752DB967F00C0
All thanks go to the vp_sunset