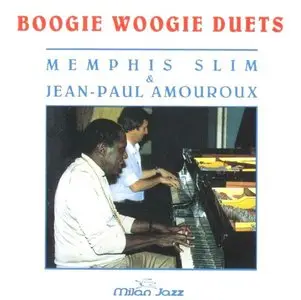 Memphis Slim and Jean-Paul Amouroux - Boogie Woogie Duets
Label: Milan spi | MP3 cbr 192Kbps | Time: 48:20 | Covers | 68 Mb
Genre: Jazz, Boogie-Woogie, Blues, Instrumental
Two pianos, a lot of the best boogie woogie and blues. Memphis Slim & Jean-Paul Amoroux play a wonderful disc, for all jazz and blues lovers.
An amazingly prolific artist who brought a brisk air of urban sophistication to his frequently stunning presentation, John "Peter" Chatman -better known as Memphis Slim- assuredly ranks with the greatest blues pianists of all time.
Jean-Paul Amoroux has been playing the piano professionally since 1973 after an earlier career in advertising. He possesses a sound musical background having won first prize in a major national piano competition at the age of ten. He is both an original performer of boogie woogie as well as being a serious student of its styles and history.
Tracklist:
1.Salute to Albert and Pete
2.176 Train Blues
3.New H.C.F. Boogie
4.Cafe Society Blues
5.Trois Mailletz Boogie
6.Low Down Harpsichord
7.Crazy Boogie
8.Specially for Anne
9.Cambridge Boogie
10.Blues in the Afternoon
11.Boogie for 2 Pianos
12.Mead Lux Special
13.Money, Honey (Live)
14.Woogie (Live)
Personnel:
Piano 1 (right channel): Memphis Slim
Piano 2 (left channel): Jean-Paul Amouroux
Bass: Gilles Chevaucherie
Drums: Michel Denis
Arrangements: Memphis Slim/ Jean-Paul Amouroux
Compositions: Jean- Paul Amouroux (except #13: J. Stone)
Recorded in Paris (Studio Aquarium) on November 7, 1981, except 13 & 14: Lille, June 12, 1981
LinkRS
Enjoy !!