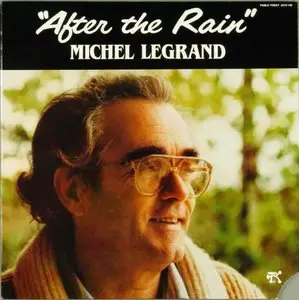 Michel Legrand - After The Rain (1982)
Label: Pablo/OJC | MP3 cbr 320 kbps | Time: 43:21 | 100Mb
Genre: Jazz-Film Music/Soundtracks-Crossover Jazz
This high-quality outing (reissued on CD) features composer Michel Legrand faring quite well as a jazz pianist. He performs six of his compositions (only "Pieces of Dream" is well-known) with a lyrical septet also including altoist Phil Woods (doubling on clarinet), tenor saxophonist Zoot Sims, trumpeter Joe Wilder, guitarist Gene Bertoncini, bassist Ron Carter, and drummer Grady Tate. The music generally swings, has plenty of fine melodic solos, and gives listeners a taste of some fresh Legrand material.
Tracks
1. Nobody Knows (Bergman/Legrand) 8:53
2. After The Rain Bergman/B/L) 6:20
3. I Was Born In Love With You (Bergman/B/L) 6:25
4. Orson's Theme (Legrand) 7:55
5. Pieces Of Dreams (Bergman/B/L) 7:46
6. Martina (Les Enfants Qui Pleurent) (Legrand/M/S) 6:02
Personnel:
Gene Bertoncini: Guitar
Ron Carter: Bass
Michel Legrand: Piano
Zoot Sims: Sax (Tenor)
Grady Tate: Drums
Joe Wilder: Flugelhorn, Trumpet
Phil Woods: Clarinet, Sax (Alto), Saxophone
LinkRS
Enjoy !!