Moustafa Ahmed Mohamed Hassan Amar (Arabic:مصطفى قمر) (born September 22, 1966), known as Mostafa Amar, is an Egyptian musician and actor. He has also been credited as Mustafa Amar and Moustafa Qamar.
Moustafa attended Al-Shaheed Abbas School where his talent and love for music and singing earned him the role of lead singer in the school concert. His father got him a guitar when he was ten and he began taking summer classes. Later he attended the University of Alexandria and although a student in the business department he continued his summer music classes.bnm
After university, he moved to Cairo to find a production company. His first song was "Wala Yabou Khad Gameel", released on a collective album with other talented singers, and in 1990 he released his first solo album, Wassaf. In 1992-1993, he released his second album, Layaleki, which sold well. He also teamed up with actress Nilly on a duet, "Papa Noel". He has also partnered with composer/singer Hamid El-Shaeri and the Gipsy Kings Group. In 2004 he released Ensa, his 14th album.
In addition to writing his own music, he has composed for other Arabic singers including Ehab Tawfik and Ali El Haggar. He is married and has two sons.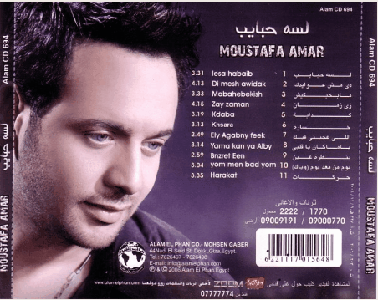 Mostafa Amar - Benazret Ain
Mostafa Amar - Dy Mesh Awaidak
Mostafa Amar - Ely Aagabny Feek
Mostafa Amar - Harakat
Mostafa Amar - Kadaba
Mostafa Amar - Khosara
Mostafa Amar - Lesa Habayeb
Mostafa Amar - Mabahebekesh
Mostafa Amar - Yama Kan Ya Alby
Mostafa Amar - Youm Men Baad Youm (Wayak)
Mostafa Amar - Zay Zaman