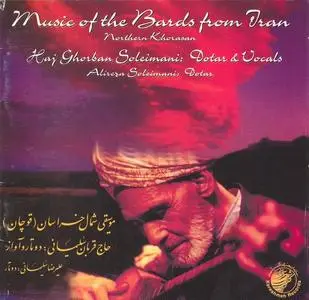 Haj Ghorban Soleimani :
Music of the Bards from Iran
(1995)
Iranian Folk Music of Northern Khorasan (Ghouchan)
MP3 Lame Insane 320 kbs + Full scaned Booklet (Persian, French and English) = 160 MB
Ostad Soleimani is a father figure to many of the musicians of Iran. Many believe that he is one of the most important artists in Iran. He is a bakhshi from Khorasan and he lives as a farmer in a small village close to Ghouchan. This recording was made by a group of engineers and musicians at his home using the state of the art digital multitrack recorders. You can expect something very new from this compact disk. The tradition of this music goes back a few thousand years, however, unlike many other traditional music, it is played with an amazing ferocity and yet the expressions are very refined. The music demands your attention which we hope will be rewarded by very subtle and profound emotions.
01. Geraili
02. Jabbar
03. Gharache Bayer
04. Tajinis
05. Zaranji Hossein Yar
06. Allah Mazar
07. Zolfaghari
08. Shah Khatai
09. Jafar-Gholi
10. Bash Nader Yoli
11. Doshorme Nadar Yoli
12. BAsh Hossein yar
13. Armana Sosi, Dorna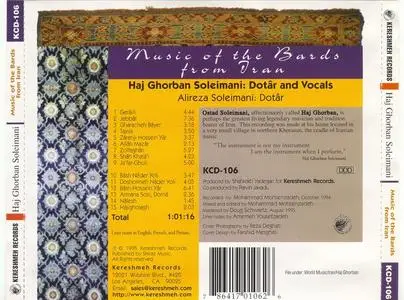 "… A True National Treasure …."
Liberation
"He gracefully took his dotar and started playing. And it was a miracle."
"His Virtuosity and musicality are as natural as they are incredible."
Le Nouvel Observateur
"… one of the world's great traditional musicians…"
Todd Michel McComb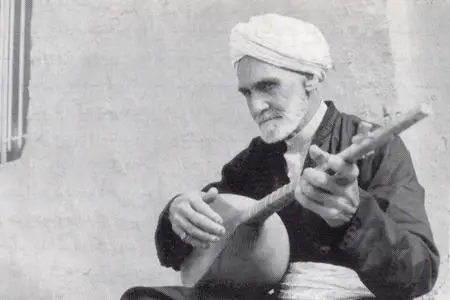 How awsome is it that an unknown village dotar (two-string instrument) player and singer finds himself featured on amazon.com and a guy from california writes him a review? It's pretty awsome. To find out what makes Ostad Soleimani leap from a village to the world stage (let's not forget his sold-out concert in Paris!), you should listen to his mastery of the dotar and his mesmerising, heart-felt, voice. Ahhhh…. just gotta love it!! He sings with such passion… almost running out of breath at the end of some of his chants… as if pleading with his last might to his lover. We see what "passionate" singing and artistary mean! Be one of the few (yes the few, the proud…) to own this jem and know of this national treasure.
From Amazon's Customer Reviews
All theses and more information about Dotar aviable in a nice CHM I compiled specially for you (includede in the rared files).
with best regards to alejx007 and his attention to my
"special music"
Personal :
Dear alejx007
I post this kind of "special" music, because AvaxHome is a very "special" board, open to all and every taste. I am not a specialist nor a fanatic of Iranian music. I simply like it. Almost of my Iranian posts come from a very "special" Persian friend of mine who makes me discover them and share them with AvaxHome members. Because he is blind and far from Iran, he stays always at home listening to his motherland's melodies. The quality of his passion touch me really. But you can be sure : I will try to find more time to continu my "normal" publications (remember my Leonard Cohen, Keith Jarret, Garbarek…)
Download :
http://rapidshare.de/files/22643740/HGS_MBI.part1.rar.html
http://rapidshare.de/files/22644249/HGS_MBI.part2.rar.html
http://rapidshare.de/files/22645671/HGS_MBI.part3.rar.html
http://rapidshare.de/files/22646107/HGS_MBI.part4.rar.html
http://rapidshare.de/files/22646495/HGS_MBI.part5.rar.html
http://rapidshare.de/files/22646689/HGS_MBI.part6.rar.html
Enjoy !
P.S.: I discovered a little error in uploaded archive. After unrar, you will get a Booklet folder with Persian and English subfolder. Please make a new subfolder and name it French, then cut images number 11 to 18 from English folder and past them in it. Sorry for inconvenient.