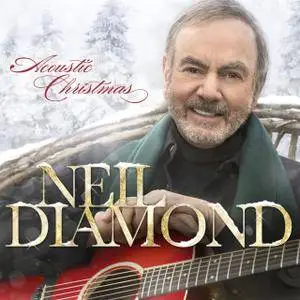 Neil Diamond - Acoustic Christmas (2016)
WEB FLAC (tracks) ~ 245.02 Mb | 37:30 | Cover
Vocal Jazz, Pop, XMAS | Country: USA | Label: Capitol Records
Acoustic Christmas is the new holiday album from Neil Diamond on Capitol Records. Set for release on October. 28 and followed Nov. 18 by a vinyl version, the holiday collection includes new material alongside Diamond's singular renditions of yuletide classics. Acoustic Christmas was produced by Jacknife Lee (U2, R.E.M.) and Don Was (Rolling Stones, Bob Dylan), the pair behind Diamond's previous release, 2014 s Melody Road.
The new holiday album is distinguished by an intimacy reminiscent of what Lee refers to as parlor music, small family groups singing together at home, and, of course, Diamond's inimitable voice, which the producer likens to hot chocolate. The profound and legendary singer/songwriter has enjoyed a global career spanning five decades, and has sold a staggering 125+ million albums, making him one of the best-selling artists of all time.
Track List:
01.O Holy Night (2016 Version) 3:44
02.Do You Hear What I Hear 4:03
03.Christmas Prayers 4:30
04.Hark The Herald Angels Sing (2016 Version) 4:13
05.Mary's Boy Child 3:19
06.Silent Night (2016 Version) 3:41
07.Go Tell It On The Mountain 3:16
08.Children Go Where I Send Thee 5:25
09.Christmas In Killarney 2:03
10.Christmas Medley 3:12
–––––––––––-
DON'T MODIFY THIS FILE
–––––––––––-
PERFORMER: auCDtect Task Manager, ver. 1.6.0 RC1 build 1.6.0.1
Copyright © 2008-2010 y-soft. All rights reserved
http://y-soft.org
ANALYZER: auCDtect: CD records authenticity detector, version 0.8.2
Copyright © 2004 Oleg Berngardt. All rights reserved.
Copyright © 2004 Alexander Djourik. All rights reserved.
FILE: 10. Neil Diamond - Christmas Medley.flac
Size: 24880136 Hash: A4448A166C5B8D8E1E9CAB1B1B58AB10 Accuracy: -m0
Conclusion: CDDA 100%
Signature: 7DE8A4BDC8837148138193FE8CB5ABBBF880E89C
FILE: 09. Neil Diamond - Christmas In Killarney.flac
Size: 15057078 Hash: F949187350CCE04F2187224E2327A8E3 Accuracy: -m0
Conclusion: CDDA 100%
Signature: 5AD0AF220504FAAC393EE8225A09940776960A52
FILE: 08. Neil Diamond - Children Go Where I Send Thee.flac
Size: 40959872 Hash: D5B8D07707FC13C832D0EC636FAF7F27 Accuracy: -m0
Conclusion: CDDA 100%
Signature: E7E5E057AF69F883E6F58FCA8D4AE00835DF3224
FILE: 07. Neil Diamond - Go Tell It On The Mountain.flac
Size: 23588353 Hash: 4371B06059B37E101BF74F2955D0B1C9 Accuracy: -m0
Conclusion: CDDA 100%
Signature: 8CC452E764E9DC7FA9194D20C29A086BB7289AC8
FILE: 06. Neil Diamond - Silent Night (2016 Version).flac
Size: 23740121 Hash: B16696EA720E910715B28FEBBA5FF3AE Accuracy: -m0
Conclusion: CDDA 100%
Signature: 8F225E8C65040B2C5341FB576FFDC5BD40A38EC3
FILE: 05. Neil Diamond - Mary's Boy Child.flac
Size: 22096246 Hash: EAD9E171EE4F25D9A086511602DA2CC6 Accuracy: -m0
Conclusion: CDDA 100%
Signature: F613E5C69F82BCCC6E1ADAF2F0E67D23D81D3FE3
FILE: 04. Neil Diamond - Hark The Herald Angels Sing (2016 Version).flac
Size: 28915138 Hash: D9B0E2B158D9196263875D0B3A634EF7 Accuracy: -m0
Conclusion: CDDA 100%
Signature: 6C0CD823D22B96FF4A02E78361FD02B3923026AB
FILE: 03. Neil Diamond - Christmas Prayers.flac
Size: 28454079 Hash: 841D57A3F8D6C283801739DD1F6D9058 Accuracy: -m0
Conclusion: CDDA 99%
Signature: 1BBE0A640C9D1304F9C92B659F3697BDD641A149
FILE: 02. Neil Diamond - Do You Hear What I Hear.flac
Size: 25466573 Hash: 0E6BBC062D46DDDAB4233EFC6314A251 Accuracy: -m0
Conclusion: CDDA 100%
Signature: 4A2905D6A5C28991CD3F16ECC16F49CE1220DAC3
FILE: 01. Neil Diamond - O Holy Night (2016 Version).flac
Size: 23366902 Hash: FCD9068D7D3E2D5214F18BE4D8D65705 Accuracy: -m0
Conclusion: CDDA 100%
Signature: D24404E8E2457F7AFA845127E7225587E93610C8