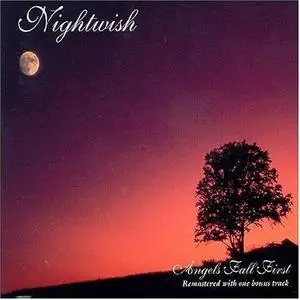 Nightwish - Angels Fall First
MP3 320 Kbps | 1997 | Label: Spinefarm | 51:21 min | 118 Mb
Genre: Gothic Rock | Styles: Vocal
Fortunately, even their first one is rather good. Tarja's voice is truly wonderful and I think anyone who disagrees needs to have their ears checked! Second, the guitar work and background music is outstanding, to say the least. But I have to the slam the gavel down on the male vocals. They are mostly devoid of any emotion whatsoever, almost as if they were thinking "Yeah, right, like we're ever going to hit it big!" Little did they know . . . .
ELVENPATH: A good opening song. Lots of heavy guitar sounds for those of you that like your songs hard and heavy. Tarja is obviously still struggling with English pronunciation a bit. Notice how she says "swayrds" instead of "swords".
BEAUTY AND THE BEAST: Starts off great . . . and then the terrible male vocals come in. However, it is actually fitting in this song, the terrible male vocals representing the Beast and the heavenly female vocals of Tarja representing the Beauty.
THE CARPENTER: A bit Egyptian-sounding but what I disliked about this song is that the male vocals–once again–ruin the song. Tarja doesn't start singing until halfway through and she doesn't sing much, either.
ASTRAL ROMANCE: Somewhere I've heard a different version of this (maybe a live version). I thought the other version was far better. But either way they're both good. Tarja has an outstanding solo . . . and then once again it is ruined by this monotone, lifeless male voice. Guys, please, for this album just stick to playing instruments!
ANGELS FALL FIRST: The title song that is totally driven by Tarja's vocals and the background music. This song is much slower and softer than previous tracks.
TUTANKHAMEN: My favorite! I don't know why, but I love it when she sings ". . . cats meowing in the temple . . ." Yet another song with an Egyptian theme to it and this time in more ways than one; the topic being the first and the background sound being the second. Truly fantastic guitars, background music, especially good lyrics and Tarja really seems to be having a blast with this song!
NYMPHOMANIAC FANTASIA: Another good one. Starts with some good flute-work followed by weird lyrics but fun to listen to, nonetheless. "Deeper shall be the wound . . . between your legs!" Ouch!
KNOW WHY THE NIGHTINGALE SINGS: This one sounds awfully familiar to one of their later songs but I can't put my finger on it just yet. The male vocals are gone (fortunately) but the song itself just doesn't grab me by the . . . oh wait, that's right, she cut them off in the last song!
LAPPI (LAPLAND) ERAEMAAJAERVI: A very good folksy-sounding Part 1 that is sung by Tarja in Finnish. Don't have a clue what she's singing but it sounds good whatever it is.
LAPPI (LAPLAND) WITCHDRUMS: An eerie sounding Part 2 that honestly doesn't make me think of witches per se, but certainly makes me think of some sort of eerie setting (maybe a haunted forest or something). No vocals on this track.
LAPPI (LAPLAND) THIS MOMENT IS ETERNITY: Takes off so seamlessly from the last Part that you won't even notice half the time that this is a separate one. Good vocals, but in English. Another goody in this 4-part song.
LAPPI (LAPLAND) ETIEAIIENEN: A half folksy/half lullaby that makes a great ending to a great song. This would be a great piece to go to sleep to and I mean that in a good way.
A RETURN TO THE SEA: This is an EXTRA song you'll hear, but ONLY if you buy the Import version. It's very good (I like the xylophone-like sounds), but I don't think it's worth paying an import price for just one extra song.
Tracklist:
1. Elvinpath
2. Beauty And The Beast
3. The Carpenter
4. Astral Romance
5. Angels Fall First
6. Tutankhamen
7. Nymphomaniac Fantasia
8. Know Why The Nightingale Sings
9. Lappi (Lapland): I. Eramaajarvi
10. Lappi (Lapland): II. Witchdrums
11. Lappi (Lapland): III. This Moment Is Eternity
12. Lappi (Lapland): IV. Etiainen