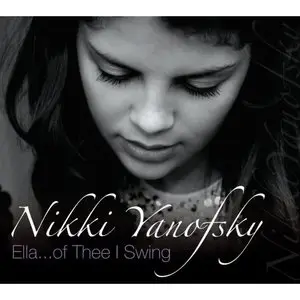 Nikki Yanofsky- Ella…Of Thee I Swing (2008)
DVDRip | English | 50:37 | 720×416 | 23.976 FPS (NTSC ) | DivX | MPG 2ch | 192 KB/S | 603 MB
The debut release from one of the most talked about young vocalists in the country! Ella… Of Thee I Swing, features a DVD capturing the 14 year-old jazz sensation in a sold-out show in Montreal. After four packed concerts at the 2007 Montreal Jazz Festival, Nikki Yanofsky returned, by popular demand, to Place des Arts to reprise her tribute to Ella Fitzgerald, entitled Ella… Of Thee I Swing. This magical night resulted in one of Nikki's most memorable performances. Owning the stage, she captivated her audience like a veteran performer three times her age.
1. Lullaby of Birdland - 3:24
2. It Don't Mean A Thing (If it Ain't Got That Swing) - 4:41
3. Swingin' on the Moon - 3:25
4. You've Changed - 3:47
5. Flyin' Home - 2:28
6. Relax Max - 2:55
7. Old MacDonald - 2:16
8. Hear Me Talkin' to Ya - 3:59
9. Ain't Got Nothin' But the Blues - 4:41
10. At Last - 2:56
11. The Way You Look Tonight - 3:35
12. A Tisket, a Tasket - 2:18
13. Somewhere Over the Rainbow - 4:57
14. Deed I Do - 2:57