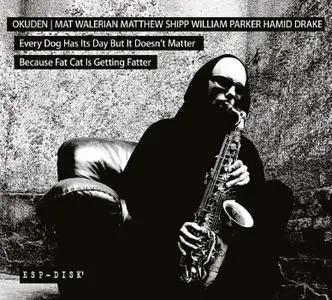 Okuden Quartet - Every Dog has its Day but it doesn't Matter Because Fat Cat is Getting Fatter (2020)
WEB FLAC (tracks) ~ 572.46 Mb | 01:55:41 | Cover
Avant-Garde Jazz, Free Jazz | Label: ESP-Disk' Ltd. (USA) - ESP 5037
A student of eastern philosophy and Japanese culture, reed player/composer Mat Walerian coined the Okuden series name from a Japanese word meaning "inner teachings." Walerian had studied piano at six and taught himself saxophone while in his teens. He expanded his self-taught regime to include clarinet and flute in 2008-9. Walerian has sporadically taken lessons from Matthew Shipp.
His musical interests are broad and he had earlier played classical Japanese music, heavy metal, psychedelic, funk, and jazz. Walerian's original music continues to incorporate elements of chamber, jazz masterworks and Asian scales, all while facing to leading-edge statements of improvised music. On the double-CD Every Dog Has Its Day But It Doesn't Matter Because Fat Cat Is Getting Fatter Walerian leads a quartet with Shipp, William Parker and Hamid Drake.
The saxophone quartet is a familiar setting for Shipp and Parker, permanent members of David S. Ware's seminal free jazz group. Drake too appeared on two tracks of Ware's Live In The World (Thirsty Ear, 2005). Each player has also worked with reed artist Daniel Carter. Walerian has an inimitable style shaped by many influences but attributable to none in particular.
Walerian composed the eight pieces on Every Dog Has Its Day…, each running into double digits in length, and the moods vary greatly across the two discs. "The Forest Council" opens the first disc with a portentous Parker solo. Walerian's bass clarinet adds another layer of sinister effects, which neither Shipp nor Drake diminish upon their later entrance. Shipp shares the front line with Walerian on "Thelonious Forever" which features a blistering solo from Drake. On "Magic World Pt. 1," clarinet conjures up the deep roots of the swing tradition, melded with an exploration of the instrument's complete range. The rhythm section's carefree and exuberant groove makes this mini-suite a thirty-eight-minute delight. The album's second disc feels less structured, particularly "Sir Denis" which vacillates wildly between melodies and free playing. Parker adds his shakuhachi (bamboo-flute) giving an exotic feel to "Lesson II," the dreamy, but off-kilter, seventeen-minute closer.
This is Walerian's fourth album as a leader on ESP-Disk. Each has included some configuration of these same artists: The Uppercut: Live At Okuden (2015), a duo with Shipp, Jungle: Live At Okuden (2016) with Shipp and Drake, and Toxic: This Is Beautiful Because We Are Beautiful People (2017) with Shipp and Parker. He also appears in the Matthew Shipp Quartet on the album Sonic Fiction (2018), also on EPS-Disk. Each of his albums has been critically acclaimed and Walerian's music is more intriguing with each successive release. Every Dog Has Its Day… brings together some of the best improvisers in music today; it is Walerian's best work to date and one of the best releases of the year. ~
review by KARL ACKERMANN
Track List:
01. The Forest Council (18:21)
02. Thelonious Forever (13:51)
03. Magic World, Pt. 1 - Study (15:13)
04. Magic World, Pt. 2 - Work (12:05)
05. Magic World, Pt. 3 - Life (10:55)
06. Sir Denis (15:51)
07. Business With William (12:12)
08. Lesson II (17:17)
Mat Walerian: saxophone, alto; Matthew Shipp: piano; William Parker: bass; Hamid Drake: percussion.
Mat Walerian: bass clarinet, soprano clarinet, flute; William Parker: shakuhachi; Hamid Drake: drums.
–––––––––––-
DON'T MODIFY THIS FILE
–––––––––––-
PERFORMER: auCDtect Task Manager, ver. 1.6.0 RC1 build 1.6.0.1
Copyright © 2008-2010 y-soft. All rights reserved
http://y-soft.org
ANALYZER: auCDtect: CD records authenticity detector, version 0.8.2
Copyright © 2004 Oleg Berngardt. All rights reserved.
Copyright © 2004 Alexander Djourik. All rights reserved.
FILE: 08. Lesson II.flac
Size: 70609787 Hash: 8F9EAF39415DD3EF3740B155BB6C2334 Accuracy: -m0
Conclusion: CDDA 100%
Signature: 5957C2DDAF797A2E57E740F98044AAB4607D8A72
FILE: 07. Business With William.flac
Size: 56202666 Hash: F5001A0A2F3DE2D46DE11D27A7941ACF Accuracy: -m0
Conclusion: CDDA 100%
Signature: BCE198912530535CE386CE3A4F5B5B17E0BD051A
FILE: 06. Sir Denis.flac
Size: 93128724 Hash: C17983B8BC60133A55147C7A84CCD109 Accuracy: -m0
Conclusion: CDDA 99%
Signature: B02216E3C2106B2ACCA51FCA0CC147FFCE7F2C13
FILE: 05. Magic World, Pt. 3 - Life.flac
Size: 66964203 Hash: AE576820FA5AF5C3137ED8ECE7A3362E Accuracy: -m0
Conclusion: CDDA 100%
Signature: 541BA1B084FEA361970E0A2DACD45A49AD6164CE
FILE: 04. Magic World, Pt. 2 - Work.flac
Size: 71857677 Hash: F69894414731146F2386793DD0E7E8A4 Accuracy: -m0
Conclusion: CDDA 100%
Signature: 9DB27C285239802C5EB08043F06D05214968F159
FILE: 03. Magic World, Pt. 1 - Study.flac
Size: 87045409 Hash: E5E7D988653A83AF6637E5963D052D1B Accuracy: -m0
Conclusion: CDDA 99%
Signature: D58D6BA3FC55FEA822C6B917FCE8FA5847DC4263
FILE: 02. Thelonious Forever.flac
Size: 76118899 Hash: 58586F4D77FBA23718A77F47FC001A68 Accuracy: -m0
Conclusion: CDDA 100%
Signature: A9E2A2F293F6F91FA06C7E74E7D0C749AC3479C5
FILE: 01. The Forest Council.flac
Size: 77454166 Hash: AB9F91C09CE0178276E295B96B369616 Accuracy: -m0
Conclusion: CDDA 100%
Signature: 93C18307110E098CA31F5D96868CA0266F7420C1
All thanks go to the # сомнительный