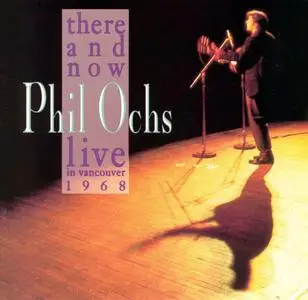 Phil Ochs - There and Now: Live In Vancouver, 1968 (1990) {Rhino Record R2 70778}
XLD rip (secure mode) | FLAC (tracks)+CUE+LOG -> 275 Mb | MP3 @320 -> 163 Mb
Full Artwork @ 300 dpi (png) -> 42 Mb | 5% repair rar
© 1968, 1990 Archives Alive Records / Rhino Record | R2 7077
Folk / Folk Rock / Political Folk / Protest Songs / Singer-Songwriter
This is the definitive Phil Ochs live album, found in a search of tape vaults 21 years after the fact. A "lost" 1968 concert, with poet Allen Ginsberg playing the bells on (you guessed it!) "The Bells," and featuring the best parts of his concert repertory, old and new, from "The Highwayman" through "William Butler Yeats Visits Lincoln Park and Escapes Unscathed," with stops along the way for "Outside of a Small Circle of Friends" and other underground calls-to-arms and reality checks.
There is no point in saying which is the "best" Phil Ochs album. Personally, I enjoy listening to his acoustic solo albums and his highly arranged pop-rock recordings as well. But this recording of a live concert in Vancouver is highly recommended, both to intense Ochs fans as well as others just discovering him.

I've been listening to music for nearly 50 years (ever since I was a young tyke digging Elvis) and IMO Phil Ochs had one of the most beautiful and haunting voices of any singer ever, in any genre. In this live concert, the beauty of his voice is still present but you can also hear the anger as his early idealism was becoming embittered. Many people think of Phil Ochs as primarily a "protest singer" but he was also a poet of the human soul, including of his own tormented soul. During this concert, you hear a good range of his more personal as well as his political works. All sung and played in straight-ahead, unadorned fashion.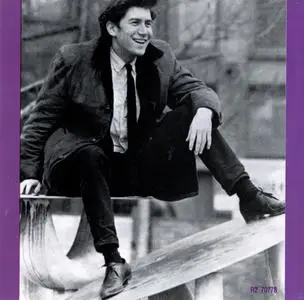 Personnel
Phil Ochs
- guitar, vocals
Allen Ginsberg
- bells (on "The Bells" only)
Tracks
01 - There but for Fortune
02 - Outside of a Small Circle of Friends
03 - William Butler Yeats Visits Lincoln Park and Escapes Unscathed
04 - The Scorpion Departs but Never Returns
05 - Pleasures of the Harbor
06 - The World Began in Eden and Ended in Los Angeles
07 - The Bells
08 - The Highwayman
09 - I Kill Therefore I Am
10 - The Doll House
11 - Another Age
12 - Changes
13 - Crucifixion
14 - I Ain't Marching Anymore
X Lossless Decoder version 20191004 (152.0)

XLD extraction logfile from 2020-05-17 13:48:16 -0500

Phil Ochs / There and Now: Live In Van Couver 1968

Used drive : HL-DT-ST DVDRAM GP50NB40 (revision 1.01)
Media type : Pressed CD

Ripper mode : XLD Secure Ripper
Disable audio cache : OK for the drive with a cache less than 1375KiB
Make use of C2 pointers : NO
Read offset correction : 6
Max retry count : 20
Gap status : Analyzed, Appended (except HTOA)

TOC of the extracted CD
Track | Start | Length | Start sector | End sector
––––––––––––––––––––––––––––-
1 | 00:00:32 | 03:03:33 | 32 | 13789
2 | 03:03:65 | 04:04:67 | 13790 | 32156
3 | 07:08:57 | 05:06:15 | 32157 | 55121
4 | 12:14:72 | 04:41:70 | 55122 | 76266
5 | 16:56:67 | 07:07:50 | 76267 | 108341
6 | 24:04:42 | 03:23:03 | 108342 | 123569
7 | 27:27:45 | 03:13:27 | 123570 | 138071
8 | 30:40:72 | 06:54:33 | 138072 | 169154
9 | 37:35:30 | 03:51:32 | 169155 | 186511
10 | 41:26:62 | 04:08:55 | 186512 | 205166
11 | 45:35:42 | 04:57:25 | 205167 | 227466
12 | 50:32:67 | 04:45:25 | 227467 | 248866
13 | 55:18:17 | 08:01:55 | 248867 | 284996
14 | 63:19:72 | 04:25:43 | 284997 | 304914

List of alternate offset correction values
# | Absolute | Relative | Confidence
–––––––––––––––––––––
1 | -388 | -394 | 6

AccurateRip Summary (DiscID: 00212de0-0166dce2-ba0fe10e)
Track 01 : OK (v1+v2, confidence 9/15)
Track 02 : OK (v2, confidence 7/13)
Track 03 : OK (v2, confidence 7/13)
Track 04 : OK (v2, confidence 7/13)
Track 05 : OK (v2, confidence 7/13)
Track 06 : OK (v2, confidence 7/13)
Track 07 : OK (v2, confidence 7/13)
Track 08 : OK (v2, confidence 7/13)
Track 09 : OK (v2, confidence 7/13)
Track 10 : OK (v2, confidence 7/13)
Track 11 : OK (v2, confidence 7/13)
Track 12 : OK (v2, confidence 7/13)
Track 13 : OK (v2, confidence 7/13)
Track 14 : OK (v2, confidence 7/13)
->All tracks accurately ripped.

All Tracks
Album gain : -2.03 dB
Peak : 0.895905
Statistics
Read error : 0
Jitter error (maybe fixed) : 0
Retry sector count : 0
Damaged sector count : 0

Track 01
Filename : /rips/Phil Ochs - There and Now- Live In Van Couver 1968 [FLAC]/01 - Phil Ochs - There But For Fortune [Live '68].flac
Pre-gap length : 00:02:32

Track gain : -3.55 dB
Peak : 0.856140
CRC32 hash (test run) : E7A44C95
CRC32 hash : E7A44C95
CRC32 hash (skip zero) : 4FD93A42
AccurateRip v1 signature : 178B2C6B
AccurateRip v2 signature : A9F88050
->Accurately ripped (v1+v2, confidence 2+7/15)
Statistics
Read error : 0
Jitter error (maybe fixed) : 0
Retry sector count : 0
Damaged sector count : 0

Track 02
Filename : /rips/Phil Ochs - There and Now- Live In Van Couver 1968 [FLAC]/02 - Phil Ochs - Outside of a Small Circle of Friends [Live '68].flac

Track gain : -4.25 dB
Peak : 0.745850
CRC32 hash (test run) : E2B5D854
CRC32 hash : E2B5D854
CRC32 hash (skip zero) : 0651F4D3
AccurateRip v1 signature : 035F0EFB
AccurateRip v2 signature : EF372225
->Accurately ripped (v2, confidence 7/13)
Statistics
Read error : 0
Jitter error (maybe fixed) : 0
Retry sector count : 0
Damaged sector count : 0

Track 03
Filename : /rips/Phil Ochs - There and Now- Live In Van Couver 1968 [FLAC]/03 - Phil Ochs - William Butler Yeats Visits Lincoln Park and Escapes Unscathed [Live '68].flac

Track gain : -2.31 dB
Peak : 0.749817
CRC32 hash (test run) : 8F4D4F94
CRC32 hash : 8F4D4F94
CRC32 hash (skip zero) : 10EC4637
AccurateRip v1 signature : C559E1B9
AccurateRip v2 signature : 45455222
->Accurately ripped (v2, confidence 7/13)
Statistics
Read error : 0
Jitter error (maybe fixed) : 0
Retry sector count : 0
Damaged sector count : 0

Track 04
Filename : /rips/Phil Ochs - There and Now- Live In Van Couver 1968 [FLAC]/04 - Phil Ochs - The Scorpion Departs But Never Returns [Live '68].flac

Track gain : -1.04 dB
Peak : 0.677307
CRC32 hash (test run) : 951D251E
CRC32 hash : 951D251E
CRC32 hash (skip zero) : B3ADB6F8
AccurateRip v1 signature : DDBF8C64
AccurateRip v2 signature : EC880E0E
->Accurately ripped (v2, confidence 7/13)
Statistics
Read error : 0
Jitter error (maybe fixed) : 0
Retry sector count : 0
Damaged sector count : 0

Track 05
Filename : /rips/Phil Ochs - There and Now- Live In Van Couver 1968 [FLAC]/05 - Phil Ochs - Pleasures of the Harbor [Live '68].flac

Track gain : -0.92 dB
Peak : 0.813446
CRC32 hash (test run) : 437719D4
CRC32 hash : 437719D4
CRC32 hash (skip zero) : 203AB3CF
AccurateRip v1 signature : 7D01E01C
AccurateRip v2 signature : B220712A
->Accurately ripped (v2, confidence 7/13)
Statistics
Read error : 0
Jitter error (maybe fixed) : 0
Retry sector count : 0
Damaged sector count : 0

Track 06
Filename : /rips/Phil Ochs - There and Now- Live In Van Couver 1968 [FLAC]/06 - Phil Ochs - The World Began In Eden and Ended In Los Angeles [Live '68].flac

Track gain : -2.99 dB
Peak : 0.650940
CRC32 hash (test run) : 2A5B058B
CRC32 hash : 2A5B058B
CRC32 hash (skip zero) : 30BBA178
AccurateRip v1 signature : 014E903D
AccurateRip v2 signature : BDB10A4F
->Accurately ripped (v2, confidence 7/13)
Statistics
Read error : 0
Jitter error (maybe fixed) : 0
Retry sector count : 0
Damaged sector count : 0

Track 07
Filename : /rips/Phil Ochs - There and Now- Live In Van Couver 1968 [FLAC]/07 - Phil Ochs - The Bells [Live '68].flac

Track gain : -3.37 dB
Peak : 0.895905
CRC32 hash (test run) : 101E6A73
CRC32 hash : 101E6A73
CRC32 hash (skip zero) : 572D3E38
AccurateRip v1 signature : E94913C5
AccurateRip v2 signature : D8787B78
->Accurately ripped (v2, confidence 7/13)
Statistics
Read error : 0
Jitter error (maybe fixed) : 0
Retry sector count : 0
Damaged sector count : 0

Track 08
Filename : /rips/Phil Ochs - There and Now- Live In Van Couver 1968 [FLAC]/08 - Phil Ochs - The Highwayman [Live '68].flac

Track gain : -1.22 dB
Peak : 0.859680
CRC32 hash (test run) : B5AEC317
CRC32 hash : B5AEC317
CRC32 hash (skip zero) : DEA3B4B6
AccurateRip v1 signature : B9D1FA2F
AccurateRip v2 signature : 2EA95839
->Accurately ripped (v2, confidence 7/13)
Statistics
Read error : 0
Jitter error (maybe fixed) : 0
Retry sector count : 0
Damaged sector count : 0

Track 09
Filename : /rips/Phil Ochs - There and Now- Live In Van Couver 1968 [FLAC]/09 - Phil Ochs - I Kill, Therefore I Am [Live '68].flac

Track gain : -3.59 dB
Peak : 0.744690
CRC32 hash (test run) : 792C0A0B
CRC32 hash : 792C0A0B
CRC32 hash (skip zero) : F6E73DB6
AccurateRip v1 signature : CF890FD1
AccurateRip v2 signature : 7D49C776
->Accurately ripped (v2, confidence 7/13)
Statistics
Read error : 0
Jitter error (maybe fixed) : 0
Retry sector count : 0
Damaged sector count : 0

Track 10
Filename : /rips/Phil Ochs - There and Now- Live In Van Couver 1968 [FLAC]/10 - Phil Ochs - The Doll House [Live '68].flac

Track gain : 1.23 dB
Peak : 0.617310
CRC32 hash (test run) : 7B078E8B
CRC32 hash : 7B078E8B
CRC32 hash (skip zero) : 2D0BD1E4
AccurateRip v1 signature : 645C9E89
AccurateRip v2 signature : CA97D5A1
->Accurately ripped (v2, confidence 7/13)
Statistics
Read error : 0
Jitter error (maybe fixed) : 0
Retry sector count : 0
Damaged sector count : 0

Track 11
Filename : /rips/Phil Ochs - There and Now- Live In Van Couver 1968 [FLAC]/11 - Phil Ochs - Another Age [Live '68].flac

Track gain : -2.93 dB
Peak : 0.725037
CRC32 hash (test run) : 2CFE8AA6
CRC32 hash : 2CFE8AA6
CRC32 hash (skip zero) : 0059B46D
AccurateRip v1 signature : E0EDFBEA
AccurateRip v2 signature : 353897E6
->Accurately ripped (v2, confidence 7/13)
Statistics
Read error : 0
Jitter error (maybe fixed) : 0
Retry sector count : 0
Damaged sector count : 0

Track 12
Filename : /rips/Phil Ochs - There and Now- Live In Van Couver 1968 [FLAC]/12 - Phil Ochs - Changes [Live '68].flac

Track gain : 4.68 dB
Peak : 0.684631
CRC32 hash (test run) : 62FC5205
CRC32 hash : 62FC5205
CRC32 hash (skip zero) : 438760B3
AccurateRip v1 signature : 2CC1073E
AccurateRip v2 signature : FC0AB54A
->Accurately ripped (v2, confidence 7/13)
Statistics
Read error : 0
Jitter error (maybe fixed) : 0
Retry sector count : 0
Damaged sector count : 0

Track 13
Filename : /rips/Phil Ochs - There and Now- Live In Van Couver 1968 [FLAC]/13 - Phil Ochs - Crucifixion [Live '68].flac

Track gain : 0.15 dB
Peak : 0.682556
CRC32 hash (test run) : 3338DF68
CRC32 hash : 3338DF68
CRC32 hash (skip zero) : 2330F5FA
AccurateRip v1 signature : AB015995
AccurateRip v2 signature : 6B87518A
->Accurately ripped (v2, confidence 7/13)
Statistics
Read error : 0
Jitter error (maybe fixed) : 0
Retry sector count : 0
Damaged sector count : 0

Track 14
Filename : /rips/Phil Ochs - There and Now- Live In Van Couver 1968 [FLAC]/14 - Phil Ochs - I Ain't Marching Anymore [Live '68].flac

Track gain : -3.31 dB
Peak : 0.763214
CRC32 hash (test run) : F4E39F60
CRC32 hash : F4E39F60
CRC32 hash (skip zero) : B16DD3EC
AccurateRip v1 signature : 01364A50
AccurateRip v2 signature : 8F9A6A8A
->Accurately ripped (v2, confidence 7/13)
Statistics
Read error : 0
Jitter error (maybe fixed) : 0
Retry sector count : 0
Damaged sector count : 0

No errors occurred

End of status report

––-BEGIN XLD SIGNATURE––-
FcJw5neaP__9aT1kauy_Pxyhr5Yll.SYcHFD_E4ToRitkWWX7kEiXKguzqJQRvilCDSya3JbsFhIMakRcTCkUyQSUDix0ulLm.lwFqO
––-END XLD SIGNATURE––-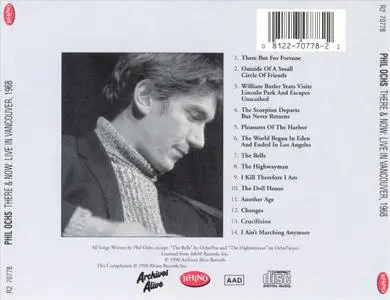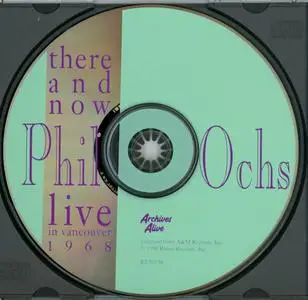 ===