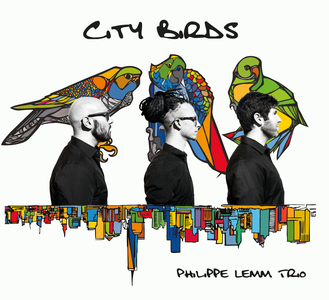 Philippe Lemm Trio - City Birds (2018/2020)
WEB FLAC (tracks) ~ 241.08 Mb | 49:06 | Cover
Modern Jazz, Nu-Jazz | Country: USA | Label: Philippe Lemm Trio / Outside In Music
City Birds is a colorful, lyrical and exciting album. With beautiful harmonies and strong melodies at its center it captures New York and its different aspects.
Track List:
1.Emerge 05:54
2.Anyone Who Knows What Love Is 04:31
3.Castle Rock 08:19
4.Intro 02:23
5.Scarborough Fair 04:22
6.Arya 06:43
7.Funchal 07:34
8.Amsterdams Parfum 04:07
9.Philippe Lemm Trio feat. Brainpower - Elvy 05:08
Philippe Lemm Trio:
Philippe Lemm - Drums
Angelo Di Loreto - Piano
Jeff Koch - Bass
Produced by Philippe Lemm
Mixed by Paul Pouwers
Mastered by Wessel van Oltheten
Artwork by Craig Anthony Miller
Photos by Karen van Gils
–––––––––––-
DON'T MODIFY THIS FILE
–––––––––––-
PERFORMER: auCDtect Task Manager, ver. 1.6.0 RC1 build 1.6.0.1
Copyright © 2008-2010 y-soft. All rights reserved
http://y-soft.org
ANALYZER: auCDtect: CD records authenticity detector, version 0.8.2
Copyright © 2004 Oleg Berngardt. All rights reserved.
Copyright © 2004 Alexander Djourik. All rights reserved.
FILE: Philippe Lemm Trio - City Birds - 01 Emerge.flac
Size: 33835430 Hash: B41231C3F2AC2B8ACBB8D695CD7A42C5 Accuracy: -m0
Conclusion: CDDA 100%
Signature: 72C5381A60DA99D3DACDD917C6B233199EB598ED
FILE: Philippe Lemm Trio - City Birds - 02 Anyone Who Knows What Love Is.flac
Size: 22881075 Hash: C13E0114167C3BF479D1C76209CF7B8B Accuracy: -m0
Conclusion: CDDA 100%
Signature: 58B032E10FCCA639A1449E76D1CBC2EB6B30DB53
FILE: Philippe Lemm Trio - City Birds - 03 Castle Rock.flac
Size: 44661194 Hash: 35DEF37BBB9014238D2801B40723BD83 Accuracy: -m0
Conclusion: CDDA 100%
Signature: 4F47C268B58DA0C3FCE83ED2C10BBBCBA9E9E2C9
FILE: Philippe Lemm Trio - City Birds - 04 Intro.flac
Size: 7340291 Hash: E1A65E33B977A4417607826861026B4B Accuracy: -m0
Conclusion: CDDA 100%
Signature: F4FBE6E7A6547499272E67E7435FF709D0BB7BC0
FILE: Philippe Lemm Trio - City Birds - 05 Scarborough Fair.flac
Size: 20461551 Hash: 5C4933795DBFD4EC02CAC58723462328 Accuracy: -m0
Conclusion: CDDA 99%
Signature: 7717702121BA1C7EC6E1D33FED32CF414A25466E
FILE: Philippe Lemm Trio - City Birds - 06 Arya.flac
Size: 38334485 Hash: FFCFF749E9A546FA1AB11D6BCED96387 Accuracy: -m0
Conclusion: CDDA 100%
Signature: 5404F5C999E926FD6C967D5E214468F30FBA0987
FILE: Philippe Lemm Trio - City Birds - 07 Funchal.flac
Size: 36807996 Hash: 947A9C9964ABD555AD0E4AFBCBEEBAB7 Accuracy: -m0
Conclusion: CDDA 100%
Signature: 1E25F7C113E6878C6FF56CB9378CDE69C9551587
FILE: Philippe Lemm Trio - City Birds - 08 Amsterdams Parfum.flac
Size: 22533759 Hash: A804DE27579F2524401559F1BD75D89F Accuracy: -m0
Conclusion: CDDA 100%
Signature: D3DEE2AD5C78BBC64AB832ECBE3FF32ED170E2FC
FILE: Philippe Lemm Trio feat. Brainpower - City Birds - 09 Elvy.flac
Size: 24269375 Hash: A1AEA566CA9773EDF9E8BF79C959E057 Accuracy: -m0
Conclusion: CDDA 100%
Signature: 5A9AB4AB265883CD56B95BEC678ED37D863CB661
All thanks go to the jozas