Progressive Rock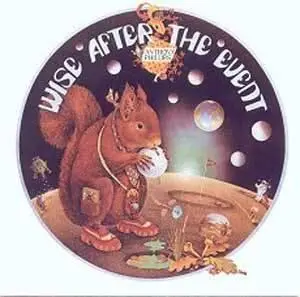 Anthony Phillips - Wise After The Event (1978)
OGG | VBR 306 | 131.96 Mb (85.83 MB + 46.02 MB)Tracks
1. We're all as we lie (4:34)
2. Birdsong (7:30)
3. Moonshooter (5:52)
4. Wise after the event (8:45)
5. Pulling faces (4:32)
6. Regrets (5:15)
7. Greenhouse (3:00)
8. Paperchase (5:28)
9. Now what (are they doing to my little friends)? (8:30)
Bonus track on cd release:
10. Squirrel (4:28)
Total Time: 56:54
All titles composed by Anthony Phillips, except Greenhouse composed by
Anthony Phillips & Jeremy Gilbert.
Credits
Anthony Phillips: Vocals and Harmonica
Michael Giles: Drums
John G. Perry: Bass (Wal custom)
The Vicar: Guitars, Keyboards and sundries
Jeremy Gilbert: Keyboards on Greenhouse, Harp on Now What?
Mel Collins: Soprano Sax on We're All As We Lie, Flutes on Birdsong
Robin Phillips: Oboe on Sitars & Nebulous
Rupert Hine: Percussion, Backing Vocals, Locks, Probs, Modes & Vibes
Perkin Alanbeck: Synthesiser on Birdsong
Humbert Ruse & Vic Stench: Drums & Bass on Greenhouse
Rodent Rabble (including 'No Hours from Neasden'): Clicks, Claps and Crampons
Orchestra on Regrets conducted by Gilbert Biberian. Assembled by David Katz, arranged by A.P.
Links:
http://rapidshare.de/files/28983056/qprock.blogspot.com_aphill_wafterevent.part1.rar
http://rapidshare.de/files/28984812/qprock.blogspot.com_aphill_wafterevent.part2.rar
You are welcome to download From OxyShare:
Part1
Part2
Part3
Part4
Part5
Part6
Part7