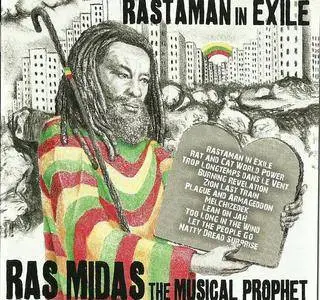 Ras Midas - Rastaman In Exile (2016)
reggae, world | 53:46 mins | Mp3, 320 kbps | 123 MB
Label :JML Records | Year Of Release :2016
Ras Midas is an internationally established singer, songwriter, performing and recording artist, and composer, arranger, and producer; he has produced dynamic Reggae music since 1974. At the age of 16, Ras Midas began recording unique and innovative songs at the famous Harry J. Recording Studio, Kingston, Jamaica, with Reggae's finest musicians and vocalists.
Ras Midas, a true Rastaman, is an original. With a distinctive style and a silky smooth voice, he sings with the mission of a musical revolutionary; he was dubbed "The Musical Prophet" in Europe early in his career. Ras Midas consistently delivers dynamic, high energy performances, with positive and pensive lyrics floating over steady, solid roots rock Reggae music.
Ras Midas's first international hit was the single release "Kude-A-Bamba," recorded in English and Swahili on Island Records/Harry J. Records; the single quickly sold half a million copies worldwide. The first Jamaican artist to record Reggae lyrics in French, Ras Midas's bilingual hit song, "Too Long In The Wind/Tout Longtemps Dan Le Vent" on the "Rastaman In Exile" album (released on the Disc A-Z label) quickly climbed the charts in France and French-speaking African and Caribbean countries. "Rastaman In Exile" earned the Album of The Year award in France (1980) and is regarded as one of the best roots rock Reggae albums of all time.
Ras Midas's first album, "Cover Me" (1974), was recorded at Harry J. Recording Studio, Kingston, Jamaica, and released on Trojan Records/Harry J. Records. Also recorded at Harry J. Recording Studio, "Reflections" (1976), "Kude-A-Bamba" (1978) and "Rain & Fire" (1979) were released on Island Records/Harry J. Records; "Rastaman In Exile" was released on Disc A-Z (France) in 1980, and "Stand Up Wise Up" (1984) was released on Celluloid (France) and re-released on JML Records in the U.S. in 1988.
Background vocalists on these albums include Marcia Griffiths, Judy Mowatt, Pam Hall (The I-Threes), and Anesia Banks. Musicans include: Drummers - Sly Dunbar, Leroy "Horsemouth" Wallace, Mikey Richards. Bass players - Robbie Shakespeare, Val Douglas, Circle Lewis (Inner Circle). Guitarists - Andy Bassford, Dwight Pickney, Gitsy Stuart, Earl "Wire" Lindo. Piano/organ - Gladstone Anderson, Ansell Collins, Winston Wright, Franklin "Bubbler" Waul. Clavenett/Synthesizer – Peter Ashbourne, Robert Lyn. Horns - Dean Frazer, R. Nambo Anderson, Junior Chin. Percussion - Sticky Thompson, Skully.
Inspired by the acceptance of and demand for his music in the Caribbean, Europe, Africa, South America and the United States, Ras Midas founded JML Music Productions/JML Records in 1987. Ras Midas produced "Loving Vibration" (1998), "Confirmation" (2000), "Reaching Out" (2006) and "Fire Up" (2010) on the JML Records label. "Loving Vibration" was ranked No. 3 by worldwide music critics in the 1998 Top Ten independently produced Reggae albums category, and "Confirmation" was included in the Top Four for a Grammy Award.
Ras Midas's powerful messages of social justice, love, unity, and consciousness have remained unchanged over nearly four decades; "The Musical Prophet" pushes traditional Reggae music into a new, contemporary dimension while retaining its Reggae roots.
Tracks:
01. Ras Midas - Rastaman In Exile (4:37)
02. Ras Midas - Rat And Cat World Power (5:18)
03. Ras Midas - Trop Longtemps Dans Le Vent (5:03)
04. Ras Midas - Burning Revelation (3:40)
05. Ras Midas - Zion Last Train (3:48)
06. Ras Midas - Plague And Armageddon (3:07)
07. Ras Midas - Melchizedek (4:48)
08. Ras Midas - Lean On Jah (4:36)
09. Ras Midas - Too Long In The Wind (5:06)
10. Ras Midas - Let The People Go (7:22)
11. Ras Midas - Natty Dread Surprise (6:20)