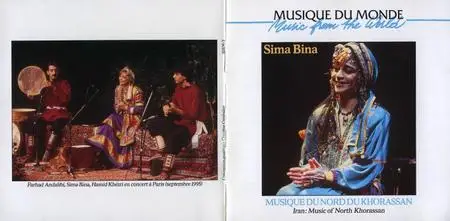 Sima Bina - Musique du Nord du Khorassan (Music of Iran)
Musique du Monde - Music from the World 92636-2
EAC-LAME mp3 320k
A wonderful music.
Sima Bina
(from the liner)
Born in Birdjand, south Khorassan, in the hart of a popular tradition orally transmitted for generations, Sima Bina is now the holder of a vast repertoire of songs and melodies from Khorassan. The subtle technique of classical singing which she has learnt and mastered thanks to the teaching of some of the greatest traditional masters su chas Maaroufi, Zarrin Panjeh and Davami, allowed her to tackle this field with perfect know-how.
In 1979, following the events which unsettled Iran, at a time when she was one of the most appreciated Iranian singers, Sim Bina was removed from the stage. This disruption with the public, resulting from the Moselm law forbidding women to sing, was nevertheless a decisive turn in her life. This was the start of what the singer calls "a serene wandering".
She made a series of travels to the four corners of Khorassan. But the oral character of these cultures, the fact that the form, timbre and colour of the songs and melodies change from one region to the next, complicate the task of collecting, stuying and comparing the variants. So the question of the method arose, which could only be solved on the field by a long and meticulous scientific job. Sima Bina's task was even harder in that her concern went beyond the mere recording and deciphering of this material. It consisted in interpreting these songs after "freshening them up and stripping them of the plains' dust".
During this creative process, Sima Bina sometimes remodels the over repetitive form of the songs or lyrics at times emptied of meaning. She creates, strictly speaking, her own version which she then submits to the approval of masters.
For this difficult endeavour, she is assisted by poet Mohammad Ebrahim Djafari, who tries to rewrite the songs while respecting their soul, subtleties, history, origin. Complicity comes forth between the singer and the poet but also the dotâr player, Hamid Khézri, who in turn brings his virtuosity to the interpretation of the pieces.
Sima Bina has thus resuscitated a great part of the "forgotten repertoire" from the plains and mountains of Khorassan.
She now sings outside Iran, heightening the awareness of various audiences who, via her concerts, have travelled to the heart of Khorassan and its musical tradition.
To be continued soon with the CD Sima Bina - Musique du Sud du Khorassan.
Tracklist:
1. Allah Mazâré ou Le Rêve du Printemps - the dream of spring
2. Ma bien-aimée Basanée, quatrains populaires - popular quatrains
3. Khan Djan
4. L'éclat du sabre - the sabre's glare
5. Quatrains populaires - popular quatrains
6. Magom (Dotâr)
7. Alélé, danse populaire - popular dance
Complete with cover and liner scans at 300 dpi.
Booklet separately:
http://rapidshare.de/files/21445829/Sima_Bina_-_Musique_du_Nord_du_Khorassan_-_Booklet.rar
(6MB).
Download (files of 28MB, except for the last one which is 20MB):
http://rapidshare.de/files/21448634/Sima_Bina_-_Musique_du_Nord_du_Khorassan.part1.rar
http://rapidshare.de/files/21451568/Sima_Bina_-_Musique_du_Nord_du_Khorassan.part2.rar
http://rapidshare.de/files/21454531/Sima_Bina_-_Musique_du_Nord_du_Khorassan.part3.rar
http://rapidshare.de/files/21457368/Sima_Bina_-_Musique_du_Nord_du_Khorassan.part4.rar
http://rapidshare.de/files/21459622/Sima_Bina_-_Musique_du_Nord_du_Khorassan.part5.rar