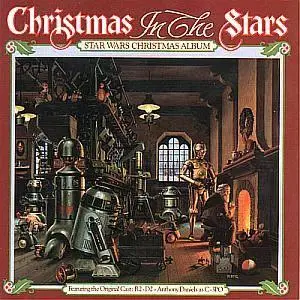 Christmas in the Stars: Star Wars Christmas Album
MP3 | 192 Kbps | 45 Mb
The album was produced by Meco Monardo. Monardo was the man who recorded the infamous disco version of A New Hope, with Anthony Daniels voicing C-3PO and Ben Burtt providing the sounds for R2-D2 and Chewbacca.
Christmas in the Stars was recorded in 1980, two years after the much maligned Star Wars Holiday Special aired. Though they share the same themes, they have no connection other than the fact that they were both marketed in conjunction with the holiday season.
Track listing
1. "Christmas in the Stars" – 3:17
2. "Bells, Bells, Bells" – 3:15
3. "The Odds Against Christmas" – 3:04
4. "What Can You Get a Wookiee for Christmas (When He Already Owns a Comb?)" – 3:24
5. "R2-D2 We Wish You a Merry Christmas" – 3:16
6. "Sleigh Ride" – 3:36
7. "Merry, Merry Christmas" – 2:09
8. "A Christmas Sighting ('Twas the Night Before Christmas)" – 3:43
9. "The Meaning of Christmas" – 8:08
On the one hand I wanted to again share this unusual little curiosity. On the other hand I apologize for inflicting this crapfest on anybody.
Download
:
http://www.ftp2share.com/file/2983/swxmas.rar.html