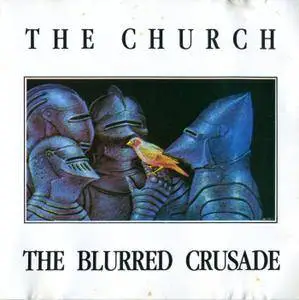 The Church - The Blurred Crusade (1982) {Parlophone-EMI Records CDP 790625 2}
XLD rip (secure mode) | FLAC (tracks)+CUE+LOG -> 319 Mb | MP3 @320 -> 109 Mb
Full Artwork @ 300 dpi (png) -> 15 Mb | 5% repair rar
© 1982 Parlophone / EMI Records | CDP 790625 2
Rock / Neo-Psychedelia / Alternative / Indie
After such a fine debut as Of Skins and Heart, creating a follow-up might have been a burden for the Church – and maybe it was, but the end result was well worth it. Perhaps even better than their first, Blurred Crusade captures what for many remains the classic early Church sound, blending both the various strains of '60s inspiration and postpunk drive detected from the start with an even more elegant melancholy. Musically, both Willson-Piper and Koppes are just fantastic, their combination of guitar playing running the range from sparkling post-Byrds chime to sharp power. If the group doesn't fully explode here as much as later albums would demonstrate, especially on Heyday, that perhaps can be laid at producer Bob Clearmountain's feet.

Consider the slow but steady build up of "When You Were Mine," guitar lines and notes setting the scene before fully kicking into the main riff and the clever but not forced production on the vocals on some of the middle verses. Add on the fantastic solo about four minutes in, and this is great rock music, period, deeply impressive coming on a sophomore album. Highlights are plentiful throughout Blurred, but the best numbers are perhaps the opening "Almost With You," a note-perfect combination of hooks and downbeat but not morose atmosphere, and the lengthy, powerful "You Took." Willson-Piper's lead vocal number "Field of Mars" and the brief, concluding "Don't Look Back" are further songs of note.
Musicians
Steve Kilbey
– lead vocals, bass guitar, keyboards, slide guitar
Peter Koppes
– lead guitar, backing vocals, percussion, tubular bells, piano on "You Took"
Marty Willson-Piper
– electric & acoustic 12 & 6 string guitars, lead vocal on "Field of Mars"
Richard Ploog
– drums, percussion
Track Listing
01 - Almost With You
02 - When You Were Mine
03 - Field Of Mars
04 - An Interlude
05 - Secret Corners
06 - Just For You
07 - A Fire Burns
08 - To Be In Your Eyes
09 - You Took
10 - Don't Look Back
X Lossless Decoder version 20090320 (105.1)

XLD extraction logfile from 2009-05-02 15:32:43 -0700

The Church / The Blurred Crusade

Used drive : PIONEER DVD-RW DVR-105 (revision A506)

Use cdparanoia mode : YES (CDParanoia III 10.2 engine)
Disable audio cache : OK for the drive with cache less than 2750KB
Make use of C2 pointers : NO
Read offset correction : 48
Max retry count : 100

TOC of the extracted CD
Track | Start | Length | Start sector | End sector
––––––––––––––––––––––––––––-
1 | 00:00:00 | 04:14:30 | 0 | 19079
2 | 04:14:30 | 05:45:73 | 19080 | 45027
3 | 10:00:28 | 04:54:37 | 45028 | 67114
4 | 14:54:65 | 04:32:68 | 67115 | 87582
5 | 19:27:58 | 01:49:00 | 87583 | 95757
6 | 21:16:58 | 05:19:70 | 95758 | 119752
7 | 26:36:53 | 04:51:22 | 119753 | 141599
8 | 31:28:00 | 03:50:05 | 141600 | 158854
9 | 35:18:05 | 08:02:50 | 158855 | 195054
10 | 43:20:55 | 02:02:20 | 195055 | 204224


Track 01
Filename : /Creating Torrents/The Church-The Blurred Crusade/01 - Almost with you.flac

CRC32 hash (test run) : DE513DB0
CRC32 hash : DE513DB0
CRC32 hash (skip zero) : 4D647D79
AccurateRip signature : 5AFA342B
->Accurately ripped! (confidence 5)
Statistics
Read error : 0
Skipped (treated as error) : 0
Edge jitter error (maybe fixed) : 0
Atom jitter error (maybe fixed) : 0
Drift error (maybe fixed) : 0
Dropped bytes error (maybe fixed) : 0
Duplicated bytes error (maybe fixed) : 0
Inconsistency in error sectors : 0

Track 02
Filename : /Creating Torrents/The Church-The Blurred Crusade/02 - When you were mine.flac

CRC32 hash (test run) : B1AAFA73
CRC32 hash : B1AAFA73
CRC32 hash (skip zero) : 4514E478
AccurateRip signature : D77092C1
->Accurately ripped! (confidence 5)
Statistics
Read error : 0
Skipped (treated as error) : 0
Edge jitter error (maybe fixed) : 0
Atom jitter error (maybe fixed) : 0
Drift error (maybe fixed) : 0
Dropped bytes error (maybe fixed) : 0
Duplicated bytes error (maybe fixed) : 0
Inconsistency in error sectors : 0

Track 03
Filename : /Creating Torrents/The Church-The Blurred Crusade/03 - Field of mars.flac

CRC32 hash (test run) : 0FED15AF
CRC32 hash : 0FED15AF
CRC32 hash (skip zero) : 070B537C
AccurateRip signature : 534AC8A2
->Accurately ripped! (confidence 5)
Statistics
Read error : 0
Skipped (treated as error) : 0
Edge jitter error (maybe fixed) : 0
Atom jitter error (maybe fixed) : 0
Drift error (maybe fixed) : 0
Dropped bytes error (maybe fixed) : 0
Duplicated bytes error (maybe fixed) : 0
Inconsistency in error sectors : 0

Track 04
Filename : /Creating Torrents/The Church-The Blurred Crusade/04 - An interlude.flac

CRC32 hash (test run) : 552A074F
CRC32 hash : 552A074F
CRC32 hash (skip zero) : 3F16807D
AccurateRip signature : 8E36CF15
->Accurately ripped! (confidence 5)
Statistics
Read error : 0
Skipped (treated as error) : 0
Edge jitter error (maybe fixed) : 0
Atom jitter error (maybe fixed) : 0
Drift error (maybe fixed) : 0
Dropped bytes error (maybe fixed) : 0
Duplicated bytes error (maybe fixed) : 0
Inconsistency in error sectors : 0

Track 05
Filename : /Creating Torrents/The Church-The Blurred Crusade/05 - Secret corners.flac

CRC32 hash (test run) : 2624A666
CRC32 hash : 2624A666
CRC32 hash (skip zero) : BECF6BB8
AccurateRip signature : 5B8E4B74
->Accurately ripped! (confidence 5)
Statistics
Read error : 0
Skipped (treated as error) : 0
Edge jitter error (maybe fixed) : 0
Atom jitter error (maybe fixed) : 0
Drift error (maybe fixed) : 0
Dropped bytes error (maybe fixed) : 0
Duplicated bytes error (maybe fixed) : 0
Inconsistency in error sectors : 0

Track 06
Filename : /Creating Torrents/The Church-The Blurred Crusade/06 - Just for you.flac

CRC32 hash (test run) : 4610A3A7
CRC32 hash : 4610A3A7
CRC32 hash (skip zero) : 746045AB
AccurateRip signature : 9DC70C3A
->Accurately ripped! (confidence 5)
Statistics
Read error : 0
Skipped (treated as error) : 0
Edge jitter error (maybe fixed) : 0
Atom jitter error (maybe fixed) : 0
Drift error (maybe fixed) : 0
Dropped bytes error (maybe fixed) : 0
Duplicated bytes error (maybe fixed) : 0
Inconsistency in error sectors : 0

Track 07
Filename : /Creating Torrents/The Church-The Blurred Crusade/07 - A fire burns.flac

CRC32 hash (test run) : 8ACC7F07
CRC32 hash : 8ACC7F07
CRC32 hash (skip zero) : D263B46D
AccurateRip signature : 3B485DFB
->Accurately ripped! (confidence 5)
Statistics
Read error : 0
Skipped (treated as error) : 0
Edge jitter error (maybe fixed) : 0
Atom jitter error (maybe fixed) : 0
Drift error (maybe fixed) : 0
Dropped bytes error (maybe fixed) : 0
Duplicated bytes error (maybe fixed) : 0
Inconsistency in error sectors : 0

Track 08
Filename : /Creating Torrents/The Church-The Blurred Crusade/08 - To be in your eyes.flac

CRC32 hash (test run) : F0294EF5
CRC32 hash : F0294EF5
CRC32 hash (skip zero) : C29C8C6D
AccurateRip signature : 0708DFFC
->Accurately ripped! (confidence 5)
Statistics
Read error : 0
Skipped (treated as error) : 0
Edge jitter error (maybe fixed) : 0
Atom jitter error (maybe fixed) : 0
Drift error (maybe fixed) : 0
Dropped bytes error (maybe fixed) : 0
Duplicated bytes error (maybe fixed) : 0
Inconsistency in error sectors : 0

Track 09
Filename : /Creating Torrents/The Church-The Blurred Crusade/09 - You took.flac

CRC32 hash (test run) : 743229F7
CRC32 hash : 743229F7
CRC32 hash (skip zero) : 44E88109
AccurateRip signature : EF51E2B9
->Accurately ripped! (confidence 5)
Statistics
Read error : 0
Skipped (treated as error) : 0
Edge jitter error (maybe fixed) : 0
Atom jitter error (maybe fixed) : 0
Drift error (maybe fixed) : 0
Dropped bytes error (maybe fixed) : 0
Duplicated bytes error (maybe fixed) : 0
Inconsistency in error sectors : 0

Track 10
Filename : /Creating Torrents/The Church-The Blurred Crusade/10 - Don't look back.flac

CRC32 hash (test run) : 40960531
CRC32 hash : 40960531
CRC32 hash (skip zero) : 0C216019
AccurateRip signature : 9892A3EF
->Accurately ripped! (confidence 5)
Statistics
Read error : 0
Skipped (treated as error) : 0
Edge jitter error (maybe fixed) : 0
Atom jitter error (maybe fixed) : 0
Drift error (maybe fixed) : 0
Dropped bytes error (maybe fixed) : 0
Duplicated bytes error (maybe fixed) : 0
Inconsistency in error sectors : 0

No errors occurred

End of status report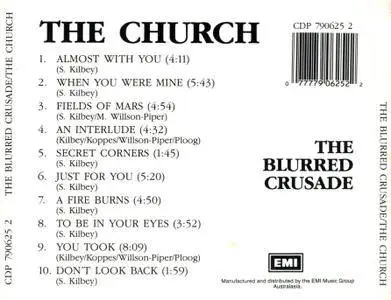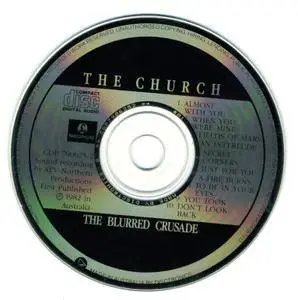 ===