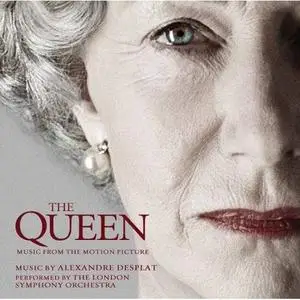 (Soundtrack) The QUEEN (2006) 85.5 Mb
… is a pretty nice girl … c'est bien connu (mp3@320) + Front Cover
Audio CD
(September 26, 2006)
Label MILAN Records
Music from the Motion Picture by Alexandre DESPLAT
Performed by The LONDON SYMPHONY ORCHESTRA
01. Queen/The Queen
02. Queen/Hills of Scotland
00. Queen/People's Princess 1
04. Queen/A New Prime Minister
05. Queen/H.R.H.
06. Queen/The Stag
07. Queen/Mourning
08. Queen/Elizabeth & Tony
09. Queen/River of Sorrow
10. Queen/The Flowers of Buckingham
11. Queen/The Queen Drives
12. Queen/Night in Balmoral
13. Queen/Tony & Elizabeth
14. Queen/People's Princess 2
15. Queen/Queen of Hearts
16. Messa Per Rossini/Libera Me - BBC Singers, Lynne Dawson

85.5 Mb
http://rapidshare.de/files/364...e_affirme_gal_mu_chet.rar.html
No PassAmazon.com
A film about the relationship between Queen Elizabeth and Tony Blair in the aftermath of Princess Diana's death had potential for a pretty turgid soundtrack, but fortunately director Stephen Frears called on Alexandre Desplat. The Frenchman has emerged as a composer with a light tough (recall his score for Syriana ) and his work here, while not his best, doesn't disappoint either. Whether out of financial limitations or personal preference, Desplat tends to write relatively minimal scores. This one is appropriately downcast but even when titles trumpet intent ("Mourning," River of Sorrow") the music is elegant and even suggests a dark humor at times (the waltz "Elizabeth & Tony," accompanied by shivering violins and the occasional harp). Desplat also makes good use of a jaunty harpsichord on "People's Princess I" and the old-fashioned, Hitchcockian-sounding "The Queen Drives." The disc concludes with Verdi's "Libera Me," in the version performed at Diana's funeral.
Elisabeth Vincentelli