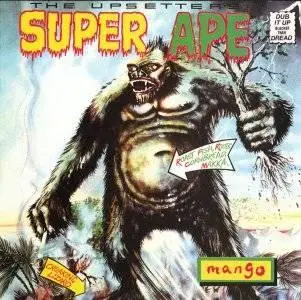 The Upsetters - Super Ape | 1976 | Genre: Reggae
mp3 | vbr b192 - B320kbps - Stereo - 44100Hz | 38:22 | 59 MB
covers included
By 1976, Lee Scratch Perry was well established at his Black Ark studio,
a fact proven by the quality of the creations emerging from its walls.
The success of Max Romeo's War in a Babylon brought a deal with Island Records
and the possibility of greater financial rewards.
The single was followed by a full-length album of the same name,
as well as deejay Jah Lion's Columbia Colly LP.
Riding this crest of productivity, Scratch then turned to a creation of his own.
Super Ape offered a series of the producer's finest 1976 rhythms,
from Devon Irons' When Jah Come and the Blue Bells' Come Along
to Romeo's War in a Babylon and Chase the Devil.
All are bathed in the distinct, murky atmosphere that was becoming a Black Ark trademark,
then served up in the form of dub-like de-constructions.
Island's U.K./U.S. sequencing of Super Ape places Dread Lion at the album's heart.
If any track fulfills the cover's promise to Dub it up, blacker than dread, this is it.
Vocals from numerous cuts seem to compete for their spot on the rhythm, while a dizzying mix of horns,
flute and melodica swirl around them.
Punctuating the song's rock-solid underbelly, Perry conjures startling thunderclaps from his mixing board.
Other Super Ape heavyweights include Croaking Lizard and Zion's Blood:
thick muscular constructs from the Upsetter session team.
The former features an excellent Prince Jazzbo toast over the Chase the Devil rhythm, while the latter,
a cut of When Jah Come, draws its elusive meaning from vocal phrases courtesy of Heptones Earl Morgan and Barry Llewellyn.
Super Ape is a dubwise, alternate universe to Perry's Black Ark vocal hits.
It awaits anyone willing to heed it's closing call:
This is the ape-man, trodding through creation, are you ready to step with I man?.
(source: allmusic.com - review by Nathan Bush)
rapidshare.de
new, updated link!
http://tinyurl.com/mylpu
(59 MB)
pw:
www.avaxhome.ws
…put a smile on your face and enjoy!