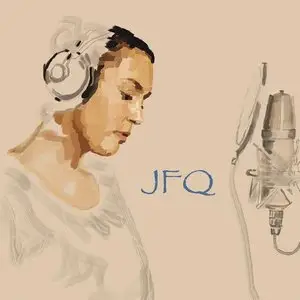 The Jo Fabro Quintet - JFQ (2013)
MP3 320 kbps CBR | 50:14 min | 110 MB
Genre: Jazz, Vocal Jazz | Label: Jo Fabro
"Right from the get go, you're listening intently. Such a welcoming warm full sound, that just snuggles over you like a warm blanket on a cold night. I simply love this new Jazz offering from Sydney Soulstress Jo Fabro. Listen up…. she's the real deal! " - Emma Pask
The release of the debut album from The Jo Fabro Quintet sees renowned Sydney vocalist Jo Fabro step firmly into the spotlight of the Australian Jazz Scene.
This new album is a collaboration between Jo and some of Australia's premier jazz musicians, Pianist Greg Coffin (Greg Coffin Trio, Kristen Berardi Band), guitarist Aaron Flower (The Alcohotlicks), bassist Brendan Clarke (Bernie McGann Quartet, Mothership Orchestra), and drummer Miles Thomas (Gerard Masters, Pen Island). The album also features a guest appearance from world renowned bassist Steve Hunter (Chick Corea, Billy Cobham).
It has been a busy few years for Jo, who only recently released her second album with her soul band. This new, self-titled album marks a change of direction for the Sydney singer, moving firmly into the world of contemporary jazz music. "I have these two sides to my music", says Fabro. "The soul and the jazz, but jazz music is definitely my first love. It's what I grew up singing, but I didn't want to make a jazz album until I really felt ready to do so".
Jo first made her mark in 2005 when she was named as a finalist in the National Jazz Awards competition. Since then she has been in high demand playing at venues such as The Darling Harbour Jazz Festival, The Manly Jazz Festival, The Sound Lounge, 505, The Vanguard and the Basement.
This Upcoming release draws on Fabro's experiences, a combination of tunes written over the past 7 years, as well as songs written specifically for this recording. The album is firmly rooted in the jazz genre, with hints of soul and blues music, which Fabro sights as an influence in her musical tastes.
The new album, and subsequent tour feel like a coming of age for Fabro. "I have spent a few years looking for the right combination of musicians and tunes for this band," says Fabro. "It really feels like everything has come together for this record". "There are a few tunes on this album that I have had around for a while, and it's really nice to find a good home for them on this album".
"Genuinely charismatic and even a little unnerving. Here is a full blown talent." - John Clare
Tracklist:
01. Atmosphere 04:46
02. Lover's Lament 06:06
03. Full Circle 06:04
04. Matthew's Theme 04:50
05. Step Aside 04:59
06. Being a Musician Makes You Philosophical 06:17
07. Roadside Assistance 07:18
08. It Was You 06:50
09. Mmmmmmmm 03:11
Personnel:
Jo Fabro – Vocals
Aaron Flower – Guitar
Greg Coffin – Keys
Brendan Clarke – Bass
Miles Thomas – Drums