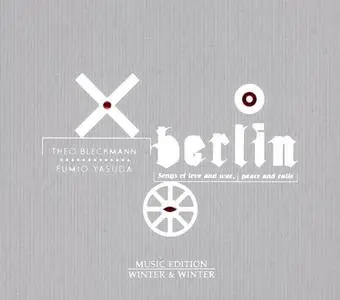 Theo Bleckmann & Fumio Yasuda - Berlin: Songs of Love and War, Peace and Exile (2007)
XLD Rip | FLAC (tracks+.cue, log) ~ 316.53 Mb | 01:17:07 | Covers
Vocal Jazz, Modern Creative, Chanson | Label: Winter & Winter - 910 138-2
Lest you miss Theo Bleck-mann and Fumio Yasuda's attempt to tune in to a bygone era, the vocalist and pianist begin this collection of early-to-mid 20th century German songs with the sound of radio static. The white noise is gone by the end of the second track, Eisler and Brecht's "Das Deutsche Miserere," and its absence suggests that the musicians found what they were looking for. But what should we make of what they've found? That everything here dates back to the Weimar Republic and the Third Reich is hardly indicative of an exercise in nostalgia. Bleckmann, according to his Web site, is a "Genre-bending, -skipping and -skirting vocalist and composer." And Yasuda works in both the classical and jazz realms.
Yet there's little about the conservative Berlin that bends, skips or skirts. Take Weill and Brecht's "Moon of Alabama," for example. You'd never guess that this art-song rendition of the well-known tune ("Oh, show us the way to the next whisky bar") was performed by anyone with jazz or experimental roots. Even the Doors' take on the song is more adventurous. Perhaps the best clue about the musicians' intent comes from the label's PR: "Somewhere in a New York hotel room, some musicians seem to be making music just for themselves, and we can listen in." Those who do so will hear impeccable performances. Just don't expect to find anything modern on the dial. ~
Review by Brent Burton
Track List:
01. An den kleinen Radioapparat (Eisler-Brecht) - 2:05
02. Das deutsche Miserere (Eisler-Brecht) - 3:34
03. Ostersonntag (Eisler-Brecht) - 1:53
04. Das Lied vom Surabaya-Johnny (Weill-Brecht) - 5:36
05. Davon geht die Welt nicht unter (Jary-Balz) - 4:16
06. Maskulinum-Femininum (Spoliansky-Schiffer) - 1:49
07. Ich hab dich ausgetragen (Eisler-Brecht) - 2:21
08. Bitten der Kinder (Dessau-Brecht) - 2:13
09. Ich bin von Kopf bis Fuss auf Liebe eingestellt (Hollaender) - 5:21
10. Die alten Weisen (Eisler-Brecht) - 2:08
11. Als ich dich in meinem Leib trug (Eisler-Brecht) - 3:07
12. Moon of Alabama (Weill-Brecht) - 3:49
13. Hotelzimmer 1942 (Eisler-Brecht) - 2:15
14. Die Welt verandern wir (Eisler-Brecht) - 2:19
15. Friedenslied (Eisler-Brecht) - 4:26
16. Als ich dich gebar (Eisler-Brecht) - 2:14
17. Hollywood-Elegie Nr. 7 (Eisler-Brecht) - 1:38
18. Der Bilbao-Song (Weill-Brecht) - 5:48
19. Mein Sohn, was immer auch aus dir werde (Eisler-Brecht) - 2:44
20. Uber den Selbstmord (Eisler-Brecht) - 3:20
21. I build my time (Bleckmann-Schwitters) - 4:27
22. Lili Marleen (Schulze-Leip) - 5:50
23. Schmidt-Lied (Bleckmann-Schwitters) - 3:54
Theo Bleckmann - vocals
Fumio Yasuda - piano, arrangements
Todd Reynolds, Courtney Orlando, Caleb Burhans, Wendy Sutter - violin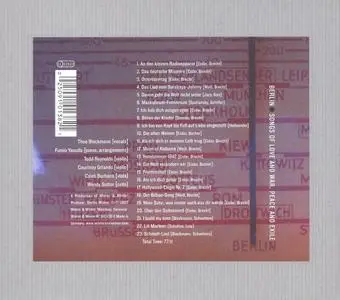 X Lossless Decoder version 20100911 (122.0)

XLD extraction logfile from 2010-10-05 11:19:12 -0400

various / Berlin. Songs of love and war, peace and exile

Used drive : HL-DT-ST DVDRW GWA4080MA (revision BE39)

Use cdparanoia mode : YES (CDParanoia III 10.2 engine)
Disable audio cache : OK for the drive with cache less than 2750KB
Make use of C2 pointers : NO
Read offset correction : 667
Max retry count : 100
Gap status : Analyzed, Appended

TOC of the extracted CD
Track | Start | Length | Start sector | End sector
––––––––––––––––––––––––––––-
1 | 00:00:00 | 02:05:20 | 0 | 9394
2 | 02:05:20 | 03:33:62 | 9395 | 25431
3 | 05:39:07 | 01:52:38 | 25432 | 33869
4 | 07:31:45 | 05:36:32 | 33870 | 59101
5 | 13:08:02 | 04:15:74 | 59102 | 78300
6 | 17:24:01 | 01:49:36 | 78301 | 86511
7 | 19:13:37 | 02:21:09 | 86512 | 97095
8 | 21:34:46 | 02:13:02 | 97096 | 107072
9 | 23:47:48 | 05:20:39 | 107073 | 131111
10 | 29:08:12 | 02:07:57 | 131112 | 140693
11 | 31:15:69 | 03:07:11 | 140694 | 154729
12 | 34:23:05 | 03:49:13 | 154730 | 171917
13 | 38:12:18 | 02:14:74 | 171918 | 182041
14 | 40:27:17 | 02:19:13 | 182042 | 192479
15 | 42:46:30 | 04:26:34 | 192480 | 212463
16 | 47:12:64 | 02:14:21 | 212464 | 222534
17 | 49:27:10 | 01:37:52 | 222535 | 229861
18 | 51:04:62 | 05:47:40 | 229862 | 255926
19 | 56:52:27 | 02:44:31 | 255927 | 268257
20 | 59:36:58 | 03:20:06 | 268258 | 283263
21 | 62:56:64 | 04:26:49 | 283264 | 303262
22 | 67:23:38 | 05:49:49 | 303263 | 329486
23 | 73:13:12 | 03:53:64 | 329487 | 347025


All Tracks
Album gain : -1.90 dB
Peak : 0.995544

Track 01
Filename : /Users/jps176/Music/various - Berlin. Songs of love and war, peace and exile (%Y) [FLAC]/01 An den kleinen Radioapparat [Eisler, Brecht].flac
Pre-gap length : 00:02:00

Track gain : 3.43 dB
Peak : 0.991150
CRC32 hash (test run) : 3A3E1A73
CRC32 hash : 3A3E1A73
CRC32 hash (skip zero) : 8F1AF311
AccurateRip signature : 414FB33B
->Accurately ripped! (confidence 3)
Statistics
Read error : 0
Skipped (treated as error) : 0
Edge jitter error (maybe fixed) : 0
Atom jitter error (maybe fixed) : 0
Drift error (maybe fixed) : 0
Dropped bytes error (maybe fixed) : 0
Duplicated bytes error (maybe fixed) : 0
Inconsistency in error sectors : 0

Track 02
Filename : /Users/jps176/Music/various - Berlin. Songs of love and war, peace and exile (%Y) [FLAC]/02 Das deutsche Miserere [Eisler, Brecht].flac

Track gain : 1.10 dB
Peak : 0.629395
CRC32 hash (test run) : B77E85A9
CRC32 hash : B77E85A9
CRC32 hash (skip zero) : A2DA3FA0
AccurateRip signature : D45DD245
->Accurately ripped! (confidence 3)
Statistics
Read error : 0
Skipped (treated as error) : 0
Edge jitter error (maybe fixed) : 0
Atom jitter error (maybe fixed) : 0
Drift error (maybe fixed) : 0
Dropped bytes error (maybe fixed) : 0
Duplicated bytes error (maybe fixed) : 0
Inconsistency in error sectors : 0

Track 03
Filename : /Users/jps176/Music/various - Berlin. Songs of love and war, peace and exile (%Y) [FLAC]/03 Ostersonntag [Eisler, Brecht].flac
Pre-gap length : 00:03:19

Track gain : -0.41 dB
Peak : 0.549561
CRC32 hash (test run) : 5C61586E
CRC32 hash : 5C61586E
CRC32 hash (skip zero) : 0795BD82
AccurateRip signature : 3F366CC3
->Accurately ripped! (confidence 3)
Statistics
Read error : 0
Skipped (treated as error) : 0
Edge jitter error (maybe fixed) : 0
Atom jitter error (maybe fixed) : 0
Drift error (maybe fixed) : 0
Dropped bytes error (maybe fixed) : 0
Duplicated bytes error (maybe fixed) : 0
Inconsistency in error sectors : 0

Track 04
Filename : /Users/jps176/Music/various - Berlin. Songs of love and war, peace and exile (%Y) [FLAC]/04 Das Lied vom Surabaya-Johnny [Weill, Brecht].flac
Pre-gap length : 00:02:00

Track gain : -2.78 dB
Peak : 0.741730
CRC32 hash (test run) : C6983005
CRC32 hash : C6983005
CRC32 hash (skip zero) : F942B75B
AccurateRip signature : 4DD51568
->Accurately ripped! (confidence 3)
Statistics
Read error : 0
Skipped (treated as error) : 0
Edge jitter error (maybe fixed) : 0
Atom jitter error (maybe fixed) : 0
Drift error (maybe fixed) : 0
Dropped bytes error (maybe fixed) : 0
Duplicated bytes error (maybe fixed) : 0
Inconsistency in error sectors : 0

Track 05
Filename : /Users/jps176/Music/various - Berlin. Songs of love and war, peace and exile (%Y) [FLAC]/05 Davon geht die Welt nicht unter [Jary, Balz].flac
Pre-gap length : 00:01:41

Track gain : -5.68 dB
Peak : 0.689941
CRC32 hash (test run) : D8A41D8A
CRC32 hash : D8A41D8A
CRC32 hash (skip zero) : 0B29CBB0
AccurateRip signature : 6F78900C
->Accurately ripped! (confidence 2)
Statistics
Read error : 0
Skipped (treated as error) : 0
Edge jitter error (maybe fixed) : 0
Atom jitter error (maybe fixed) : 0
Drift error (maybe fixed) : 0
Dropped bytes error (maybe fixed) : 0
Duplicated bytes error (maybe fixed) : 0
Inconsistency in error sectors : 0

Track 06
Filename : /Users/jps176/Music/various - Berlin. Songs of love and war, peace and exile (%Y) [FLAC]/06 Maskulinum-Femininum [Spoliansky, Schiffer].flac
Pre-gap length : 00:02:00

Track gain : -6.00 dB
Peak : 0.995544
CRC32 hash (test run) : D35D3C81
CRC32 hash : D35D3C81
CRC32 hash (skip zero) : 2E34A0FE
AccurateRip signature : BB0E5F2D
->Accurately ripped! (confidence 3)
Statistics
Read error : 0
Skipped (treated as error) : 0
Edge jitter error (maybe fixed) : 0
Atom jitter error (maybe fixed) : 0
Drift error (maybe fixed) : 0
Dropped bytes error (maybe fixed) : 0
Duplicated bytes error (maybe fixed) : 0
Inconsistency in error sectors : 0

Track 07
Filename : /Users/jps176/Music/various - Berlin. Songs of love and war, peace and exile (%Y) [FLAC]/07 Ich hab dich ausgetragen [Eisler, Brecht].flac
Pre-gap length : 00:01:45

Track gain : 2.30 dB
Peak : 0.300690
CRC32 hash (test run) : 701AF3EA
CRC32 hash : 701AF3EA
CRC32 hash (skip zero) : 8614556A
AccurateRip signature : 7DF94843
->Accurately ripped! (confidence 3)
Statistics
Read error : 0
Skipped (treated as error) : 0
Edge jitter error (maybe fixed) : 0
Atom jitter error (maybe fixed) : 0
Drift error (maybe fixed) : 0
Dropped bytes error (maybe fixed) : 0
Duplicated bytes error (maybe fixed) : 0
Inconsistency in error sectors : 0

Track 08
Filename : /Users/jps176/Music/various - Berlin. Songs of love and war, peace and exile (%Y) [FLAC]/08 Bitten der Kinder [Dessau, Brecht].flac
Pre-gap length : 00:00:61

Track gain : 3.77 dB
Peak : 0.447754
CRC32 hash (test run) : 3B59370F
CRC32 hash : 3B59370F
CRC32 hash (skip zero) : 4256ABED
AccurateRip signature : 2D257F1A
->Accurately ripped! (confidence 3)
Statistics
Read error : 0
Skipped (treated as error) : 0
Edge jitter error (maybe fixed) : 0
Atom jitter error (maybe fixed) : 0
Drift error (maybe fixed) : 0
Dropped bytes error (maybe fixed) : 0
Duplicated bytes error (maybe fixed) : 0
Inconsistency in error sectors : 0

Track 09
Filename : /Users/jps176/Music/various - Berlin. Songs of love and war, peace and exile (%Y) [FLAC]/09 Ich bin von Kopf bis Fuß auf Liebe eingestellt [Hollaender].flac
Pre-gap length : 00:02:00

Track gain : 2.24 dB
Peak : 0.655609
CRC32 hash (test run) : D7E07D0D
CRC32 hash : D7E07D0D
CRC32 hash (skip zero) : 358B743B
AccurateRip signature : A6BAD901
->Accurately ripped! (confidence 3)
Statistics
Read error : 0
Skipped (treated as error) : 0
Edge jitter error (maybe fixed) : 0
Atom jitter error (maybe fixed) : 0
Drift error (maybe fixed) : 0
Dropped bytes error (maybe fixed) : 0
Duplicated bytes error (maybe fixed) : 0
Inconsistency in error sectors : 0

Track 10
Filename : /Users/jps176/Music/various - Berlin. Songs of love and war, peace and exile (%Y) [FLAC]/10 Die alten Weisen [Eisler, Becher].flac
Pre-gap length : 00:03:66

Track gain : 2.38 dB
Peak : 0.522583
CRC32 hash (test run) : 4589B18C
CRC32 hash : 4589B18C
CRC32 hash (skip zero) : 4A1B8354
AccurateRip signature : FBFF1F6C
->Accurately ripped! (confidence 3)
Statistics
Read error : 0
Skipped (treated as error) : 0
Edge jitter error (maybe fixed) : 0
Atom jitter error (maybe fixed) : 0
Drift error (maybe fixed) : 0
Dropped bytes error (maybe fixed) : 0
Duplicated bytes error (maybe fixed) : 0
Inconsistency in error sectors : 0

Track 11
Filename : /Users/jps176/Music/various - Berlin. Songs of love and war, peace and exile (%Y) [FLAC]/11 Als ich dich in meinem Leib trug [Eisler, Brecht].flac
Pre-gap length : 00:01:15

Track gain : 0.26 dB
Peak : 0.426971
CRC32 hash (test run) : 0331155F
CRC32 hash : 0331155F
CRC32 hash (skip zero) : 200964D3
AccurateRip signature : B450AED7
->Accurately ripped! (confidence 3)
Statistics
Read error : 0
Skipped (treated as error) : 0
Edge jitter error (maybe fixed) : 0
Atom jitter error (maybe fixed) : 0
Drift error (maybe fixed) : 0
Dropped bytes error (maybe fixed) : 0
Duplicated bytes error (maybe fixed) : 0
Inconsistency in error sectors : 0

Track 12
Filename : /Users/jps176/Music/various - Berlin. Songs of love and war, peace and exile (%Y) [FLAC]/12 Moon of Alabama [Weill, Brecht].flac
Pre-gap length : 00:01:02

Track gain : -5.97 dB
Peak : 0.660034
CRC32 hash (test run) : BF4668C6
CRC32 hash : BF4668C6
CRC32 hash (skip zero) : 971A22ED
AccurateRip signature : A62AEC68
->Accurately ripped! (confidence 3)
Statistics
Read error : 0
Skipped (treated as error) : 0
Edge jitter error (maybe fixed) : 0
Atom jitter error (maybe fixed) : 0
Drift error (maybe fixed) : 0
Dropped bytes error (maybe fixed) : 0
Duplicated bytes error (maybe fixed) : 0
Inconsistency in error sectors : 0

Track 13
Filename : /Users/jps176/Music/various - Berlin. Songs of love and war, peace and exile (%Y) [FLAC]/13 Hotelzimmer 1942 [Eisler, Brecht].flac

Track gain : 1.24 dB
Peak : 0.518250
CRC32 hash (test run) : DF53C758
CRC32 hash : DF53C758
CRC32 hash (skip zero) : C1EA0C6A
AccurateRip signature : 4F4D9887
->Accurately ripped! (confidence 3)
Statistics
Read error : 0
Skipped (treated as error) : 0
Edge jitter error (maybe fixed) : 0
Atom jitter error (maybe fixed) : 0
Drift error (maybe fixed) : 0
Dropped bytes error (maybe fixed) : 0
Duplicated bytes error (maybe fixed) : 0
Inconsistency in error sectors : 0

Track 14
Filename : /Users/jps176/Music/various - Berlin. Songs of love and war, peace and exile (%Y) [FLAC]/14 Die Welt verändern wir [Eisler, Becher].flac
Pre-gap length : 00:02:04

Track gain : -5.05 dB
Peak : 0.599640
CRC32 hash (test run) : 220E75A6
CRC32 hash : 220E75A6
CRC32 hash (skip zero) : EE680F28
AccurateRip signature : 6F8EC04F
->Accurately ripped! (confidence 3)
Statistics
Read error : 0
Skipped (treated as error) : 0
Edge jitter error (maybe fixed) : 0
Atom jitter error (maybe fixed) : 0
Drift error (maybe fixed) : 0
Dropped bytes error (maybe fixed) : 0
Duplicated bytes error (maybe fixed) : 0
Inconsistency in error sectors : 0

Track 15
Filename : /Users/jps176/Music/various - Berlin. Songs of love and war, peace and exile (%Y) [FLAC]/15 Friedenslied [Eisler, Brecht].flac
Pre-gap length : 00:02:00

Track gain : -0.79 dB
Peak : 0.804443
CRC32 hash (test run) : 8DCC6DC7
CRC32 hash : 8DCC6DC7
CRC32 hash (skip zero) : CC8ACD43
AccurateRip signature : 2C83E4C0
->Accurately ripped! (confidence 3)
Statistics
Read error : 0
Skipped (treated as error) : 0
Edge jitter error (maybe fixed) : 0
Atom jitter error (maybe fixed) : 0
Drift error (maybe fixed) : 0
Dropped bytes error (maybe fixed) : 0
Duplicated bytes error (maybe fixed) : 0
Inconsistency in error sectors : 0

Track 16
Filename : /Users/jps176/Music/various - Berlin. Songs of love and war, peace and exile (%Y) [FLAC]/16 Als ich dich gebar [Eisler, Brecht].flac
Pre-gap length : 00:02:20

Track gain : -0.34 dB
Peak : 0.728271
CRC32 hash (test run) : 8E6C2F44
CRC32 hash : 8E6C2F44
CRC32 hash (skip zero) : 311F0A24
AccurateRip signature : 79F8B0BD
->Accurately ripped! (confidence 3)
Statistics
Read error : 0
Skipped (treated as error) : 0
Edge jitter error (maybe fixed) : 0
Atom jitter error (maybe fixed) : 0
Drift error (maybe fixed) : 0
Dropped bytes error (maybe fixed) : 0
Duplicated bytes error (maybe fixed) : 0
Inconsistency in error sectors : 0

Track 17
Filename : /Users/jps176/Music/various - Berlin. Songs of love and war, peace and exile (%Y) [FLAC]/17 Hollywood-Elegie Nr. 7 [Eisler, Brecht].flac
Pre-gap length : 00:03:00

Track gain : 0.63 dB
Peak : 0.845520
CRC32 hash (test run) : A0FE366C
CRC32 hash : A0FE366C
CRC32 hash (skip zero) : A17F316F
AccurateRip signature : B6F280A7
->Accurately ripped! (confidence 3)
Statistics
Read error : 0
Skipped (treated as error) : 0
Edge jitter error (maybe fixed) : 0
Atom jitter error (maybe fixed) : 0
Drift error (maybe fixed) : 0
Dropped bytes error (maybe fixed) : 0
Duplicated bytes error (maybe fixed) : 0
Inconsistency in error sectors : 0

Track 18
Filename : /Users/jps176/Music/various - Berlin. Songs of love and war, peace and exile (%Y) [FLAC]/18 Der Bilbao-Song [Weill, Brecht].flac
Pre-gap length : 00:02:01

Track gain : -0.09 dB
Peak : 0.766998
CRC32 hash (test run) : BF582FB2
CRC32 hash : BF582FB2
CRC32 hash (skip zero) : 83C49205
AccurateRip signature : D6B50246
->Accurately ripped! (confidence 3)
Statistics
Read error : 0
Skipped (treated as error) : 0
Edge jitter error (maybe fixed) : 0
Atom jitter error (maybe fixed) : 0
Drift error (maybe fixed) : 0
Dropped bytes error (maybe fixed) : 0
Duplicated bytes error (maybe fixed) : 0
Inconsistency in error sectors : 0

Track 19
Filename : /Users/jps176/Music/various - Berlin. Songs of love and war, peace and exile (%Y) [FLAC]/19 Mein Sohn, was immer auch aus dir werde [Eisler, Brecht].flac
Pre-gap length : 00:01:74

Track gain : -2.13 dB
Peak : 0.981445
CRC32 hash (test run) : 4ACFCE43
CRC32 hash : 4ACFCE43
CRC32 hash (skip zero) : BC13275F
AccurateRip signature : F2B52B56
->Accurately ripped! (confidence 3)
Statistics
Read error : 0
Skipped (treated as error) : 0
Edge jitter error (maybe fixed) : 0
Atom jitter error (maybe fixed) : 0
Drift error (maybe fixed) : 0
Dropped bytes error (maybe fixed) : 0
Duplicated bytes error (maybe fixed) : 0
Inconsistency in error sectors : 0

Track 20
Filename : /Users/jps176/Music/various - Berlin. Songs of love and war, peace and exile (%Y) [FLAC]/20 Über den Selbstmord [Eisler, Brecht].flac
Pre-gap length : 00:02:00

Track gain : 1.27 dB
Peak : 0.671631
CRC32 hash (test run) : B1046850
CRC32 hash : B1046850
CRC32 hash (skip zero) : 336450E2
AccurateRip signature : A39CF19F
->Accurately ripped! (confidence 3)
Statistics
Read error : 0
Skipped (treated as error) : 0
Edge jitter error (maybe fixed) : 0
Atom jitter error (maybe fixed) : 0
Drift error (maybe fixed) : 0
Dropped bytes error (maybe fixed) : 0
Duplicated bytes error (maybe fixed) : 0
Inconsistency in error sectors : 0

Track 21
Filename : /Users/jps176/Music/various - Berlin. Songs of love and war, peace and exile (%Y) [FLAC]/21 I build my time [Bleckmann, Schwitters].flac
Pre-gap length : 00:00:13

Track gain : 2.28 dB
Peak : 0.881561
CRC32 hash (test run) : 107F3DA2
CRC32 hash : 107F3DA2
CRC32 hash (skip zero) : 94A4244C
AccurateRip signature : E5572360
->Accurately ripped! (confidence 3)
Statistics
Read error : 0
Skipped (treated as error) : 0
Edge jitter error (maybe fixed) : 0
Atom jitter error (maybe fixed) : 0
Drift error (maybe fixed) : 0
Dropped bytes error (maybe fixed) : 0
Duplicated bytes error (maybe fixed) : 0
Inconsistency in error sectors : 0

Track 22
Filename : /Users/jps176/Music/various - Berlin. Songs of love and war, peace and exile (%Y) [FLAC]/22 Lili Marleen [Schultze, Leip].flac
Pre-gap length : 00:05:11

Track gain : 1.98 dB
Peak : 0.371735
CRC32 hash (test run) : D555D2F0
CRC32 hash : D555D2F0
CRC32 hash (skip zero) : BBC50893
AccurateRip signature : 8D3DD909
->Accurately ripped! (confidence 3)
Statistics
Read error : 0
Skipped (treated as error) : 0
Edge jitter error (maybe fixed) : 0
Atom jitter error (maybe fixed) : 0
Drift error (maybe fixed) : 0
Dropped bytes error (maybe fixed) : 0
Duplicated bytes error (maybe fixed) : 0
Inconsistency in error sectors : 0

Track 23
Filename : /Users/jps176/Music/various - Berlin. Songs of love and war, peace and exile (%Y) [FLAC]/23 Schmidt-Lied [Bleckmann, Schwitters].flac

Track gain : -1.86 dB
Peak : 0.685547
CRC32 hash (test run) : C329BAB0
CRC32 hash : C329BAB0
CRC32 hash (skip zero) : 1AE70B63
AccurateRip signature : 2D8AD30A
->Accurately ripped! (confidence 3)
Statistics
Read error : 0
Skipped (treated as error) : 0
Edge jitter error (maybe fixed) : 0
Atom jitter error (maybe fixed) : 0
Drift error (maybe fixed) : 0
Dropped bytes error (maybe fixed) : 0
Duplicated bytes error (maybe fixed) : 0
Inconsistency in error sectors : 0

No errors occurred

End of status report
All thanks go to the What.CD