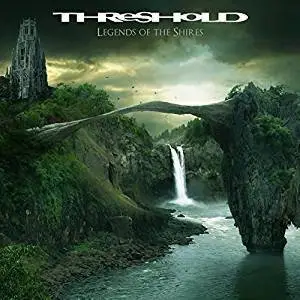 Threshold - Legends of the Shires (2017)
MP3 CBR 320 kbps | 86:12 minutes | 188 MB
Heavy Metal | Label: Nuclear Blast
Limited Edition 2CD Digipack "It's time for a new chapter. We've refreshed the Threshold family and we can't wait to get back out there…" Founded by guitarist Karl Groom in southern England in 1988, Threshold were a unique proposition from the start. Driven forward by youthful confidence and verve, they swiftly became the UK's premier purveyors of adventurous and progressive metal and have remained at the top of that tree for the best part of three decades. As the band approached the making of their 11th studio album, they parted ways with Damian Wilson - vocalist with Threshold on three separate occasions, including the last decade of the band's career. As keyboardist and Groom's songwriting comrade Richard West explains, there was one obvious solution to this latest setback: for their brand new album, Legends Of The Shires, Threshold - completed by drummer Johanne James and bassist Steve Anderson - are welcoming former singer Glynn Morgan back into the fold, for the first time since fan-favourite full-length Psychedelicatessen in 1994. The results of what must surely be the most productive chapter in Threshold history are showcased with glorious finesse and bombastic exuberance on Legends Of The Shires, a colossal double album full of the most vivid, vivacious and supremely confident music that the band have ever recorded. 83 minutes in length and yet remorselessly absorbing, Legends Of The Shires is a towering achievement and very obviously the most ambitious and progressive record that Threshold have made to date. Although it is a sprawling, multi-layered concept album, it still contains all the irresistible refrains, soaring choruses and moments of balls-out metal intensity that long-time fans will be expecting. From the devastating catchiness and sturdy riffing of first single Small Dark Lines and soul-scorching anthem Stars And Satellites through to the labyrinthine opulence of ultra-prog epics The Man Who Saw Through Time and Lost In Translation, it's an album that cranks every aspect of Threshold's music up a few notches while beautifully refining their brilliance as songwriters and musicians. "I don't want to give too much away about the story itself," Richard notes. " I got into prog rock when I was at school and I remember daydreaming about making records like this. It's exciting to be writing prog rock concept albums!"
TRACKLIST
Disc 1/2
1. The Shire (Part 1) 2:03
2. Small Dark Lines 5:24
3. The Man Who Saw Through Time 11:52
4. Trust The Process 8:44
5. Stars And Satellites 7:20
6. On The Edge 5:20
Disc 2/2
1. The Shire (Part 2) 5:25
2. Snowblind 7:03
3. Subliminal Freeways 4:51
4. State Of Independence 3:38
5. Superior Machine 5:01
6. The Shire (Part 3) 1:22
7. Lost In Translation 10:20
8. Swallowed 3:54