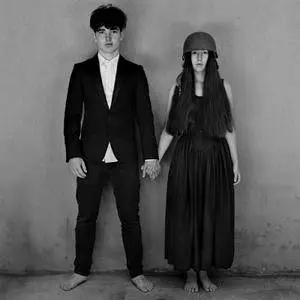 U2 - Songs of Experience (Deluxe Edition) (2017)
WEB FLAC (tracks) - 521 Mb | MP3 CBR 320 kbps - 155 Mb | 01:07:47
Alternative Rock | Label: Interscope Records, Universal Music
Songs of Experience is the upcoming fourteenth studio album by Irish rock band U2. It was produced by Jacknife Lee and Ryan Tedder with Steve Lillywhite, Andy Barlow, and Jolyon Thomas, and it will be released on 1 December 2017. The album is intended to be a companion piece to U2's previous record, Songs of Innocence (2014). Whereas its predecessor explored the group members' adolescence in Ireland in the 1970s, Songs of Experience thematically will be a collection of letters written by lead vocalist Bono to people and places closest to his heart. The personal nature of the lyrics reflects a "brush with mortality" that he had during the album's recording.

Songs of Experience was first mentioned by Bono on the day that Songs of Innocence was released in 2014. He began songwriting while recuperating from a serious bicycle accident that occurred in November. During the following year's Innocence + Experience Tour, U2 worked on the album using a mobile recording studio. The sessions continued into 2016, with the album mostly completed by the end of the year. The group had planned to release Songs of Experience in the fourth quarter, but after the shift of global politics in a conservative direction, highlighted by the UK's Brexit vote and the 2016 US presidential election, they chose to put the record on hold and reassess its tone. Consequently, Bono rewrote his lyrics to be more political. With the extra time, the band focused on finding arrangements for the songs that would work live and on record, while remixing and exploring different production techniques.

On 6 September 2017, U2 released the album's first single, "You're the Best Thing About Me". To promote the album, the band will embark on the Experience + Innocence Tour in 2018.

Songs of Experience has received mixed reviews from music critics. At Metacritic, which assigns a normalized rating out of 100 to reviews from mainstream critics, the album has an average score of 62 based on 10 reviews. James McNair of Mojo called Songs of Experience "infinitely more satisfying beast than its patchy predecessor" and "U2's strongest album this century". He praised the record for its hooks and for its final songs, on which he felt Bono was at his most vulnerable. Andrew Perry of Q said the album "will likely go down as a late-career classic". The review lauded the group for their ability to evoke a range of moods and sounds: "U2 have dug deep, yet they remain both postmodern and unpredictable. Able to assume many sounds and voices; to invoke their early-'80s innocence, but also none-more-experienced, masters of every inch of their game". Olaf Tyaransen of Hot Press said "if you can listen without prejudice, you'll find that it's as artful and well-crafted a collection of songs as [they] have ever produced". Neil McCormick of The Daily Telegraph said that the album is filled with "big meaty hooks matched by singalong aphorisms". He was complimentary of the group for melding their personal conflict with the positivity of their music, saying the album demonstrates them at "their most mature and assured, playing songs of passion and purpose, shot through and enlivened with a piercing bolt of desperation".

In a more critical review, Mark Beaumont of NME found that the band are "old masters at pomping up whatever the kids are buying, so hefty swathes of the album could be Bastille ('Red Flag Day', 'Get Out of Your Own Way'), and there are bits of Kanye autotune tacked onto amorphous opener 'Love Is All We Have Left'".

Rolling Stone named Songs of Experience the third-best album of 2017 in its end-of-year rankings.
Tracklist:
01. Love Is All We Have Left [02:41]
02. Lights Of Home [04:17]
03. You're The Best Thing About Me [03:45]
04. Get Out Of Your Own Way [03:34]
05. American Soul [04:46]
06. Summer Of Love [03:24]
07. Red Flag Day [03:20]
08. The Showman (Little More Better) [03:24]
09. The Little Things That Give You Away [04:55]
10. Landlady [04:01]
11. The Blackout [04:46]
12. Love Is Bigger Than Anything In Its Way [04:01]
13. 13 (There Is A Light) [04:20]
14. Ordinary Love (Extraordinary mix) [03:47]
15. Book Of Your Heart [03:55]
16. Lights Of Home (St Peter's String version) [04:33]
17. You're The Best Thing About Me (U2 vs Kygo) [04:17]
–––––––––––-

DON'T MODIFY THIS FILE

–––––––––––-

PERFORMER: auCDtect Task Manager, ver. 1.6.0 RC1 build 1.6.0.1
Copyright © 2008-2010 y-soft. All rights reserved

ANALYZER: auCDtect: CD records authenticity detector, version 0.8.2
Copyright © 2004 Oleg Berngardt. All rights reserved.
Copyright © 2004 Alexander Djourik. All rights reserved.


FILE: 17 You're The Best Thing About Me (U2 Vs. Kygo).flac
Size: 37081487 Hash: 98248CFDE3B89CBDE116934835186E06 Accuracy: -m0
Conclusion: CDDA 100%
Signature: 9E0162A34956157BF156CD96204319BEC2DF8E59
FILE: 16 Lights Of Home (St Peter's String Version).flac
Size: 37758063 Hash: 6232C8B5CA340661667641DF4545E74A Accuracy: -m0
Conclusion: CDDA 99%
Signature: 70C0E7CCCCE5C39331F314FEEBBB4062A79CED24
FILE: 15 Book Of Your Heart.flac
Size: 33973809 Hash: 8DD557F9E919A1D20F16664237A390A1 Accuracy: -m0
Conclusion: CDDA 85%
Signature: C1EB06F62F14E434196DC158D1FF963770B2D335
FILE: 14 Ordinary Love (Extraordinary Mix).flac
Size: 31410251 Hash: 71A3F8926F05EF1D5F6408F55ECA0B4A Accuracy: -m0
Conclusion: CDDA 100%
Signature: 2174503864A9A387CE9E303C0CA656FECC5FDAC4
FILE: 13 13 (There is A Light).flac
Size: 25936888 Hash: 71ACB6E1E677C12E8171B13BCB3364FC Accuracy: -m0
Conclusion: CDDA 100%
Signature: 227ECF832DB9B40DD14D332A9178FA0B2FEA9A07
FILE: 12 Love Is Bigger Than Anything In Its Way.flac
Size: 30706393 Hash: 1AA37883117941333F6FE6AFA65C869E Accuracy: -m0
Conclusion: CDDA 100%
Signature: ADD8FCA35AAF624DF835AB9259274EA1CD80A450
FILE: 11 The Blackout.flac
Size: 36191277 Hash: 45A55D7442E26895B21636A92A7E4C5E Accuracy: -m0
Conclusion: CDDA 100%
Signature: CFD0D9E3AA2FA0BC0FD0063E8BE55841310F3445
FILE: 10 Landlady.flac
Size: 27317502 Hash: B95102A1676F25BDB4B593575A8FC10A Accuracy: -m0
Conclusion: CDDA 100%
Signature: 903C9C3C0C1FDC76C08237BE56AA927D8BC7A9A3
FILE: 09 The Little Things That Give You Away.flac
Size: 34687678 Hash: E176E1C24FFDDCF8E41078857BCEB097 Accuracy: -m0
Conclusion: CDDA 100%
Signature: EA07D7F20CF61885AB705213218C843AAD32DE36
FILE: 08 The Showman (Little More Better).flac
Size: 28955360 Hash: F8EEC976279E9BA4C33FA7B36617B7BC Accuracy: -m0
Conclusion: CDDA 100%
Signature: 20A372AE55352F9410A47E121F78F68B0926A4A7
FILE: 07 Red Flag Day.flac
Size: 28615531 Hash: AC6273823DF9B46E084D82C3650DC38A Accuracy: -m0
Conclusion: CDDA 100%
Signature: 8BCA7409C9C75BFE020AAB0DB0892DFA0ED7B56D
FILE: 06 Summer Of Love.flac
Size: 28702204 Hash: 673A18E815B6964A79C33D27D63B20EA Accuracy: -m0
Conclusion: CDDA 100%
Signature: 0C1B915AB1AEA2A4E2F38DC2A39EC88D157C9074
FILE: 05 American Soul.flac
Size: 35457050 Hash: 143F718B56C00D93E1D1379F7A14C82F Accuracy: -m0
Conclusion: CDDA 99%
Signature: A25C7E457646A3D0A7DAD65E4DEAACE7E8817F3B
FILE: 04 Get Out Of Your Own Way.flac
Size: 32359658 Hash: C247328A5FE28698B3C7B82EC3AD4C08 Accuracy: -m0
Conclusion: CDDA 100%
Signature: D36DB4594736EF500C1CC7183150158FA23FE101
FILE: 03 You're The Best Thing About Me.flac
Size: 33856096 Hash: 1DAED89D753F67B3ECDDE4BFE2A7E1BF Accuracy: -m0
Conclusion: CDDA 100%
Signature: 3369CAAEAC6752AE38FEAAE2344BE7E3840FFAB7
FILE: 02 Lights Of Home.flac
Size: 36463674 Hash: CD84717D4AB3DB6AC059138BEFF5FC33 Accuracy: -m0
Conclusion: CDDA 100%
Signature: 953AF1EB9B59C49E269F6C78E979E30AFE4D19EB
FILE: 01 Love Is All We Have Left.flac
Size: 20221657 Hash: 030A5DA92E05010FB16866FE54EC68D4 Accuracy: -m0
Conclusion: CDDA 76%
Signature: 42E75B477478EAB0005DC2072358EA6A45C71F9D