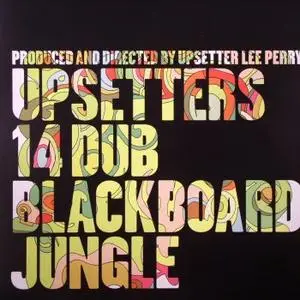 Lee 'Scratch' Perry - Upsetters 14 Dub Blackboard Jungle [2004]
MP3 VBR ~216K/s, 44,000hz | Dub | 88.9 Mb | 60:05min
This is the first dub album to be released back in 1973 under a slightly different name. This 2004 cd version loses none of the original mystique. From the godfather of Dub himself, you really NEED this album.
<b>Information</b>
Note: This is a review of a slightly different version, Lee Perry released his stuff to so many labels that it is hard to track down certain reviews for certain releases! Anyway the only correction I would make to the following review is that it wasn't another fine example, it was the first!
On Blackboard Jungle Dub, Lee Perry and the Upsetters produce another fine example of their subversive brand of dub with a unique blend of murky rhythm tracks, warbling guitar effects and distant-sounding horns. Although it does not quite match the quality of the classic Upsetters album Super Ape, Blackboard nevertheless impresses with both the brevity of "strictly" drum and bass cuts such as "Dreamland Dub" and "Kasha Macka Dub," and expansive touches like the animated DJ toasting on "Cloak A Dagger (Ver. 3)." Living up to the "Upsetter" moniker, Perry wreaks his inimitable brand of mayhem during "Fever Grass Dub" with a half-baked MC intro, lion roars and air raid siren imitations; effects which blend in well with other eccentric features like the spastic trombone solo on "BlackBoard ver. 2" and reverb-heavy percussion on "Cloak a Dagger." Just standard technique for Perry really, and part of the sound which made his productions instantly recognizable amongst many '70s and '80s dub releases. Blackboard Jungle contains classic dub taken to the outer limits and is one of the highlights of the Lee Perry catalog. ~
Stephen Cook, All Music Guide

Tracklist
1. Black Panta (4:40)
2. V/S Panta Rock (3:34)
3. Khasha Macka (3:52)
4. Elephant Rock (3:17)
5. African Skank (3:17)
6. Dreamland Skank (2:35)
7. Jungle Jim (2:57)
8. Drum Rock (3:56)
9. Dub Organizer (3:25)
10. Lovers Skank (2:45)
11. Mooving Skank (2:48)
12. Apeman Skank (2:30)
13. Jungle Skank (2:22)
14. Kaya Skank (3:05)
15. Upsetting Rhythm #1 (3:35)
16. Upsetting Rhythm #2 (3:29)
17. Upsetting Rhythm #3 (3:37)
18. Happy Roots (4:14)
<b>Links</b>
Badongo Server
http://www.badongo.com/file/704873
http://www.badongo.com/file/705330
MegaShares Server
http://d01.megashares.com/?d01=7264376
http://d01.megashares.com/?d01=18dd403
SendSpace Server
http://www.sendspace.com/file/7ic5x7
http://www.sendspace.com/file/cbtcub
<b>Password:</b>
MP3@3pm
Lots of people ask me:
WHY NOT USE RAPIDSHARE?
Reason number 1:
Thousands of people cannot access a link at rapidshare <i>at all.</i> <b><u>Ever</u></b>. Period!<br />That immediately rules out their chances of downloading and hearing the music. that would make my posts absolutely pointless to them. I cannot abide by that.
Reason number 2:
People get so tired of having to wait <i>sometimes almost an hour and a half </i>between their downloads of a multipart album,. you get the 1st part and then have to wait until rapidshare says you can download again. Ask around&#8230;<i>everyone hates that</i>. <br />I know, before you tell me, I know how to cheat it.. come offline, change your IP, go back and download again, or use proxies. But average joe net user is <u>not proxy-use-savvy</u> and has a <b>static IP </b>so that wont help!).
Reason Number 3:
Rapidshare is CONSISTENTLY the number one free filehosting service <b>that will get albums or files removed</b> sometimes in record time if some wally decides to report them. If you get a twat on your site who doesn't like you then they can report all your links to RS and they delete them so fast you are probably still uploading them at the time! Rapidshared files can be taken down FAST<br />I have had barely a file taken down since I stopped using <i>rapidcrap</i>.
Something else to think about. Everyone will say 'but RS is the fastest..'.(<i>faster than what</i>? Badongo is as fast and so are at least HALF of the now hundreds of these services that are out there), or they say 'Rapidshare is stable..'.(not all the time. It goes down sometimes. The others will have their teething problems too like RS had in the early days and we all remember those! Still I could give you a list of stable servers to outshine the amazing rapidshare. And most others have no waiting time, let you download with a download manager, etc etc etc.
So rapidshare?I am not even considering using them again unless I accidentally set the uploader to the wrong site!Please, if you upload files anywhere and especially here… You can do the same and use a different service that lets the people actually get the files you share!
No complaints now!
Fa.
http://www.mp33pm.blogspot.com